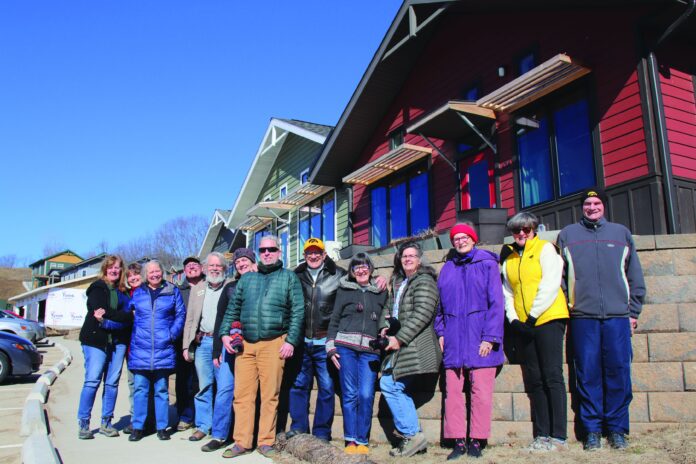 A group of Prairie Hill residents takes time out of their Saturday morning activities for a group photo showing some of the buildings on the site. Prairie Hill members own their homes and share governance of the community, along with many resources. PHOTO EMERY STYRON
By Emery Styron
news@corridorbusiness.com

"Everybody here has a heart for sustainability and living simply," said Kim Spader, who moved this summer from a four-bedroom, three-bath condo in North Liberty to her new 950-square-foot flat at Prairie Hill Cohousing, a growing cluster of eco-friendly structures climbing the steep slope toward Benton Street in south Iowa City.
Ms. Spader, a pharmacy manager for the University of Iowa Hospitals and Clinics, wanted to live with her 17-year-old daughter in a neighborhood like the one where she grew up in Omaha.
"No one ever hesitated to go next door to borrow something," she said. "Nowadays, people go home at night, close their garage doors and never see anyone."
Neighborliness is a design element in cohousing, which was first developed in Denmark in the 1960s. Owner-occupied homes are built with front porches and placed close together around a Common House to encourage interaction and sharing of resources.
With 16 units built and commitments in hand for another 10, Prairie Hill's pioneers feel Iowa's first cohousing complex has proven its appeal, locally and beyond. Eight of the 16 households come from outside Iowa City, three of them from out of state. Of the next five to move in, three are from outside Iowa City and two from out of state.
'A place to go besides nursing homes'
Interdependence and earth-friendly living were the aims that motivated Prairie Hill founding members like Barb Bailey, but the process of turning their dreams to reality has been anything but simple.
Ms. Bailey's involvement began as a discussion with friends about retirement living options.
"We joked about having a place to go besides nursing homes. We realized we didn't want to live with just old people," she recalled.
After hearing about cohousing, Ms. Bailey attended a conference in 2010 where she fell in love with the concept. She scouted sites in walking distance of downtown, groceries stores and medical facilities with four like-minded households. When the 7.8-acre parcel between Highway 1 and Benton Street came on the market, family and friends committed $295,000 for its purchase within days.
Then began the arduous process of development. From her work with a nonprofit housing agency, Ms. Bailey was comfortable dealing with architects, engineers, planners and the city permitting process. She found an ally with sustainable construction know-how in Del Holland, who joined the group in 2011.
"I was looking for a way to build a state-of-the-art, energy efficient home. I realized I couldn't afford to do it alone," he said.
As the group grew, other members brought skills such as marketing, negotiating, organizing, landscape design and public relations, but without a professional developer to guide the process, the learning curve was as steep as the hillside the complex is built on.
Ms. Bailey calls self-development "a two-edged sword." On the one hand, members are free to create a community reflecting their values. On the other, "I'm sure we've made mistakes an experienced developer would have avoided," she said.
By the summer of 2018, the Common House – a shared space including a kitchen-dining area, laundry, guest rooms, recreation space and four efficiency apartments – was built and the community's first four-unit stacked flat was underway. The hillside continues to be a beehive of local contractor activity.
Mr. Holland is especially proud that all buildings meet LEED standards, with some solar power-equipped structures operating at close to net zero energy usage. Prairie Hill will be recognized by 1,000 Friends of Iowa for smart growth in new residential construction in ceremonies at the state capitol in January.
"This is part of what we want to do – to set the example for the community," he said.
Self-developed, self-governed
Prairie Hill members use "sociocracy," a governance model based on consent rather than consensus, to bridge disagreements over development, policies and management of common areas.
"It's a nice way of people working together with a structure, allowing everybody to be heard," said Nan Fawcett, another longtime member.
The process takes time, but members recognize "there is more wisdom in the community than there is in any one of us," added Mr. Holland. "When we go through these things, we come out with a lot better decisions."
As remaining units are built and sold, more and more decisions will have been made that don't have to be revisited. The tasks of running the community will also be spread over more people.
"Everybody thinks that there is less work ahead," said Ms. Fawcett.
Most members are in the 50-70 age range. She hopes a lower workload will entice more young families to join, helping Prairie Hill meet its multi generational aims. Units range in price from $225,000 for a 645-square-foot one-bedroom stacked flat to $300,000 for a 950-square-foot duplex home – sizes and levels that may discourage some families. The group has a low-income housing grant from the Johnson County Housing Trust and is working with the local chapter of Habitat for Humanity on ways to make future units more affordable.
Community within a community
Resident John Bowman calls Prairie Hill "a little pocket of country right in the middle of the city." He and wife Val moved to Iowa City last summer from California and like being close to shopping, healthcare, cultural and entertainment options.
"The bus comes to the door. We walk to football games. This town has so much to offer," he said.
The couple, who had downsized from single-family homes as their children left the nest, occupy a 515-square-foot studio in the common house. If either needs alone time, there's plenty of room and often some company beyond the door. Residents pick up their mail at the common house, share a weekly Tasty Tuesday meal, and meet for coffee, games, crafts, discussion groups or exercise. At least a dozen community groups use the common house for meeting space.
"We're a community that's actually involved with the larger community," said Ms. Bailey, citing more than 100 trick-or-treaters on Halloween night.   CBJ
For more information about Prairie Hill, visit iowacitycohousing.org, email iowacitycohousing@gmail.com or call (319) 530-4049.