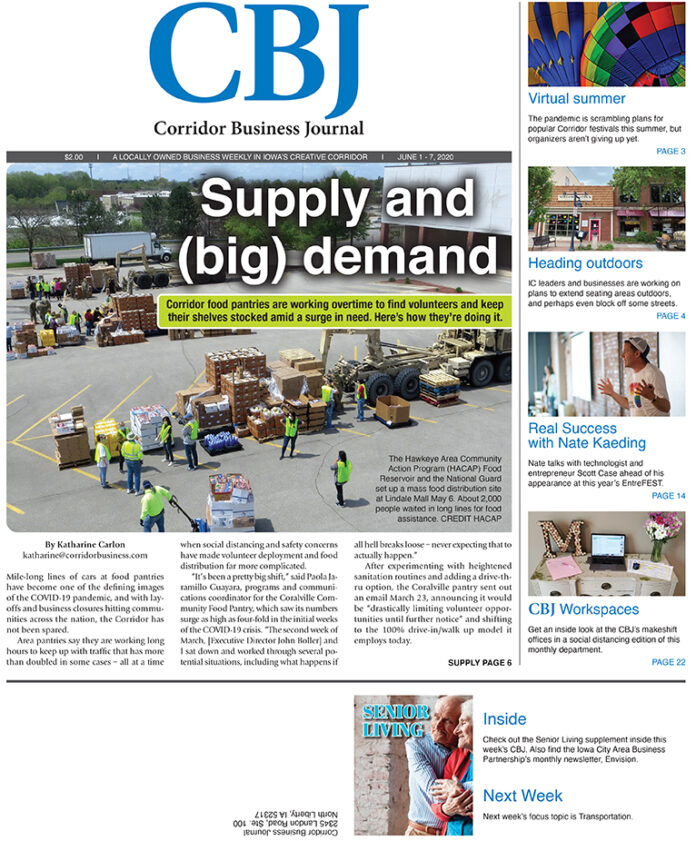 By Katharine Carlon
katharine@corridorbusiness.com

Mile-long lines of cars at food pantries have become one of the defining images of the COVID-19 pandemic, and with layoffs and business closures hitting communities across the nation, the Corridor has not been spared.
Area pantries say they are working long hours to keep up with traffic that has more than doubled in some cases – all at a time when social distancing and safety concerns have made volunteer deployment and food distribution far more complicated.
"It's been a pretty big shift," said Paola Jaramillo Guayara, programs and communications coordinator for the Coralville Community Food Pantry, which saw its numbers surge as high as four-fold in the initial weeks of the COVID-19 crisis. "The second week of March, [Executive Director John Boller] and I sat down and worked through several potential situations, including what happens if all hell breaks loose – never expecting that to actually happen."
After experimenting with heightened sanitation routines and adding a drive-thru option, the Coralville pantry sent out an email March 23, announcing it would be "drastically limiting volunteer opportunities until further notice" and shifting to the 100% drive-in/walk up model it employs today.
With only a skeleton crew of volunteers and three full-time staffers (Ms. Guayara and a fellow part-timer converted to full-time at the onset of the crisis), the pantry takes outdoor orders on iPads it recently purchased through a grant from Delta Dental, while staffers and volunteers inside shop the lists, delivering bagged groceries to waiting clients.
"We knew we wanted to provide services to the best of our ability and make it as choice-based as possible," Ms. Guayara said, adding that the pantry offers a selection of protein items, refrigerated items, fruit, vegetables and dairy products to account for varying dietary needs and preferences. "We could have sent families home with prepackaged bags, but that means food waste, which is something we don't want to do."
In partnership with the North Liberty Food Pantry and Iowa City's CommUnity Crisis Services and Food Bank, the Coralville pantry also participates in a centralized countywide delivery service to bring no-contact provisions to the elderly or those with compromised immune systems. In addition, it collaborates with the Iowa City Community School District on its free lunch and breakfast program, which will be available to all students at least through the summer.
"So many people have stepped up and said, 'We're not in a high-risk group, how can we help?'" Ms. Guayara said of having to rapidly adapt to swiftly changing circumstances and a huge spike in need. "But we had to create a system that was sustainable, that, if it comes down to it, we can run with three staff members."
The logistics of getting food out the door to meet the growing need while staying safe is also a concern of the Hiawatha-based Hawkeye Area Community Action Program (HACAP) Food Reservoir, which estimates 53,000 Iowans in its seven-county service area were already facing food insecurity before the crisis hit.
The nonprofit, serving pantries and other food and nutrition programs in Benton, Cedar, Iowa, Jones, Johnson, Linn and Washington counties, estimates traffic was up an average of about 50% at pantries throughout the region as of April.
According to Assistant Director Angie Albright, the HACAP Food Reservoir itself distributed about 160% more food than average last month, much of it through large-scale mobile pantries throughout its service area. Although HACAP has offered pop-up pantries at 22 Corridor locations over the past four years, average demand has risen from around 70 households per event to 700-800. One early April event at Veteran's Memorial Stadium in Cedar Rapids drew 3,000 people.
"Our traffic has increased because we've seen such a rise in need, in people at poverty level," Ms. Albright said. "That's why we're doing these large-scale pop-up pantries. We have an obligation to see that need is being met in the communities we serve."
Unlike the Coralville Community Food Pantry, many of HACAP's partner agencies have shifted from an open-choice grocery store model that is untenable in the age of COVID-19 to prepackaged bags and boxes. The boxes distributed at its own drive-thru pantries are intended to last families for a week.
Ms. Albright said that social distancing requirements mean volunteers can no longer package boxes at HACAP's warehouse; they instead meet at the ImOn Ice Arena in Cedar Rapids to put many feet of space between each worker. Partner agencies that used to send volunteers or employees to pick up food orders must now call when they arrive, list what they are looking for and wait for it to be loaded up without leaving their vehicles.
Generous corporate and individual donations and emergency relief funds have allowed HACAP to give partner agencies, which used to buy stock at a deep discount, free food to distribute to Corridor pantries. Federal help is also on the way thanks to the CARES Act, which authorized $450 million to go to food banks and other food programs, and the new $1.2 billion Farmers to Families Food Box Program, a USDA initiative to distribute surplus food across the country where it's needed most.
Even so, the need is great enough that the agency is still requesting donations.
"Financial donations stretch the farthest for us, with every dollar purchasing up to six pounds of food," Ms. Albright said.
Volunteers aren't an issue for HACAP at the moment, with slots filling up quickly for drive-thru pantries at Vets Memorial Stadium and other locations. The Linn Community Food Bank, which distributes a three-day supply of food to hungry clients five days a week from the parking lot of First Presbyterian Church at 310 Fifth St. SE, in Cedar Rapids, has not been as lucky.
"Our normal volunteer list is something around 80 people and that's down significantly," said Brian Westphalen, member of the board and volunteer, adding that many volunteers fall into the at-risk 65 and older category. "We're managing to keep up, but volunteers are the biggest issue right now, convincing people it's safe to come out here and do this. Donations are wonderful and fine. We'll take them. But right now, it's easier to get financial aid and buy what's necessary than find volunteers."
Mr. Westphalen said the pantry typically operates out of the church's lower level where shoppers, who are normally limited to 12 visits a year, sign in, show ID and have a free choice of items.
"All of that is gone," he said of the pantry's current food distribution system. "We're distributing a prepackaged bag of food because there's just no way to display items and we don't want clients touching things."
Now, Mr. Westphalen said a small group gets together three times weekly to stock shelves in the distribution room, a second small group puts together 100-150 bags of groceries including fruit, vegetables, canned goods, peanut butter and a choice of meat every Monday, Wednesday and Friday, and a third group of three to four people distribute the bags in the church parking lot.
Demand has grown somewhat, he said, particularly toward the latter half of the month when some begin to exhaust their food stamp benefits.
"But nothing like we see on national news," he said, speculating that could be due to buses not running in the Cedar Rapids metro and HACAP's efforts "where they're distributing 400-500 boxes a day."
Mr. Westphalen said it has been a challenge to adapt to the crisis – a sentiment seconded by Ms. Guayara.
"We are definitely seeing an increase in the number of new members, especially in the first few weeks, and it was a bit overwhelming," she said. "people have lost their jobs or been furloughed and turned to us, so we have to make sure we are a resource to people, that we can connect them to resources, not just food."   CBJ