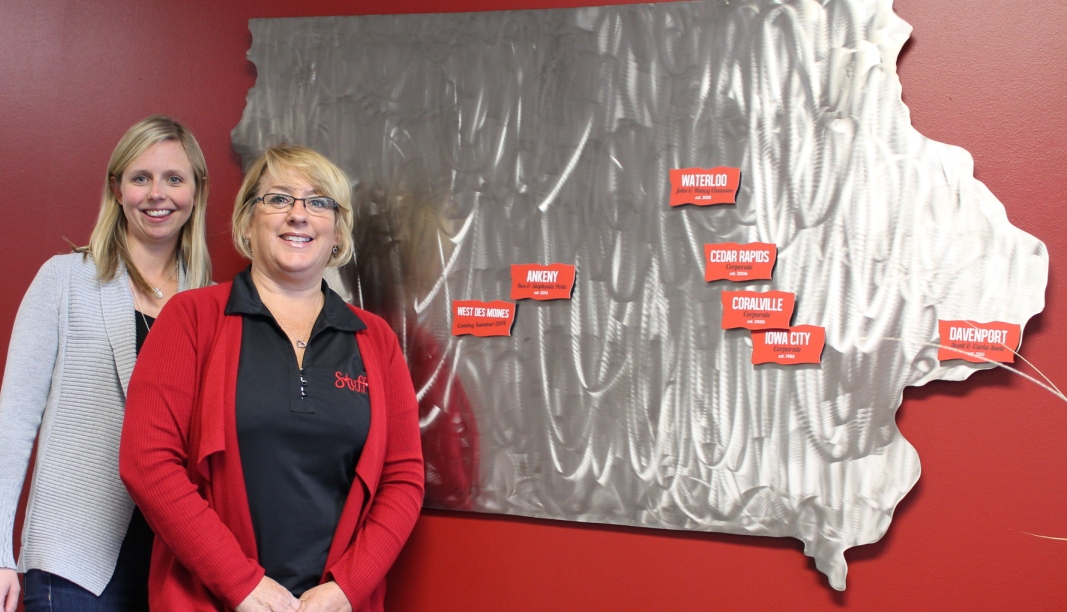 By Angela Holmes
CORALVILLE—By responding to market demands and providing stellar customer service, Mary Sundblad has grown her retail business into one of the largest consignment chains in the country.
Stuff Etc. Quality Consignment Stores has grown from a small secondary shop in Iowa City to a well-recognized chain with seven stores across the state.
The Coralville store alone will reach $3 million in sales this year, hitting its biggest month – $300,000 – in August.
Demand for consigned items is such that in the next year Stuff plans to expand its Cedar Rapids store from 33,000 square feet to 45,000 square feet.
The franchise had its humble beginnings in 1985, when Ms. Sundblad bought the Merry Go Round consignment shop on Riverside Drive in Iowa City. At the time, the store carried primarily children's and maternity items.
She moved the business to a 750-square-foot storefront on Highland Court in Iowa City, added country crafts and changed the name to Kids Stuff & Kountry Kreations. Within a year, business had grown so much, Ms. Sundblad's husband, Tom Sundblad, built a new 3,000-square-foot building on Keokuk Street.
Once country décor made its way out of style, Ms. Sundblad dropped the crafts and focused on consigned items.
"As time went on, we went to just consignment – that's where they money is," she said.
But customers weren't just interested in children's clothesh, and began asking for more variety. "People wanted everything in one shop," Ms. Sundblad noted.
So, she changed her focus to everything from furniture and housewares to books and electronics, and changed the name to Stuff Etc. in the early 1990s.
Because the Iowa City store was such a success, Ms. Sundblad decided to expand in other parts of the Corridor.
To test the market, she rented an 8,000-square-foot space on the Coralville strip in 2000. The market was ripe, and within two years, the Coralville store moved into its current 36,000-square-foot store on Commerce Drive near Interstate 80. Stuff also entered the Cedar Rapids market.
"We study areas and demographics before we open in a city," Ms. Sundblad said. "With 20,000-square-foot buildings, we need consignors."
That hasn't been a problem, as the Iowa City store alone has 30,000-40,000 registered consignors.
Selling consigned items not only keeps Stuff's overhead down, it also benefits the consignors, said Ms. Sundblad, as they are given an outlet to unload unwanted items and make some money. Consignors receive 40 percent of the sale price of their items. They can either cash out their accounts or use the money toward purchases at the store.
"When you're a consignor, it's like a savings account," Ms. Sundblad said.
Iowa's recycling mentality gives consignment stores like Stuff a boost, constantly providing customers with different, inexpensive items.
"Go green is chic and recycling is big, especially in Iowa City," Ms. Sundblad said. "Every day we put out 1,000 items on the floor."
The items are carefully looked over before being accepted to ensure quality, she said.
"A lot of items are things that have been purchased in the last couple months," Ms. Sundblad said. "Customers will find a lot of items with brand new tickets from people who didn't need them."
Along with its corporate stores in Iowa City, Coralville and Cedar Rapids, Stuff has franchise stores in Waterloo, Davenport and Ankeny. The corporate staff supports each franchise store.
"If they aren't successful, we are not," Ms. Sundblad noted.
Ms. Sundblad would like to expand to other states, but is cautious as each state has its own franchising laws.
"We can't be everywhere, but some cities we want to have a presence," she said, adding that college towns such as Lincoln, Neb. are a good fit for Stuff's concept and demographics.
Staying nimble
Keeping in the tradition of a family business, earlier this year Ms. Sundblad's daughter-in-law, Sara Sundblad, was named director of operations, a new position for the company. She was formerly the general manager of the Coralville store for 11 years.
Running a business is a constant learning curve, both Sundblad women agreed.
"You have to wear a lot of different hats to stay informed," Sara Sundblad said.
Technology has drastically changed the way the business is run, she noted. Social media sites like Facebook allow customers to share their experiences, and other popular sites like Pinterest give customers ideas for repurposing used items.
"Social media has created such a marketing buzz," Sara Sundblad said.
Computers and technology aside, the keys to running a successful business have remained the same since 1985, Mary Sundblad noted.
"Everywhere we try to give back and make a difference," she said. "Integrity is huge. Whatever you do, the consignor and customer are No. 1."