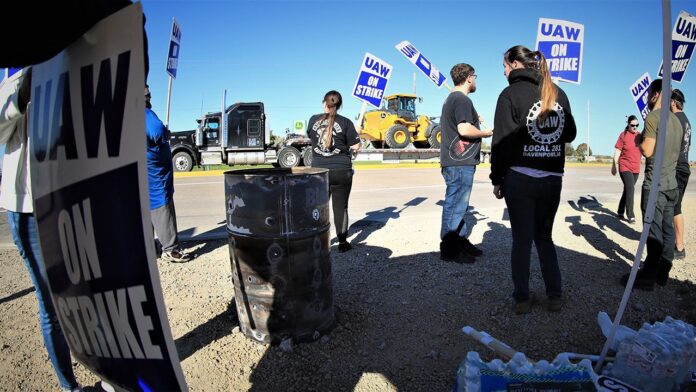 We are pleased that the United Auto Workers (UAW) union strike with Deere & Co. is over and that the holidays should return to some sense of normalcy in communities such as Waterloo and the Quad Cities, where Deere is a major employer.
Conventional wisdom is that union workers seek higher wages now rather than worry about the long-term consequences. That seems to ring true with the results of the recent five-week UAW strike at Deere.
But another tenet of unionization is jobs and the preservation of jobs. Again, this may be the area where longer-term consequences come into effect.
According to an editorial in the Wall Street Journal, "Deere is on pace to have its most profitable year in 2021, despite the drag from supply-chain issues. But the labor agreement will take a big chunk of future earnings, costing north of $3.5 billion."
Deere executives will reveal fiscal fourth-quarter results on Nov. 24 after this paper goes to press.
The Des Moines Register reported that Bob Loney, a maintenance welder, warned that employees would regret a longer strike. Mr. Loney has been with the company since before October 1997, when the union and Deere agreed to cut benefits and wages for new hires. That means he is in line for a better retirement plan than most employees at Des Moines Works.
"They're going to push too hard," Mr. Loney said of workers. "And Deere's going to push back harder."
It will be interesting to see if job numbers decline in these communities due to improvements in technology and a shift to locations without union constraints.
According to an article in MotorBiscuit in May, John Deere tractors are produced in nine countries worldwide. There are three factories in Brazil that manufacture tractors and harvesters. Additional John Deere equipment is made in factories in Argentina, Finland, France, two in Germany, the Netherlands, and four factories in India. Plus, there are two John Deere factories in Mexico.
Some questions remain on the division of union locations and why there was such a discrepancy between Waterloo and other Deere voting locations. Here are the voting percentages for the final vote that passed on Nov. 17:
Local 281 (Davenport Works) 
77% YES, 23% NO
44% YES, 56% NO
64% YES, 36% NO
Local 865 (East Moline Harvester) 
62% YES, 38% NO
In Waterloo, Deere's largest UAW in Iowa with about 3,000 members, 44% approved the contract on Nov. 17. According to a news report, while still in the minority, the "yes" votes were up from 29% on Nov. 2.
There will be plenty of time to see how this strike plays out in public and behind the scenes. We're just happy that it has ended.