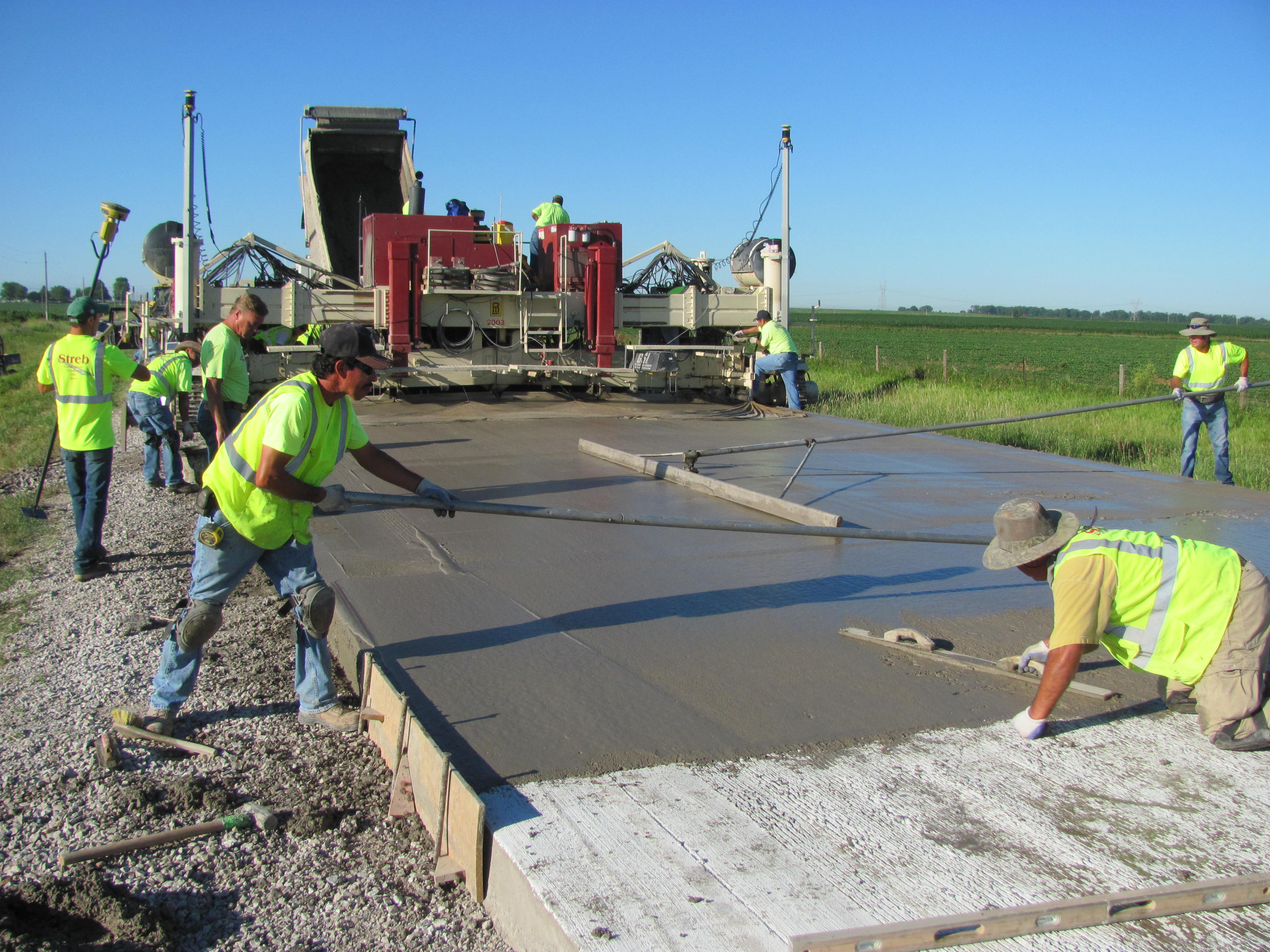 By Pat Shaver
IOWA CITY — A local construction company is using GPS technology to guide it.
Streb Construction, an Iowa City business that completes paving projects throughout Eastern Iowa, began using a new technology last year that guides machines to more accurately lay concrete.
Using GPS technology installed on a slipform concrete paver, Streb's paving projects are more cost effective, accurate and safe than traditional jobs, said Steven Streb, the company's owner and vice president. The system also prevents human error.
Previously, Streb Construction would guide the machines by lining both sides of the street with string. That process is labor intensive, could cause inaccurate results and can be a safety hazard.
Streb Construction is the only company in the region using the technology, Mr. Streb said. About four paving companies that complete major interstate and road projects in the state use the technology, he said.
Instead of buying a new paver with the GPS system, Streb had Star Equipment retrofit the technology on a 1999 slipform concrete paver, which has about 10 years of use left. A new machine would have cost about $1 million-$1.2 million, he said. The company began using the technology last spring.
"Getting this on more machines, perfecting the technology and having everybody buy into it is what we're focused on for the near future," Mr. Streb said.
Topcon's Millimeter GPS Paver System is designed to provide pavers with accuracy to the millimeter.
Streb Construction, incorporated in 1965 by Mr. Streb's father, Al, began building houses and evolved into development of commercial buildings and residential subdivision in the 1970s.
"Then the farm crisis hit and everything in Iowa was pretty much at a standstill," he said.
From 1979-1980, there were about 13 building permits issued in all of Iowa City. That forced the company to shift its focus, he said. The company began increasing paving sidewalks, driveways and streets. The company is now owned and operated by Mr. Streb and his brother Dave Streb, president of the business.
Until 2007, a large portion of Streb Construction's business came from paving work for subdivision developers.
"With the recession and the housing market going to heck, we had to shift gears again and focus more on the government side," he said. "We were able to shift gears relatively fast. We could see it coming so we got our financial life in order. To bid government work, you have to be bonded. We focused on how we looked to bonding companies so we could bond bigger work."
They have completed projects for the Eastern Iowa Airport (extension of runway 1331 and taxiway 927), taxiways at the Clinton Airport and the Washington Airport, eight miles of overlay in Muscatine County and a two-mile overlay project in Keokuk County.
"Last year and this year there seems to be more subdivision work coming back, but it's still not to where it was," he said.
In 2009, Streb expanded operations by purchasing E & F Paving, a 50-year-old company in Cedar Rapids.
This year, Mr. Streb said they are closely watching the state gas tax legislation. The Road Use Tax Fund (RUTF) is dedicated highway user revenue, collected through a state excise tax on fuels and is deposited into the Iowa Road Use Tax Fund. No state general fund revenue is used for highway projects in Iowa, according to the Iowa Department of Transportation.
New, energy-efficient vehicles require less fuel, thereby contributing less road tax to the state and road projects are being delayed due to funding cuts. The proposed gas tax legislation would increase the tax by 10 cents over three years.
"It really is needed. That funding steam is key to our livelihood," Mr. Streb said.
Streb Construction employs 75 workers in Iowa City and 25 in Cedar Rapids.