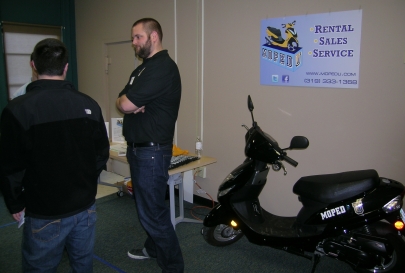 Four companies with four different stories
By Pat Shaver
It takes a village to help start a new company.
That village showed up to the Iowa Startup Fair and Coworking Space Opening in downtown Cedar Rapids last week. The event featured 28 Corridor startup companies at all levels of business. The Vault Coworking and Collaboration Space, 222 Third St. SE (fifth floor), where the event was held, also held an official ribbon cutting ceremony. More than 120 people attended.
The Cedar Rapids fair was part of a multi-city statewide event that took place concurrently in Des Moines, Pella and Cedar Falls. The events were in unison with Startup America Day on Jan. 31.
Here is a mix of startups that were featured at the event. To read about more, visit CorridorBusiness.com.
MopedU
Recent University of Iowa graduates considered their troubles parking downtown when creating their startup company.
MopedU was launched in January 2011. It's a transportation company based in Iowa City that offers students and community members moped rentals by the week, month or university term.
"We haven't taken money; we've had a few business meals," said Bryan Ilg, co-founder, with a laugh. "One of our main goals now is to expand onto other campuses."
The initial idea for the company, Mr. Ilg said, was a bike rental business. Then, he realized that mopeds would be faster and more efficient for getting around Iowa City.
"Mopeds were a smarter way," he said. "Especially with our experiences with parking problems in the city."
Mr. Ilg co-owns the business with Joshua Bass, who co-founded the business with him, and Tommy Le, vice president of sales. They started with 30 mopeds available for rent. Now, they have about 80.
"This isn't something people thing about growing up to do. It's kind of off the beaten path," he said.
Mr. Ilg said it would be ideal to expand onto southern college campuses, where they can operate the business 12 months of the year, instead of nine. The company currently offers rentals for the spring, summer and fall terms, but not during the winter months.
The company includes the three owners, one mechanic and a few college interns.
"It's a great intern idea, being at a small business. They're right there with us in the idea making process," Mr. Ilg said.
Mr. Ilg and Mr. Bass were at the Startup Fair last week to share their company.
"We want to expand our entrepreneurial presence. We want to be around other entrepreneurs," he said.
Rentals are available starting March 1. MopedU takes care of insurance, service and maintenance, university fees, state taxes and licensing and storage. Prices range from $65 for a week to $180 for one month, and $145 per month for a full 3 month session.
The mopeds get an average of 80 to 100 miles per gallon. For more information, visit www.mopedu.com.
Design Trust
Dan Schuster started his own design company 4 to 5 years ago in Cedar Rapids.
Design Trust offers clients logo/brand identity, brochures, web design, posters, CD and package design, garment graphics and consulting.
Before branching out on his own, Mr. Schuster worked at different agencies doing design work.
He said the economy was one factor that influenced his decision to start his own business.
"I just got tired of letting other people take credit for the work I was doing," Mr. Schuster said, adding that his father and siblings are entrepreneurs.
"I wanted to be able to take time off when I want to take time off," he said.
About half of his business is local. He's designed logos and supplements for Theatre Cedar Rapids, the NewBo City Market, the Vault Coworking space, the Czech Village/New Bohemia Main Street District, and the Czech & Slovak Museum & Library.
The other half of his business comes from other states. For example, he's worked with the Wisconsin Horse Council, and a Los Angeles company that makes sleeping bags for babies, Dabooshi.
"You've got to know how to run a business, but with programs out there, you can download them and they help run the business for you," he said. "The hardest part is drumming up business, but at times I have to turn business away because I get too busy."
Mr. Schuster, who is the only employee, sometimes utilizes freelancers. He said much of his business comes from word of mouth since he's done very little marketing.
For more information on Mr. Schuster's company, visit www.designtrust.net.
ActiveGrade
They went from high school teachers to entrepreneurs.
Michal Eynon-Lynch and her husband Riley Eynon-Lynch realized they didn't like the traditional grading system.
The couple was at a point in their lives where they had just been married. They were buying a house, so they decided to also make the jump from teachers to entrepreneurs.
They started ActiveGrade, which is similar to the way they graded when they were teachers. It's a standards-based gradebook that empowers students and teachers by making grades from the start of the conversation, rather than only at the end.
They quit teaching in June 2010 and started beta testing the program in January 2011. The product was fully released in August 2011, Ms. Eynon-Lynch said. This month, Dan Sweeney, who had been working part-time with the company, came on as a full-time co-founder.
"My wife and I had just had a baby. I knew we had something (with ActiveGrade), so I decided to take the leap," Mr. Sweeney said, who was previously working for the University of Iowa.
"Our push for the next six months to year is to expand our customer base," Mr. Sweeney said.
Though the company is based in Iowa City, its customers are from all over the United States, and even a few in Canada, Ms. Eynon-Lynch said.
The program helps teachers identify which students are having trouble and which topics need more attention, allows teachers to define grading polices that reflect mastery of content and skills rather than effort and behavior. It also helps teachers assess their own methods so that they can improve. Parents and students can also access the program and enter comments and questions about specific scores.
For more information, visit www.activegrade.com.
CRITERIUM-LeTellier Engineers
Lance LeTellier started his company, part of a national franchise, in the fall of 2008.
Mr. LeTellier was working for a firm in Cedar Rapids at the time, and getting his dual master's degree. He was hoping to position himself for a career more focused on renewable and sustainable work.
"But with the crash, all of the companies I was looking at were laying people off," he said. "So I switched gears."
Mr. LeTellier got connected with CRITERIUM Engineers, which provides building-related engineering services. The company offers due diligence property condition reports, environmental site assessments, capital reserve analyses, construction monitoring, and other building-related consulting services.
Mr. LeTellier doesn't have any employees, but utilizes local contractors for many of the company's projects. He hopes to hire an office assistant eventually, and hopes to be look at hiring technicians and engineers.
Mr. LeTellier's current interest is in helping restore flood-damaged buildings that are up for demolition, and working on other historical preservation projects. He said the ultimate goal is to save the buildings from the landfill.
For more information, go to www.criterium-letellier.com.
A shortened version of this story appears in the Feb. 6-12 issue of the Corridor Business Journal.