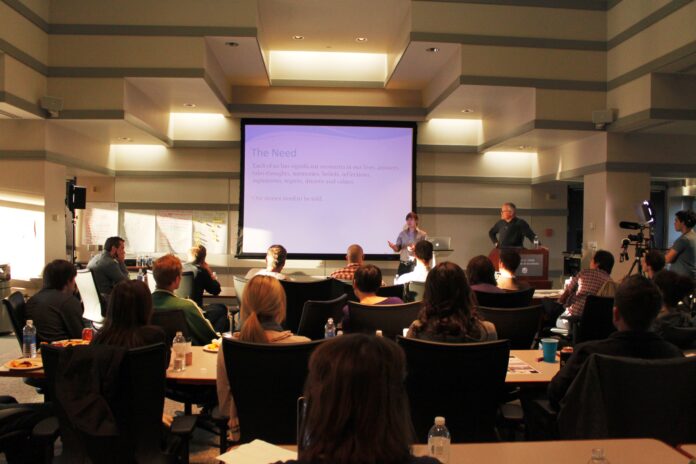 Teams learn by doing, Tellmystory app takes top prize
By Sarah Binder
IOWA CITY–Startup Weekends ask participants to take ideas to reality in 54 hours, and three teams did just that at the second annual Iowa City event.
Startup Weekend Iowa City took place Oct. 5-7 at the John Pappajohn Business Building on the University of Iowa campus.
Top prize went to Tellmystory during the judging on Sunday evening. The app would use video, audio and text to create a replayable life story.
"Let's not wait for old age or retirement to start telling our stories. You can start today," said Josh Krakauer, who works full-time at Sculpt, an Iowa City-based social media marketing firm, in the team's pitch.
A key part of the service would be the question generator, which might ask something like "Who was your favorite high school teacher and why?" The generator, which was described as "an automated, algorithmic Tom Brokaw" would interpret the answer and ask thoughtful follow-up questions.
The team said they would partner with assisted living facilities, estate planning services, and websites like www.ancestry.com to help spread their app.
The other teams included Ready to go in America, a booklet to help international students navigate their new homes, and Shindigger.co, an app that would tag photos to memorable events, such as President Barack Obama's visit to the UI Pentacrest.
On Sunday, the #internet2012 bus tour joined the event on their voyage to spread the message of an open internet. Members of the tour who acted as guest judges included top executives from reddit and The Cheezburger Network.
The tour was traveling with a doccumentary film crew and a scroll titled "the Declaration of Internet Freedom" for people to sign, both of which will eventually be presented to Congress. Reddit General Manager Erik Martin told the crowd not to take Internet freedom for granted, because it might not always be there. He praised participants for taking advantage of it.
"The experience you gave yourself this weekend…even if the companies don't materialize, you're going to meet people, you're going to learn skills, you're going to have that to carry on to your next project," he said.
For more information about Iowa City's Startup Weekend, visit http://iowacity.startupweekend.org/.
View in full screen to see captions.