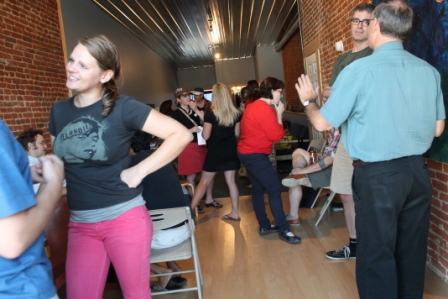 By Gigi Wood
DECORAH – University of Iowa alum and serial entrepreneur Jason Trout has started another online company. He and his business partner, Peter Awad, are also working to foster an entrepreneurial community in Decorah.
Mr. Trout, 35, who received an entrepreneurial certificate from the UI in 2001, started PlanetSave.com and Redjellyfish.com as a student. He now runs Blue Brain Consulting, a company that helps other businesses with their Google AdWords campaigns. Mr. Awad, 33, is founder of Import Auto Performance, an online site that sells high-end auto parts.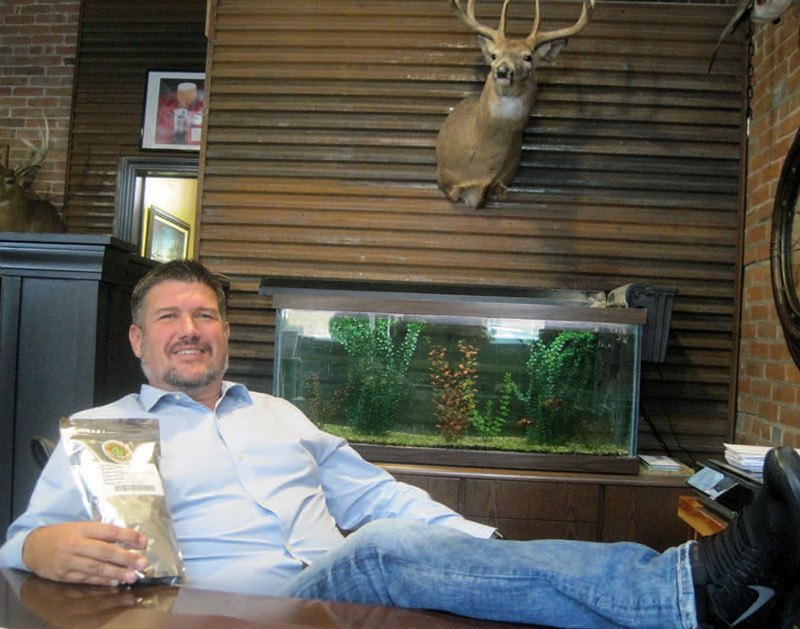 The two started software company GoodBlogs, a content marketing platform that is "unlike what anyone else is doing" and is patent pending. While the startup is interesting and just the kind of thing economic development officials love to see blossom in the often overlooked entrepreneurial landscape of Iowa, so is how they met.
A few years ago, Mr. Trout and Mr. Awad were working at their distinct businesses in separate offices in different buildings a few blocks apart in downtown Decorah. Each described their working environments as "caves," where they worked alone on their online businesses, sometimes in a dark, basement office, just them and the light of their computer.
A turn of events changed that. Mr. Trout's office building burnt to the ground. And in his search for new space, he ended up renting an office across the hall from Mr. Awad.
The two began chatting day after day and sharing industry trends and online news they found throughout the week. One thing led to another, and they came up with the idea for GoodBlogs.
"I work alone, I don't have anybody to bounce ideas off of," Mr. Awad said. "He moves in and all of the sudden we're bouncing ideas off each other, back and forth all day long. And through several failures, we ended up here, at GoodBlogs."
Co-working space
A couple years ago, Mr. Trout started hosting Beer Friday events for his freelancers and contract workers. Then local telecommuters and business owners started showing up.
"We started inviting people we knew who were working independently," Mr. Awad said. "I like to say we're trying to manufacture serendipity because you have these co-working spaces in bigger cities and the whole idea is to create serendipity. Since we're in a state of 3 million people, it means we kind of have to manufacture it. So we have these events so we can run into people we normally wouldn't run into."
At the Sept. 27 Beer Friday, there were a mix of business owners, artists, a freelance chef, the director of tourism, an employee from the local thrift store that plans to triple in size next year, a worker from the county extension office, sales manager for Surly Bikes, magazine publishers, a professor from Luther College and economic development officials.
"We started to get together to hang out and these unplanned connections started happening," Mr. Trout said. "It's connections we wouldn't have had otherwise."
They are working with local economic development officials on converting some downtown second-floor office space that has been vacant for 40 years into an official coworking space for the community.
GoodBlogs
GoodBlogs is a crowd-sourced blogging company, which uses a platform the two built from scratch and is patent pending.
Other companies use the platform to build blogging communities and an audience that is focused on that company's niche subject. For example, Featherlite Trailers of Cresco, the largest livestock trailer producer in North America, makes, among other things, horse trailers. It runs a web site called OfHorse.com, an "equestrian blogging extravaganza," as it's called by the company. The site uses and pays GoodBlogs to manage its blog posts.
Every company wants more targeted web traffic and the two say they have the best solution at the right price. Typically, blog management can cost a company $12,000-$32,000 a month, but GoodBlogs is substantially less, they said.
"Anyone from anywhere in the world can submit an original blog post," Mr. Trout said. "Site members vote for their favorite posts and the most popular posts are featured on the home page and when that happens, that blogger gets paid. So what ends up happening is, you get hundreds of pages of original content, which is exactly what Google wants. Then targeted traffic comes from the search engine to social media sites."
GoodBlogs intends to create digital marketing partnerships, as well, with companies that have had difficulty generating original blog content.
They submitted their patent for approval three years ago and recently received their first response, so they expect it to be approved soon. They started licensing out their product last year and landed their first client in December. Until last month, they stayed pretty quiet, relying only on word of mouth to land new clients. They presented at One Million Cups at the Vault Coworking Space in Cedar Rapids on Sept. 11.
"That was kind of our coming-out party, if you will," Mr. Awad said. "Before that, we had never pitched the idea, ever."
GoodBlogs has pivoted twice since its inception and the co-founders have largely relied on feedback from beta testers when tweaking the company. Mr. Trout and Mr. Awad have used the Lean Startup model to guide the business for the past three years. The company has an angel investor and the co-founders have continued to work at their other online companies to pay the bills and feed their families along the way. They do plan to pay themselves for the first time this month. Eric Englemann, Cedar Rapids-based Geonetric's president and CEO, is mentoring them.
"The software is incredibly complicated and it's a big deal and we wanted to keep that in our pocket and we were looking for somebody who could bring smart money, who had a lot of expertise in other fields, like operations and accounting," Mr. Trout said. "Now, we're cash-flow positive, so rather than spending time hunting down VCs (venture capitalists), we wanted to spend our time pursuing our next 10 clients."
In November, the two plan to talk about their business and co-working space while at a Tony Hsieh Downtown Project event in Las Vegas.