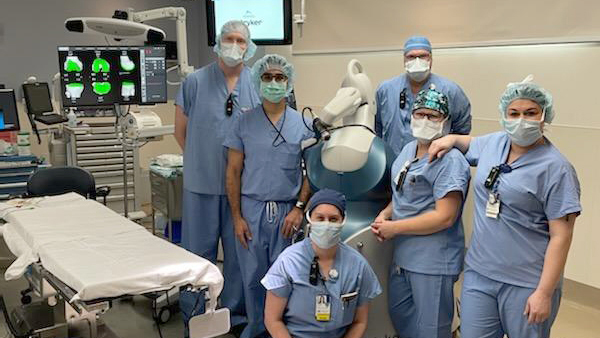 UnityPoint Health–St. Luke's Hospital is now offering an innovative solution for joint replacement surgery. 
Mako SmartRobotics, available to individuals who suffer from painful arthritis of the knee or hip and haven't had relief from conservative treatments, is an advanced robotic-arm technology that helps surgeons precisely place joint implant materials. At St. Luke's, Mako is used for the patellofemoral, partial knee, total knee and hip replacement surgeries as well as shoulder replacement in the future.
St. Luke's Orthopedics team recently performed the first Mako joint replacement, which was led by Dr. Omar Akhtar, Physicians' Clinic of Iowa orthopedics.
The Mako system uses a CT scan to create a virtual 3D model, which allows surgeons to identify the best implant size, orientation and alignment based on each patient's anatomy before surgery. During the operation, the Mako System also enables surgeons to virtually modify the surgical plan during the surgery and assists the surgeon in executing the plan. The Mako system does not perform surgery, make decisions on its own or move without the surgeon guiding it.
Benefits of Mako joint replacement surgery include better joint placement precision, reduced amounts of pain medicine, shorter procedure times and faster recovery times compared with traditional joint replacement surgeries.