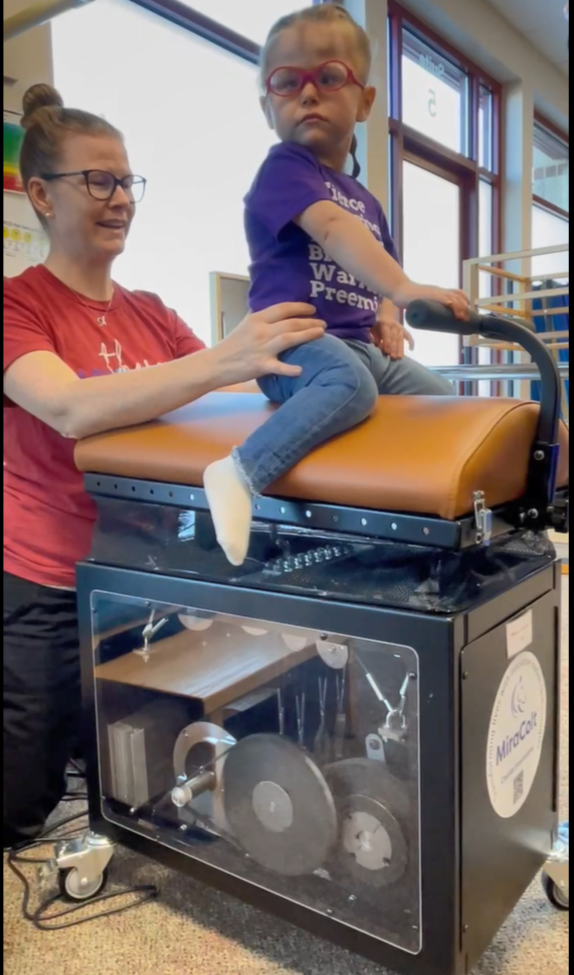 St. Luke's Foundation has received a $17,281 grant from Variety – the Children's Charity to purchase two MiraColt Horse Riding Simulators for UnityPoint Health–St. Luke's Witwer Children's Therapy (WCT) locations.
The equipment features side-to-side and forward and backward motions designed to mimic the three-dimensional quality of a horse's gait. Research has demonstrated it is possible to obtain similar benefits to gait, postural stability, balance, strength, and other therapeutic goals using a mechanical horse-riding simulator as compared to using a live horse.
The MiraColt Horse Riding Simulator is expected to help individuals with Cerebral palsy (CP), autism spectrum disorder (ASD) and other related neuro-muscular conditions. This form of therapy has been shown to improve outcomes in mobility, balance, control of posture, walking, speaking and gross and fine motor skills.
"The MiraColt is an exciting addition to our treatment toolbox," said Sarah Bengtson, Witwer Children's Therapy senior physical therapist and clinic supervisor, in a news release. "The equipment challenges children's balance and postural control and is a fun way to work on these and other movement skills in a clinic-based setting.""
Witwer Children's Therapy is one of the largest outpatient pediatric therapy providers in Cedar Rapids and in Iowa. Witwer has two locations one in Cedar Rapids and another in Hiawatha. Each clinic received a MiraColt.
"Thanks to Variety – the Children's Charity, many children in Eastern Iowa will benefit from these devices," said Julie Gasway, Witwer Children's Therapy manager. "Studies demonstrate how useful this therapy is for many of the children we serve."
The MiraColt simulator was developed and built by Chariot Innovations, a company based out of Baylor University in Waco, Texas. Witwer Children's Therapy, UnityPoint Health is currently the only therapy clinic in Iowa to utilize this equipment in therapy sessions.