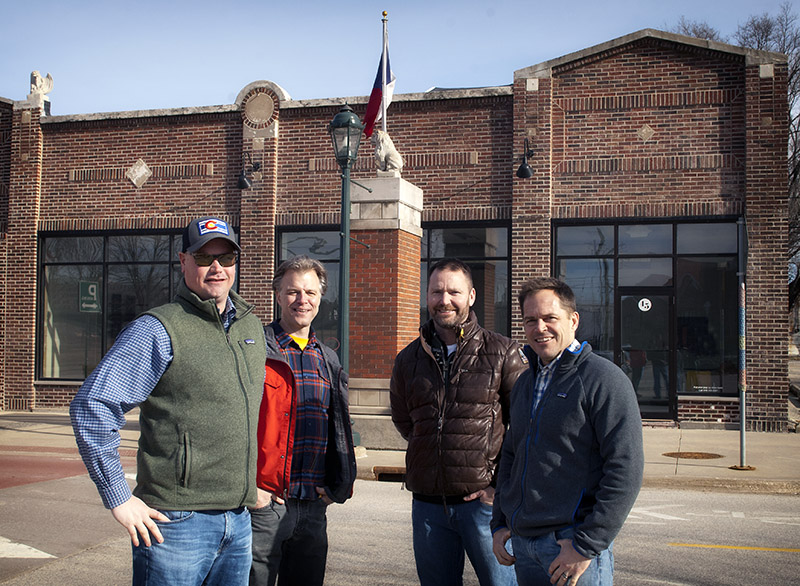 Soko Outfitters founders (l-r) Steve White, Steve Shriver, Graig Cone and Dr. Ryan Sundermann, are shown in front of the location where the store will open late this summer. PHOTO ANDREA SHRIVER
By Dave DeWitte
dave@corridorbusiness.com
CEDAR RAPIDS—A new independent outdoor store is preparing to open in Czech Village this fall, demonstrating a leap of faith by four local entrepreneurs in the Corridor's growing outdoor scene.
Soko Outfitters will be a 5,000-square-foot store offering outdoor apparel brands not currently available in the Cedar Rapids market, including Patagonia, Prana, Kuhl, 686 and Parajumper.
About 80 percent of its stock will be apparel, while the remaining 20 percent will be hard goods such as backpacks, tents and camp stoves from leading brands such as Black Diamond and Big Agnes, which have largely been absent from local stores. Within two years, the owners also plan to add kayaks.
"We'll have outdoor programming – everything from 'how-to' to 'let's do,'" said Steve Shriver, who is partnering in Soko Outfitters with Steve White, Graig Cone and Dr. Ryan Sundermann.
Mr. Shriver co-owns the building at 45 16th Ave. SW, which was once a automobile dealership selling Studebakers and Ramblers. More recently, it housed the nonprofit Artisan's Sanctuary, which relocated to Uptown Marion.
Mr. Shriver and Dr. Sundermann briefly discussed opening an outdoor store in the building after it was vacated, but "just didn't have the bandwidth," said Mr. Shriver, the CBJ's 2014 Entrepreneur of the Year.
Mr. Shriver and his wife Andrea already had major commitments to Eco Lips, the personal care products company, and Brewhemia, the coffee house they own in the nearby NewBo district. Dr. Sundermann practices emergency medicine at UnityPoint Health – St. Luke's Hospital.
But the passion was there: Mr. Shriver is a veteran rock climber and mountaineer who launched Vertical Pursuits, a rock climbing instruction and guide service, early in his career, and met his wife Andrea, also a rock climber, while working at a Iowa City sporting goods store. Dr. Sundermann is a veteran of many endurance adventure sports events.
Mr. Cone and Mr. White later approached Mr. Shriver with the idea of an outdoor store, raising the possibility of forming a four-way partnership. It would mitigate the risk to the individual investors and allow them to lend expertise from a variety of backgrounds.
"We were thinking very small – a nice starter store with a little of everything just to test the water," Mr. Shriver said. "Once we did the research and saw the market had 250,000 residents with very little access to outdoor gear, we saw there was a great opportunity to do a store of good size."
The partners prepared a complete business plan, and for more than a year attended trade shows and approached top outdoor brands about becoming a dealer. Some of them, like Patagonia, weren't too interested in adding dealers, considering the present struggles in brick-and-mortar retail, but after sending representatives to Cedar Rapids, saw the potential.
Mr. Shriver said the independent outdoor retail equipment segment has continued to grow, and several of Iowa's largest cities have successful outdoor stores competing head-on with big-box sporting goods retailers. Soko will mainly stock popular brands with strong retail price protection programs that prevent high-volume retailers from underpricing smaller rivals.
"We really wanted to promote outdoor activities in that area," said Mr. White, a commercial real estate specialist with Skogman who worked at Eby's Sporting Goods when he was young.
The Czech Village and NewBo districts are busy cogs on the regional trail system, and plans are being made for a new pedestrian/cycling crossing of the Cedar River called the Sleeping Giant Bridge. Recreational opportunities will explode with the opening of new mountain biking trails and hiking trails later this year at the former landfill known as Mount Trashmore, and a new boat landing for kayaks and other small watercraft is expected to open on the river within the next few years.
Some 50 acres of largely vacant surrounding land has also been designated by Cedar Rapids as a greenway in the city's flood protection system. The land could satisfy a variety of recreational uses, including large outdoor festivals.
Searching for a name, the partners drew inspiration from nearby Sokol Park. Sokol was a significant name in the area's Czech and Slovak heritage, but a little hard to say. They shortened it to Soko, a name which in Japanese means simply "there," Mr. Shriver said.
Altogether, Soko will represent a "high six-figure" investment. Mr. Shriver said he's devoted most of his energy and investment to the NewBo District on the north side of the Cedar River, but now hopes to do more in Czech Village, which is now lagging NewBo in investment activity. He is on the board of Friends of Czech Village, a group dedicated to rebuilding the historic roundhouse that was once a hub of the Czech commercial district, as well as the board of the New Bohemia Group, which sponsors arts activities in NewBo.
Mr. White sees the growing residential population of the Czech Village and NewBo districts as one driver of retail demand for the area. Millennials tend to like living in areas in and around downtown cores where they can work, live and play.
Previous investments in sports retailing have already made an impact in the area, with the opening of Iowa Running Company at 1000 Third St. SE and Goldfinch Cyclery at 208 C 12th Ave. SE.
Soko will work with Goldfinch and Iowa Running Company to bring outdoor sports and shoppers to the area, and also plans to co-organize events with Soko's neighbor to the south, Lion Bridge Brewing, Mr. Shriver said.
About 12 employees will staff the store, which will have an industrial decor and style.
Strong product and sport knowledge will be key to weaning customers away from online retailing, Mr. White said. At Soko, not only the employees, but the owners will be sports enthusiasts who really know their gear, Mr. Shriver and Mr. White said. Dr. Sundermann, with his knowledge of medicine and endurance sports, will add an interesting dimension.
"Whether fitting a backpack or a boot or talking about fitness and health, we'll have an expert on body mechanics, physiology and health," Mr. Shriver said.
Although skeptics might say Eastern Iowa has never been a major outdoor sports destination, don't tell that to Soko's founders. Mr. Shriver sees not only growth in the local outdoor scene but a chance to offer a unique retail experience for the market.
"Our goal is to open a store that is a favorite around here, that will take you to your favorite mountain-town shop, and inspire you to be more active and adventurous," he said.