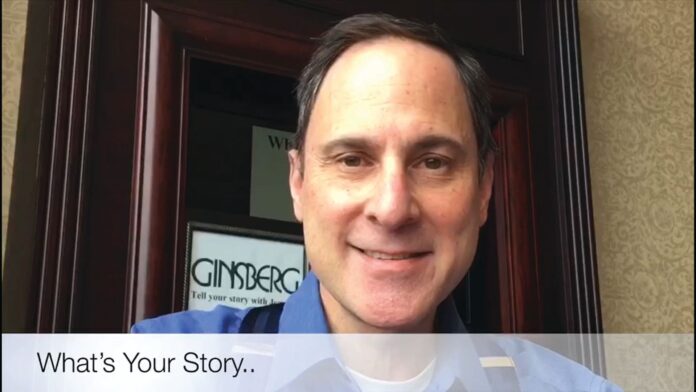 Steven Ginsberg, of Ginsberg Jewelers in Cedar Rapids, has made it a point to stay connected during the pandemic, hiring a social media specialist and hosting weekly online sales presentations on Facebook. CREDIT GINSBERG JEWELERS
By Katharine Carlon
katharine@corridorbusiness.com

Four generations of Ginsbergs have weathered hard times before. Isadore Ginsberg shepherded the family jewelry business through the Great Depression of the 1920s and '30s by having the foresight to stock up on watch crystals. His son, Herman, survived the double whammy of the economic downturn and flood of 2008 thanks to an outpouring of federal aid.
Now, Ginsberg Jewelers is facing a new and unpredictable existential crisis. And like small retailers across the Corridor and around the world, its newest owner, Steven Ginsberg, is using every ounce of creativity he can muster to keep the Cedar Rapids business afloat one more time as the coronavirus pandemic locks storefront doors and keeps customers at home.
Mr. Ginsberg has hired a social media professional and increased the store's presence across platforms from Twitter to Pinterest, launched a regular one-hour Monday night Facebook "show" featuring 20 to 30 pieces per episode, uploaded photos of inventory to the store website, and added online chat, allowing customers to interact with him, view pieces and ask questions.
"It goes right to my cell phone, and I don't care what time it is, I answer," said Mr. Ginsberg, who has also tried to maintain his local media advertising budget in order to stay top of mind as the pandemic plays out.
Sales are down 68% over last year for the six-week period beginning March 15 when he locked his doors – a dramatic number that is nonetheless in line with other Corridor retailers, who also reported sales decreases of between 50 and 90% since Gov. Kim Reynolds ordered most retail outlets to close to the public.
"Online sales haven't been much at all so far," said Mr. Ginsberg, hastening to add that any sales are welcome in an environment as challenging as this one. He also counts the business as fortunate to have been able to retain a surplus since the retirement of his father, Herman, last year and to have qualified for a Paycheck Protection Plan (PPP) loan last week.
"That is the only reason we're still in business and can calmly wait until it's safe to reopen," he said.
At Iowa City's iconic Prairie Lights bookstore, where a staff of 26 has been trimmed to just four employees, the situation is much the same, with owner Jan Weissmiller estimating a 50% drop-off in sales. She calls the store's approach to marketing during the pandemic "a work in progress."
After first offering curbside pickup of books and other items, Prairie Lights has since gone to only online and phone orders for safety reasons. It also maintains an outdoor book cart, which allows customers to call with credit card information to make purchases and is experimenting with streamed author readings that have generated some sales, including several from previously inaccessible out-of-state readers hungry for literary content.
"It's been time consuming because now every sale involves a conversation, but that's how it needed to happen," said Ms. Weissmiller, who is "looking at the big picture" now that the book shop has been approved for a PPP loan. "Right now, we are able to meet our bills partly because many of our bills have been deferred and many of our publishers – about 90 percent – have put off payments … But how this all shakes out is a complete unknown."
National retail sales fell 8.7% in March, according to the U.S. Census Bureau, in the largest ever recorded drop, dwarfing the 4.3% retail contraction at the height of the financial crisis in November 2008. And while April numbers were not available by the CBJ's press time, insiders expect them to be far worse.
"March was a month that started out with many stores still open, but far more are closed now," said Jack Kleinhenz, chief economist for the National Retail Federation, in a statement late last month, adding "Even if the economy begins to reopen in May, consumer behavior may take a long time to adjust."
The March retail numbers indicate the pandemic has had clear-cut retail winners and losers. Sales at grocery stores were up 25.6% over February and general merchandisers like Costco, Walmart and Target saw sales jump 4.3%. Among the biggest losers were furniture stores, which saw sales decline 26.8%, and sporting goods stores, down 23.3%.
It was clothing stores, though, that experienced the biggest tumble with a 50.5% sales decrease – a number that comes as no surprise to Char Andersen, co-owner of The Village in Washington, which houses a collection of individually-owned boutiques, including her own Creations by Char women's apparel and accessories shop.
"My sales are down 90% and I was making almost nothing until I started doing Facebook sales," Ms. Andersen said. "It's bringing in a little income, but it basically pays for rent and utilities, and that's it."
She did not bother applying for a PPP loan as a sole proprietor with no employees because she thought her Social Security income would likely disqualify her for the program. Now, she is cancelling fall orders for clothing, purses and other items, anticipating that consumer demand will continue to be low for the foreseeable future.
Nancy Bird, executive director of the Iowa City Downtown District, said some fashion retailers are having more success. Iowa City's Revival, for example, went online-only March 16, selling items on its website and via Instagram, Facebook and Pinterest, offering both free delivery and curbside pickup as well as personalized shopping via FaceTime and other messaging apps. Across the Ped Mall, Velvet Coat is offering similar services and bumped up the launch of its own website to enable customers to continue shopping 24/7.
"People are pushing through and finding a path," Ms. Bird said, adding that while online sales were by no means replacing typical sales revenue, the crisis was forcing retailers to widen their universe of selling opportunities, which could pay off when the economy reopens. "Getting online and taking an omnichannel approach has been a silver lining in all of this. It's not a perfect scenario right now, but it's having an impact."
The number of orders placed online and picked up at brick-and-mortar stores by customers surged 208% between April 1-20 compared with a year ago, according to data collected recently by Adobe Analytics.
To support those efforts, ICDD maintains an updated list of Iowa City retailers who are keeping their operations going online. The Czech Village-New Bohemia Main Street District launched loveyourlocaliowa.com last month to provide information from more than 100 businesses and nonprofits offering remote services. Meanwhile, both the Cedar Rapids Metro Economic Alliance and the Marion Chamber of Commerce have expanded their partnership with Shop Where I Live, an online platform for small businesses to sell products and services, offering free virtual storefronts into the summer months.
"One thing I know is that these independent retailers have to survive and it's all of our responsibility to see that they do," Ms. Bird said, adding that she has seen a marked surge in customers making it a point to keep their dollars local.
Anne Armitage, co-owner of Moss, a plant, gift and décor shop with locations in both Cedar Rapids and Iowa City, has seen that firsthand since going to an online-only approach in response to the pandemic.
"We're seeing a lot of solidarity and people wanting to go local even if it means going a little bit out of their way," said Ms. Armitage of Moss' sales effort, which also includes limited home delivery and curbside pickup daily in Cedar Rapids and twice a week in Iowa City. "It's something I see daily in my behavior and in my friends and family – that realization of how fragile the local economy is – and I'm really hoping it's going to be a lasting change."
Like most retailers interviewed by the CBJ, Ms. Armitage is in no hurry to "jump the gun" on reopening before it is safe. And she expects consumer behavior to be different now that customers have become used to the convenience of shopping from home and curbside delivery, which might become a permanent service at Moss.
Mr. Ginsberg also expects to work in a different operating environment once his store reopens to the public. What he referred to as a "new normal" might involve placing hand sanitizer dispensers at the door, wearing gloves in the shop, frequent cleaning of display areas and accommodating new consumer buying habits.
"I have every confidence we'll reopen strong and I'm hanging my hat on the fact that jewelry tells a story," he said.
The question for most retailers, though, is when that might safely happen.
"If we can get some normalcy by the end of May, we may be OK," Ms. Andersen said. "If this goes on too much further than that, I don't know."   CBJ