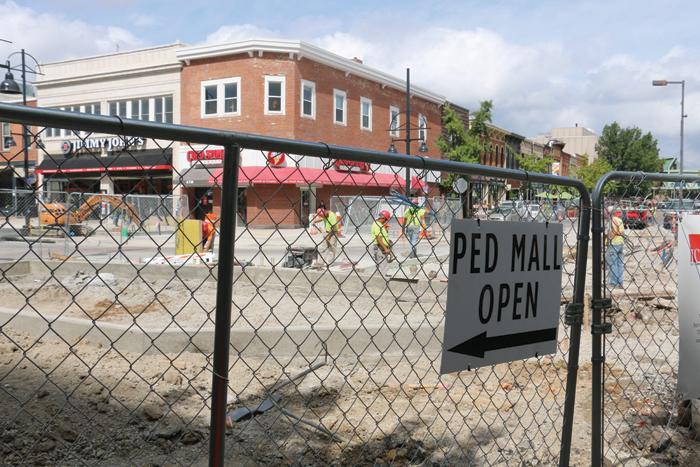 Coming CoSign program dovetails with proposed signage rule changes in downtown Iowa City.

By Chase Castle
chase@corridorbusiness.com
Businesses in downtown Iowa City will soon be able to get customized signs made by local artists to spruce up their storefronts through a program supported by the National Endowment for the Arts.
CoSign, which first launched in Cincinnati in 2012, was originally a product of the Ohio-based American Sign Museum. The institution's staff arranged workshops and helped facilitate the permitting process for local business owners, artists and professional sign fabricators in the hopes of reinvigorating that city's commercial sector.
Following an expanded pilot program in Covington, Kentucky, in 2014, the program will be offered next year in six cities across the U.S., including Iowa City, where officials are currently in the process of revising signage regulations.
Nate Kaeding is the retail development coordinator for the Iowa City Downtown District, which will facilitate the implementation of the program. He said CoSign will support ongoing efforts to enhance the walkability of the area, including revisions to downtown signage regulations, which were advanced Oct. 6 by the city's Planning and Zoning Commission.
"The program is a perfect fit for us because of the timing," Mr. Kaeding said, adding that its appeal to local officials "was born out of the need to help spur and incentivize part of this next generation of signage."
Early next year, the district will host workshops meant to outline the program and potential funding mechanisms, which to date have included a combination of public and private backers. The workshops will also provide a forum for designers, businesses and sign fabricators to exchange ideas, and educate artists who lack experience with three-dimensional or exterior projects.
The pending signage regulation changes, which the city council could vote on next month, largely follow recommendations made by consultant Kiku Obata. The St. Louis-based firm met with city staff, the Iowa City Downtown District and local businesses last year to develop recommendations intended to improve the aesthetic appeal of downtown storefronts.
The guidelines focus on the city's central commercial area bound by Clinton Street to the west, Iowa Avenue to the north, Burlington to the South and Van Buren to the east, as well as the North Marketplace, defined as the area that primarily sits between Linn and Gilbert streets north of Jefferson.
Among the notable changes is a proposal to alter the size of downtown fascia signs, which sit flat against a wall surface just below the roof. Current city code allows for up to 15 percent of a business' wall to be covered by signage, which would remain in place in other commercial zones outside downtown.
Jann Ream, code enforcement specialist with the city of Iowa City, said that formula seemed reasonable for two- and three-story buildings. However, with multiple towers en route downtown, including the 15-story Chauncey and a pair of 14- and 15- story towers at Court and Linn streets, Ms. Ream said the current regulations could allow for "gigantic" signage. The proposed regulations would instead limit signs to 1.5 times the length of the business's street-facing façade.
City staff said the proposed changes are intended to encourage business owners and sign companies to become more creative with their designs, and to encourage signage downtown that targets pedestrian traffic. If the new rules are adopted, however, some existing signs downtown would fall out of compliance.
For example, signs for The Den, Food Republic and Meta Communications would become non-conforming as internally illuminated cabinet signs. Other examples cited in a city staff memo include Bo-James, which would violate size regulations, and Jimmy John's, which would be too large and contains banned trim cap letters. Those signs would be grandfathered into the new regulations.
Nancy Bird, executive director of the Iowa City Downtown District, said some recommendations were omitted from the city's proposed changes, namely a recommendation for a design review panel to examine cases where it's unclear whether a sign conforms to regulations. Presently, a proposed sign not covered in the city code would require an additional amendment to the city code – a process Ms. Bird said usually takes several months.
"We will continue to advocate for design review," she said. "We recognize that not every type of sign, if it's really creative, is going to fit inside the design-code box."
In the 63-page storefront and signage guidelines document, the city and downtown partners also identified several strengths of downtown and North Marketplace neighborhoods, such as density, sidewalk access, a mix of commercial and historic structures and ongoing street improvements.
Among the area's pending renovations and additions are about $5.3 million of construction along Washington Street, scheduled to finish this year, including new roadways, sidewalks, lighting and underground utilities. Scott Sovers, senior engineer with the city's engineering department, said crews are in the final phase of the project, which was originally scheduled to finish Sept. 30. Remaining work includes installing electric and telecommunications lines on the 200 block of Washington Street, just west of S. Linn.
"With the weather, we hope to get things finished up either later in October or mid-November," Mr. Sovers said.