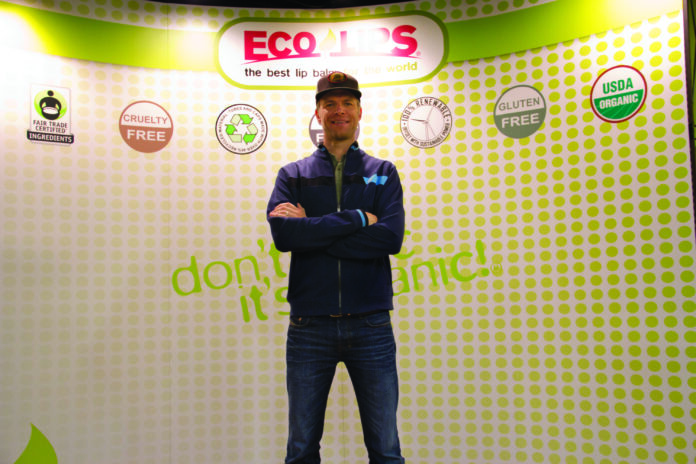 By Gigi Wood
CEDAR RAPIDS–He's a born entrepreneur.
From the start, Steve Shriver wanted to own his own business.
"I think it's that whole debate of whether you're born an entrepreneur or can learn it. I don't know what the answer is but from day one, I was just selling stuff," said the 40-year-old founder and president of Eco Lips, a natural body products company in Cedar Rapids. "I've always had a desk. When I was 2 years old I had a yellow legal pad, just playing businessman. I played businessman a lot."
Mr. Shriver was a panelist at Corridor Business Journal's Entrepreneurial Forum on Dec. 5 at the Coralville Marriott and shared his insights on starting a business in the CBJ's Entrepreneur 101 magazine, published two weeks ago (http:// bit.ly/11KCNTb). He shared his story with the CBJ at a time when Eco Lips has undergone a major change.
After leaving Eco Lips a few years ago for a position at Frontier Natural Products, Mr. Shriver returned to Eco Lips this fall when the lip balm company's president, Mark Patterson, passed away unexpectedly.
Now, Mr. Shriver is taking the lessons he learned from running a $15 million division at Frontier and applying them to the next chapter of business at Eco Lips.
Shriver's background
As soon as he was old enough to work, he started applying for jobs and began work as a busboy.
"I've always been somewhat hungry, due to the environment I grew up in and as just a survival thing. I got a job the first minute I could," he said. "I quit school at age 16 to get a job, so I could start making money and get this life going."
He was working full-time at McDonald's when he decided it would be best to complete his high school diploma.
"I found a school in Bettendorf that was called Project Ready. It was a school for pregnant girls in high school; you only had to go four hours a week," he said. "So I ended up getting my diploma, it wasn't a G.E.D. and all I had to do was go to school four hours a week. The (traditional) classroom setting didn't fit me very well."
He began working for the downtown Iowa City outdoors store Active Endeavors and became a partner in the business, as well as a part owner of the Des Moines store.
"I also started a rock climbing guide service, I was taking clients to Colorado and climbing mountains and teaching people locally how to rock climb," he said. "And it was at that point that (I decided) I didn't want to be in any sort of service industry, where if I'm sick, I can't make money; it's not scalable. So I decided I wanted a product. I didn't know what that product would be."
Little did he know, the product would come to him.
Andrea Danielson, a fellow rock climber and a regular at Active Endeavors, showed him one day the lip balm she had made in her own kitchen.
"And in this six month period I fell in love with the lip balm and this girl all at the same time," he said. He convinced her to invest her $5,000 life savings into packaging for the lip balm and they started Virgin Body Care, which was named for the virgin olive oil used in the products.
Virgin Enterprises, which had a trademark in the personal care business, pressured the couple to change the name of their business, so they named it Raining Rose, after their daughters' middle names, Rain and Rose.
"The first year we started it (the business) in a house and sold $29,000 worth of product the first year and we're like, 'all right, this is great,'" Mr. Shriver said. "Being young hippies, we just didn't really need much to live on. Then, the second year, it was $100,000 and over the course of the next five years we broke $1 million and we moved into this building that we're in today (Cherry Building in Cedar Rapids) and it was growing faster than I was comfortable at that point. It seemed like the optimal time to sell."
Chuck Hammond and Art Cristopherson bought and invested in the business. Raining Rose recently moved into a new home at 100 30th St. SE, along First Avenue in Cedar Rapids, in mid-October, following continued growth and displacement from the 2008 flood. Raining Rose produces lip balm for the private label industry (Raining Rose produces the balm, other companies put their own labels on it, usually as a promotional product). Without breaking his non-compete agreement, Mr. Shriver dove into developing Eco Lips as a brand of its own.
"We didn't see anybody really asserting themselves as the Chapstick of the natural products industry," Mr. Shriver said. "At that time, Burt's (Bees) wasn't as big as they are today. And Burt's wasn't organic then and they're still not organic, so we consider ourselves the original organic lip balm."
After five years, in 2008, once the noncompete agreement had expired, Eco Lips re-entered the private label industry. But for the most part, Eco Lips is sold as its own brand, known for being organic, fair trade, cruelty-free and non-GMO (genetically modified organism).
"Amazingly enough, it's a completely different product," he said. "We have a whole different marketing objective to create different projects. We're appealing to hard-core natural products consumers as opposed to people who want an inexpensive promotional product."
Eco Lips is the "green seal of approval for lip balm," Mr. Shriver said. Toyota ordered 50,000 Eco Lips balms to use as a promotion in a new car it's launching, leaving the Eco Lips logo on the packaging. "They want their customers to know (Toyota's) not buying some 10-cent product from China and putting their label on it, they're buying a product that's environmentally-responsible, made in the U.S.A., and it's made by this good company, you can look them up if you want to," he said.
In 2008, Mr. Shriver was offered a position running Frontier Natural Products' Aura Cacia division.
"A goal I had since my early 20s was to be an absentee owner of a business," he said. "My first goal was to start a business, grow it to over $1 million in sales; I wanted to feel that, what's it like to sell a business and I wanted to learn from it. The other one was, I wanted to walk away from a business and still have a paycheck or not."
He promised Eco Lips he would return if he was ever needed. When Mr. Patterson passed away in August, Mr. Shriver returned to the company. Now he's using the lessons he learned from running the $15 million Aura Cacia division, as well as insights he gained from Frontier as a whole, to augment Eco Lips.
"Working at a co-op (Frontier) helped me understand a different business model," he said. "The co-op business model makes every other business model seem like it's based on greed. They made me appreciate that. I thought, 'how can I make Eco Lips, or a future business, more of a cooperative environment?'"