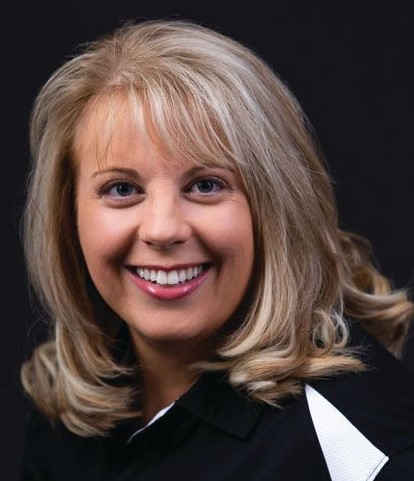 Jennifer Andrade
By Emery Styron
news@corridorbusiness.com

"They are joyful people — they have a great spirit," says Jennifer Andrade of the 36 Puerto Rican workers her new company, Avance USA, has resettled to fill high-demand jobs in northwest Iowa's Mitchell County.
Avance is now under contract with economic development groups in Mount Pleasant to begin recruitment efforts for employers there, and Washington County employers, facing a 2.5% unemployment rate and a shortage of skilled workers, may be next in line.
At a presentation arranged by the Washington Economic Development Group (WEDG) on Feb. 3 at Hills Bank, Ms. Andrade, a former workforce advisor and bilingual outreach specialist for Iowa Workforce Development, outlined the "talent pipeline" she's building to bring well-educated, career-minded employees and their families from the hurricane-ravaged U.S. territory to fill workforce gaps in Iowa.
Ms. Andrade said Avance offers "a different approach to community development" and addressing acute labor shortages in the Midwest, by using new recruitment models and methods and relying on regional public-private partnerships. With population growth lagging, 100 baby boomers retiring daily and a historically low unemployment rate, innovative thinking is needed, she said.
Avance's mode of operation is video-oriented, showing prospective employees what their new community and workplace looks and sound like, while enabling live chats between candidates and potential employers. Its business model relies on an entity such as an economic development organization to pay an annual retainer, which covers the cost of producing a recruitment video and provides employers with a best practices/recruitment "toolkit" and a discount on recruiting fees.
Those fees come to 15% of an employee's first-year salary or wages, payable after 30 days of successful employment. The employees themselves are not charged, and typically receive relocation packages from the hiring companies to assist with airfare, rent, deposits and other expenses that go with resettling a family.
Ms. Andrade maintains an Iowa office in Clear Lake and another near San Juan, Puerto Rico, where traditional and social media advertising, along with contacts at universities and technical schools, are used to build its database of workers seeking U.S. jobs.
"All of our candidates pass drug screening and criminal background checks, language fluency testing and matching for employers, along with skills needed for the job," she noted. Because the island is a U.S. territory, its residents are typically U.S. citizens, so clearance to work is not normally a problem.
Workers aged 23-45 are most likely to apply. Top skill sets include construction, civil engineering, project management and culinary, hospitality and retail experience. The database also includes Puerto Ricans who hold doctorate and MBA degrees, including many biochemists, although not many with deep ag experience. Mason City, which is within the six-county consortium where Avance landed its first contract, is reportedly finding strong candidates in Puerto Rico for law enforcement positions.
Why Puerto Rico?
Often asked why she focuses on Puerto Ricans, Ms. Andrade said "they are much like Iowans," with a high education level, a strong work ethic and a focus on families. Puerto Ricans don't lack for places to work in their own country, but many are underemployed without opportunities for advancement, and benefits are rare. Recent earthquakes and hurricanes have made conditions even worse, especially on the southern half of the island.
Factors Puerto Ricans find attractive in Iowa include affordable housing, a quiet and peaceful lifestyle, educational opportunities and safety for their children. Barriers for Puerto Ricans moving here include adjusting to the colder climate, the long distance involved — about 2,300 miles – and the fact that English is a second language for most of them.
"We're honest with people about the climate," she said, adding that Puerto Ricans "want to know that others like them have come and are doing well."
Relocation assistance and a support system to help resettled families navigate a new system of education, government, social and medical services and Midwest culture is essential, as is affordable housing, she stressed.
"Will they stay?" is the question Iowa employers most often ask. So far, all of the employees recruited to Mitchell County are still in place.
WEDG gauging employers' interest
In Mount Pleasant, the chamber of commerce and the area's development commission are splitting the $12,500 retainer. Two employers, Henry County Health Center and Lomont Molding, are preparing to recruit Puerto Rican workers, and others are lining up to talk to Ms. Andrade, said chamber executive Kristi Ray.
"Our folks in Mount Pleasant were very excited. They have really struggled to find workers" Ms. Ray said. "Since the news came out, I have a list of people that want to work with her."
Ms. Andrade was lobbying at the Iowa capitol last week on behalf of a bill to establish a pilot Grow Iowa Talent Fund to provide matching grants to help businesses provide relocation packages. Sponsor Rep. Joe Mitchell (R-Wayland) told the CBJ that relocation packages typically cost $5,000, and that his bill would appropriate money to cover half that amount. The bill has already been passed out of a State Government subcommittee.
Ben Rothe, general manager at Washington-based Premier1 Supplies, one of the employers at the meeting, told the CBJ the Avance program probably "wouldn't be a good fit" for the blue-collar workers Premier needs for its expanded distribution center, but it "has potential for several skilled-labor positions" including IT staff, a software developer and a CAD engineer.
WEDG Executive Director David Collins said after the meeting the response from other employers has been positive. He does not anticipate that the next step — finding a source of funds to cover Avance's first-year retainer — will be a problem.   CBJ