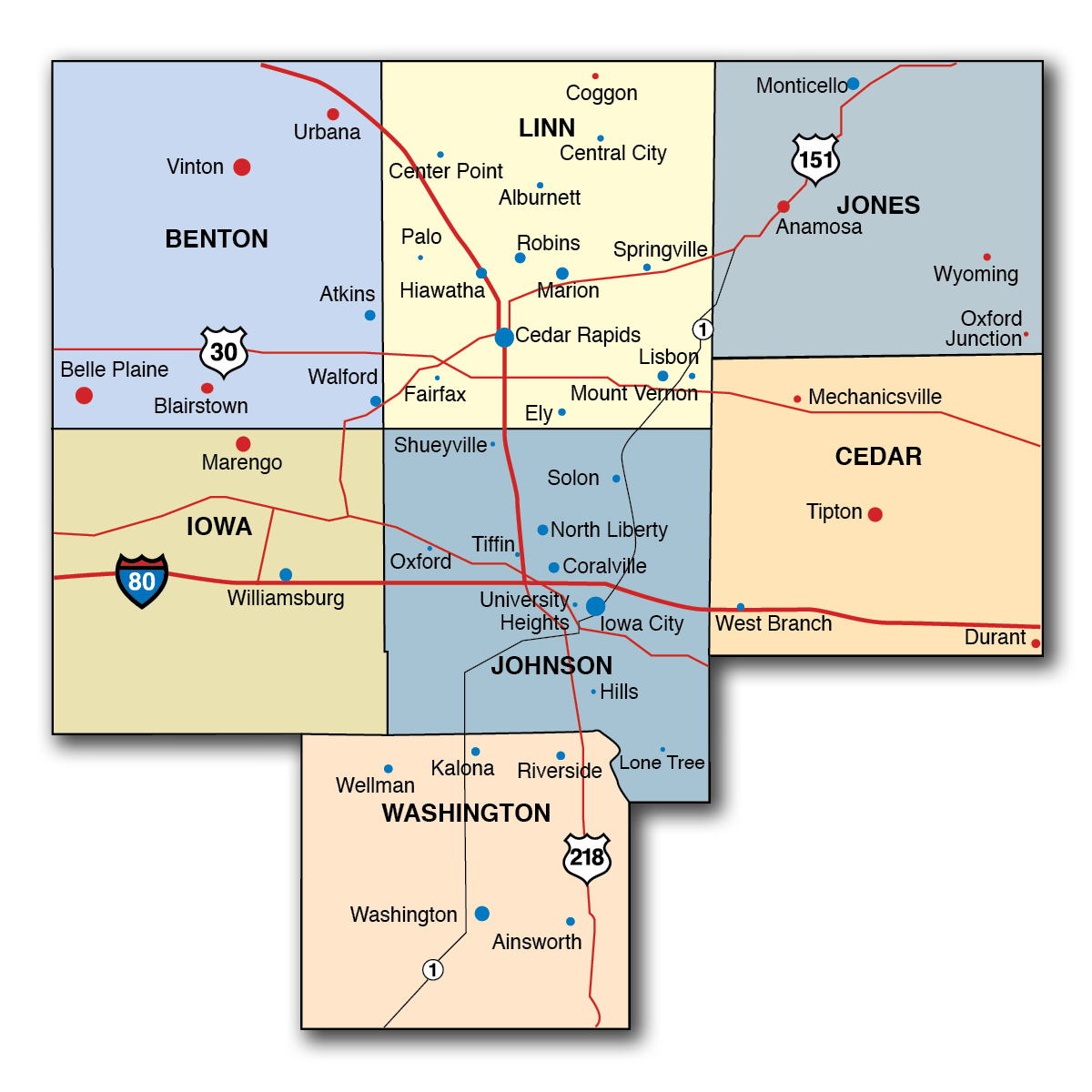 A map depicts the population growth (blue) or decline of Corridor cities and towns between 2010-2014. A CBJ analysis found the vast majority of declining satellite towns are located farther away from the interstates that bisect the region.
By Dave DeWitte
dave@corridorbusiness.com
The price of small-town life in the Corridor's satellite communities is often a long commute or bus ride to school. It's a price many are willing to pay to own a bigger or less expensive home with a larger lot and lower property taxes. Yet there's a big difference in how the Corridor's satellite towns are faring in metrics such as population and retail spending.
In a CBJ analysis of recent population data from the U.S. Census Bureau, commute times to major employment destinations largely dictated which outlying communities were growing, and which were holding steady or in decline.
Tiffin, well positioned for north-south commutes on Interstate 380 and east-west commutes on Interstate 80, grew 25.5 percent in the four years from 2010-2014, from 1,947 to 2,444 residents.
City Administrator Doug Boldt said Tiffin has several fast-growing subdivisions. It recently added a small-lot residential zoning classification to encourage smaller townhomes and other zero-lot-line properties that are favored by retired and younger homebuyers.
Seven of the eight communities with between 1,000-10,000 people that lost population during those years were not adjacent to interstates, and most required significant drives on two-lane highways to reach them.
The Cedar County community of Mechanicsville declined by 27 people, to 1,117. Mayor Larry Butler says Mechanicsville is a town that doesn't mind a long commute; he commuted to work in Cedar Rapids and Davenport before he retired. He instead blames the decline on high gas prices during the four-year stretch.
"When gas prices are low, people are willing to commute further to buy or build a home where the taxes and land prices are lower," said Mr. Butler.
Still, some cities off the interstate highway path are thriving. Solon, on Highway 1 about 10 miles north of I-80, grew 17.5 percent, from 2,040 to 2,390. City Administrator Cami Rasmussen said local commuters are almost evenly split between those who work in Cedar Rapids and those who work in Iowa City, with many households having one wage earner who commutes in each direction.
Reasonable drive times, along with the nearby recreational opportunities at Lake McBride and Coralville Lake, have combined with Solon's highly regarded schools to attract developers and new residents, Ms. Rasmussen noted.
"We've just got it all going on – the restaurants, the lakes, the location and the school," she said.
The growth has been slower about 10 miles north in Mount Vernon, which is another satellite town removed from the interstate. Its population barely changed over the four years, coming in at 4,522.
It's a city without a lot of subdivided lots ready for builders, and that's partly because growth hasn't historically been a priority for city leaders. Many in the town talk about growth in the context of words such as "sustainable," and "responsible," and are adamant about preserving its idyllic atmosphere.
The current city council is more growth-oriented than some have been in the past, according to Chris Nosbisch, the new city administrator. That's partly because a new Highway 30 bypass to be built south of Mount Vernon over the next few years will create growth and development opportunities that don't threaten the character of the town's historic core.
A strong school system, beautiful Main Street district and a thriving liberal arts college have kept the threat of population decline at bay. Mr. Nosbisch finds the favorable commute times another big plus.
"Being in Mount Vernon, one of these communities close to the Corridor, to a certain extent makes you lucky," Mr. Nosbisch said. "If you have a community that's clean, vibrant and loved by its citizens, and a 20-minute commute, that puts you in a better position than a community 45 or 50 minutes out that has a Fourth of July Festival."
Mr. Nosbisch said he's been charged by the city council with getting developers to the table and learning what kind of assistance and support they need.
"Mount Vernon's challenge is going to be trying to bring in that medium household income in the housing market of $160,000 to $250,000 homes," he said.
Luring development
Getting developers to build new housing – especially the townhomes and zero-lot-line homes that Tiffin is courting – hasn't been easy for most satellite communities.
"It's primarily a function of a certain threshold population in the area," said Jerry Anthony, associate professor in the University of Iowa Department of Urban and Regional Planning. "These rural communities don't have that growth because developers aren't coming in to build that new housing."
One of the big issues is schools. Many young families don't want to build or buy in a small town that doesn't have a vibrant school, or that has to bus its children 10-20 miles to a consolidated school. But Mr. Anthony points to less obvious problem: appraisals and home financing. He said it's harder to get appraisals to support a loan on a new house when there aren't similar types of housing in town for appraisers to compare against.
"Existing home values are very low," Mr. Anthony said. "When a new home is built, the cost of a new house is 2.5 times the cost of the house next door. But in a small rural area without too much in amenities, nobody will pay the additional cost for that house,"
That's a challenge, but not one that spells doom for satellite communities.
"If the economy is thriving, growth will come," Mr. Anthony said. "Most [satellite towns] function as a bedroom community to the nearby urban areas. If you can incentivize some economic development that puts the community on the map, and put some urban amenities in place, people will want to live there."
That is easier said than done in places like Mechanicsville, where municipal resources are limited and a grain elevator is one of the local employers left from the town's early days. Keeping things running well for existing residents is the first priority for Mayor Butler. He said Mechanicsville will foster growth where it can, but that its fortunes seem tied to economic growth in Cedar Rapids and Iowa City, where most of its citizens commute to work.
"As they go, we go too," he said.