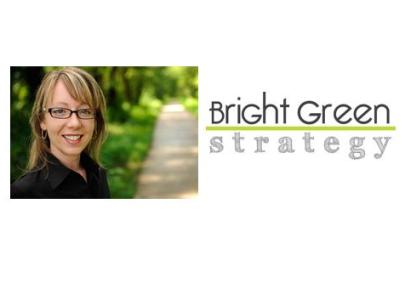 By Gigi Wood
There's no one-size-fits-all when it comes to sustainability.
Each business is unique in its ability to be more environmentally friendly, and Sheila Samuelson helps companies find ways to do so.
Founder of Bright Green Strategy, the 31-year-old has an MBA in sustainable management from Presidio Graduate School in San Francisco and has more than seven years experience working on sustainability projects for cities and small businesses.
"What I do is really broad," Ms. Samuelson said. "I look at more the business process of sustainability, looking at how businesses operate and are managed and applying sustainability on that level."
Her work varies from client to client. For a company in an office environment, she might focus on increasing recycling and replacing outdated lights with energy efficient bulbs. For an industrial company, she might focus on water management and making certain processes less wasteful.
"It depends on what their business is and how they want to approach sustainability," she said.
Ms. Samuelson recently helpedKirkwoodCommunity Collegedevelop a campus-wide, co-mingled recycling program.
"They had a little bit of recycling on campus but they wanted to ramp it up, realizing that it would actually be cheaper to recycle material than to landfill (each ton)," she said.
A University of Iowa graduate, Ms. Samuelson has worked with Starbucks, McDonald's and Staples, helping those national companies track their sustainability programs.
She started Bright Green Strategy in March 2010 and is now helping Corridor companies meet their zero-landfill goals and manage their utility use. These programs all share a similar dynamic: saving businesses money. For example, switching to energy-efficient lighting reduces electric bills.
"That's the reason I'm in business. It's good business to go green," Ms. Samuelson said. "It's not entirely about doing these things because they're the right thing to do. It's about doing things that make good business sense. And often the things that make good business sense are also the things that are good for the environment or good for the community."
A new area of practice for Bright Green Strategy involves helping businesses develop sustainability programs. It often starts with assessing a company's carbon footprint.
"Maybe your customers or suppliers are starting to ask questions like, 'What does your carbon footprint look like?' and 'Where are your materials produced?' and things like that," she said.
She assesses what the company is currently doing, including its waste production and reduction practices.
"Before you make any improvements, you need to know where you're starting from," Ms. Samuelson said.
She then completes are report for the business and helps it plan for the future, with short- and long-term goals.
"It's about integrating sustainability into the business practices," Ms. Samuelson said.
Most companies she encounters are interested in waste reduction.
"I try to get businesses to take a more comprehensive approach than just waste reduction, so when I work with a company, we generally look at energy, waste, water, internal education and how you're interacting with your community," she said. "And we address all those at once."
Once a sustainability goal is met, she works with a business to "ratchet that goal up."
"We find more ways to reduce until you're finally at zero-landfill," she said.
Ms. Samuelson helps businesses write grants for sustainable practices and at times works with a company's sustainability officer to streamline processes. She will also hire experts, such as architects or engineers, to advise her on unique projects.