Linn County has persevered admirably through the challenges of the COVID-19 pandemic and the August 2020 derecho, but issues ranging from mental health and homelessness to renewable energy and political division must be addressed for the county to prosper into the future, board of supervisors chair Ben Rogers told a packed house Friday during Linn County's annual State of the County address.
The event, sponsored by the Linn County chapter of the League of Women Voters, was held at the Hotel at Kirkwood Center in Cedar Rapids, with attendees gathering in person for the first time since the pandemic's onset in 2020.
Mr. Rogers credited community members and agencies for their ongoing resilience.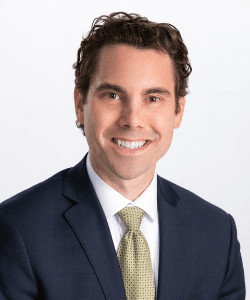 "Together with the city of Cedar Rapids and surrounding metro cities, the Linn County Emergency Management Agency, Linn County Public Health, nonprofits, service providers and private businesses, we are building more robust and resilient systems around our blind spots to ensure that we are better prepared for the known and the unknown," he said. "We may not have a plan for everything, but our community has shown over and over again that we can take a punch and are still left standing afterwards."
Mr. Rogers expressed concerns about groups such as health care workers and school board members, who were cheered for their efforts at the pandemic's onset but have since been vilified and questioned by segments of the community. He then pointed to a recent gathering of county supervisors and other officials at supervisor Louie Zumbach's farm near Coggon as an example of the possibility of positive social interaction among those who may not share the same political and social beliefs.
"For the past two years, it has felt like we've been learning how to fly a plane and repairing it at the same time and living in a world of stark paradoxes," Mr. Rogers said. "(But) If you could have been a fly on the wall, you would have seen what we expect political leaders to do – find enjoyment from our similarities and celebrate our differences with curiosity and a desire for deeper understanding. That experience gave me hope that despite real and perceived political differences, we have an extraordinary capacity to find the good in all of us."
The county has taken several steps forward to address pressing issues, Mr. Rogers said. Linn County Public Health was one of only eight departments nationally to receive a five-year, $1.25 million grant in October from the Centers for Disease Control's Preventing Violence Affecting Young Lives (PREVAYL) program to support ongoing community efforts to address risk factors for youth violence. The county has also added Dr. Ann Harris Carter as its first health equity manager.
To address the county's burgeoning homeless population, 40 percent of whom are children, the county worked with Cedar Rapids city council member Scott Olson and the Wllis Dady Homeless Shelter to establish an overflow shelter at the county's Fillmore building. In addition, Linn County was awarded $5.3 million in federal emergency rental assistance funds to help house individuals and families who were at risk of being evicted once the federal eviction moratorium was lifted in 2021 – a program that has helped more than 1500 people stay in their homes.
Mr. Rogers also cited the opening of Linn County's Mental Health Access Center in March 2021, which "started off as a whisper of an idea with no money, no location, no services and questions on sustainability" and has served an estimated 535 walk-ins and 96 police referrals.
"These access centers help answer a question that has long plagued law enforcement, ambulance services and emergency room doctors when interacting with someone who is having a mental health crisis or is challenged by their substance use disorder," he said. "And that question is this: Where can I safely safely divert or discharge this person? Oftentimes the only answer to that question has been the emergency room or jail while they wait for services. We can do better. The stigma of having brain health challenges or an addiction is real, and Linn County wants our employees and the communities to know, for those who struggle with these issues that you are seen, you are valued, we are listening, and you are not alone."
Mr. Rogers also touched on the contentious issues surrounding utility-scale solar zoning applications in Linn County, one of which has already been approved near Coggon and others to be considered soon near the former Duane Arnold Energy Center near Palo. While debates at public meetings have been heated, Mr. Rogers said it's important to allow all views to be expressed, as the decisions made will affect the county for decades to come.
He also pointedly observed that the Coggon solar project was approved by a three-member board of supervisors, two of whom do not live in the county's rural areas, and suggested that returning the board to a five-member panel could broaden the scope of rural representation on such zoning matters.
"Fewer supervisors means less representation, especially to rural Linn County voters and residents," he said. "Since citizens voted to reduce the board (in 2015, from five to three members), it should be up to the voters of Linn County if they want to increase it back to five, not by state legislative decree or by the Board of Supervisors arbitrarily placing it on a ballot for another vote."
Mr. Rogers praised the service of several long-time county officials, including county attorney Harold VanderSanden, who retired in 2021 after 38 years of service; county recorder Joan McCalmant, retiring this year after 36 years; and county treasurer Sharon Gonzalez, retiring this year after 43 years.
He concluded by showered gratitude on fellow supervisor Stacey Walker, who's not seeking re-election. He referred to Mr. Walker as "a dear friend, and I would argue one of the most consequential and important elected officials to have ever held local office."