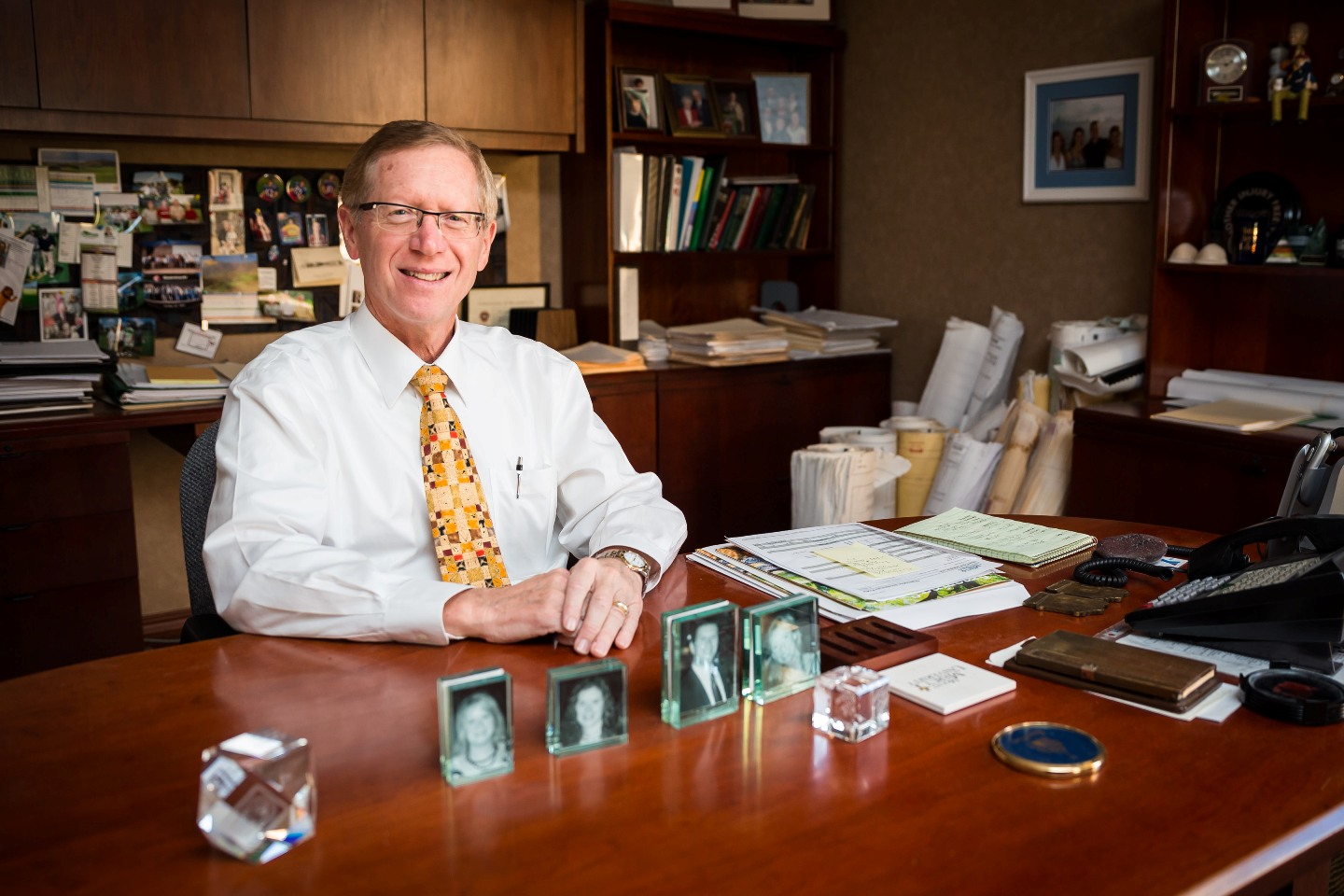 By Cindy Hadish
CEDAR RAPIDS—Rinderknecht Associates President Tom Amosson doesn't have to go far to find the fruits of his labor.
"One of the nicest things about (Rinderknecht) is I can drive down almost any street in town and see jobs I've worked on," said Mr. Amosson, 66, who will retire in December from the Cedar Rapids-based general contractor and as CEO of its sister company, Merit Construction.
Buildings at Coe College and Mount Mercy University; health care and government facilities, such as the Hall-Perrine Cancer Center and Cedar Rapids Police Department; commercial sites; convenience stores; restaurants; sports centers; churches and more owe their start to Rinderknecht, which is where Mr. Amosson found his start as well.
He first worked for the company during a summer job between his junior and senior years at Iowa State University, where he studied civil engineering.
A native of Kanawha, a town of about 600 residents in north-central Iowa, Mr. Amosson spent his youth on the family farm, but didn't want to stay in farming.
"I wanted a little more action than that," he said with a grin, adding that part of his college education in civil engineering was in building and construction. "I hit that and I loved it and I never looked back."
After graduating from ISU, Mr. Amosson left Iowa, first to work in San Francisco for Bechtel Corp., one of the largest contractors in the world, and then in Texas, where he built car washes and service stations for Exxon.
Those experiences led to a choice that Mr. Amosson never regretted.
"I decided I was still an Iowan, so I called up Rinderknecht and came back," he said.
Starting as an estimator, Mr. Amosson moved up the ranks to project manager, senior estimator, chief estimator, vice president of estimating and senior executive vice president before becoming president more than 12 years ago.
"We really grow from within," said Scott Friauf, who will step into Mr. Amosson's shoes in January. "He has taught and trained every one of us as we've come up through the ranks. It's really about passing along the core values and the culture of our company."
Rinderknecht and Merit average about $40 million annually, with 10 to 12 large projects, along with a number of smaller ones.
Transitions and tradition
When Mr. Amosson began his career, most jobs were "hard bids," with the project already designed, but that has transitioned to collaborating with the architect and building owner to find the most accurate estimates and other details of projects before work begins.
Technology also has substantially changed in that time, going from slide rules and landline phones to calculators, mobile phones and computers, but Mr. Amosson said some things never change.
"The best thing I've learned is to always be totally honest with people and spend their money like it's your own," he said.
The company has prided itself on honest work since its inception in 1880, when German cabinetmaker Theodore Stark founded the Theodore Stark Construction Company in Cedar Rapids.
He and his brother, Robert, contributed their talents to Cedar Rapids landmarks such as the Paramount Theatre, St. Paul's United Methodist Church, and Franklin, McKinley and Roosevelt schools.
Richard Rinderknecht began working for the Stark Company as a young man, and in 1933, partnered with the sons of Theodore and Robert to reorganize the business as the Stark Building Company.
In 1941, he bought the remaining family interests and formed the R.W. Rinderknecht Company. He served as company president until 1968, after which Rinderknecht became employee-owned.
When Mr. Amosson took the reins in 2002, Rinderknecht moved to an employee stock ownership plan, or ESOP, to provide the company's workforce with an ownership interest. He points to the ESOP as one of the reasons behind employee longevity at Rinderknecht, where many in the 26-person office have worked for 25 years and more.
Milestone moments
Much of Mr. Amosson's job has been behind-the-scenes, but one exception took place during a highly publicized project for the National Czech & Slovak Museum & Library in Cedar Rapids, which was flooded in 2008.
The 1,500-ton building was moved in 2011 to a higher elevation a short distance from its riverbank location, where a parking garage was added below and the museum was significantly expanded, with Rinderknecht as the general contractor.
As the project drew international attention, Mr. Amosson was called upon to answer media questions. Even family back home in Kanawha watched the progress of the move on televised news broadcasts.
"That was a very interesting project – the interface of the old moving to the new, and working through those processes," Mr. Amosson recalled. "It was probably one of the more enjoyable ones I've worked on, because it was so unique."
Still, he declined to choose a favorite project during his nearly 42-year career at Rinderknecht, instead noting, "I'm always excited about the projects I'm working on."
One of Mr. Amosson's final projects is a new hotel in Muscatine; beyond that, he will spend the next three years transitioning out of the company.
Rather than buildings, he cited the relationships he's built with architects, subcontractors, building owners and others as the aspect he will miss most about his work.
He also has been active on numerous community and professional boards, including with the Master Builders of Iowa; Boy Scouts; Big Brothers Big Sisters; Catherine McAuley Center; Mount Mercy University; Brucemore; Thursday Noon Optimists; Downtown Rotary and All Saints Church.
Mr. Amosson and his wife, Jeanne, have four children, plus two grandchildren, and will spend time during visiting them.
They have lived in the house he built for the past 25 years and Mr. Amosson doesn't expect that to change.
"We will stay here and remain active in Cedar Rapids," he said. "This is our home and we'll never leave."