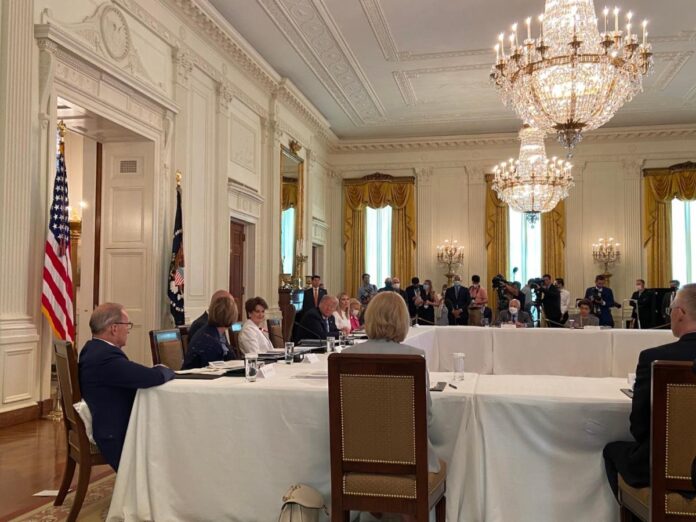 Gov. Kim Reynolds discusses how Iowans are getting back to work and what role skills-based training might play in the state's recovery at a White House meeting June 26. CREDIT: MS. REYNOLDS OFFICE
By CBJ News Staff
news@corridorbusiness.com
Gov. Kim Reynolds and members of President Trump's American Workforce Advisory Board discussed Friday how America's recovery from COVID-19 will be driven by upskilling and reskilling the American worker.
"Iowa is a proven blueprint for expanding opportunities through work based learning, registered apprenticeships, and skill-based hiring," said Ms. Reynolds in a release following the White House event. "So while COVID-19 forced all of us to reimagine how our workforce functions, there's a path forward. Today's conversations centered around cutting-edge job training, education, and investing in digital infrastructure to ensure the American people are coming back to the workforce poised for even greater success than ever before."
Ms. Reynolds discussed how Iowa is getting back to work and how President Donald Trump's new executive order on skills-based hiring can be amplified in all 50 states. Ms. Reynolds specifically mentioned her own economic recovery advisory board, which held its first meeting last week in part to discuss modernizing Iowa's economy in the wake of COVID-19.
The American Workforce Advisory Board is chaired by U.S. Secretary of Commerce Wilbur Ross and Advisor to the President Ivanka Trump. Ms. Reynolds serves on two subcommittees on the Workforce Advisory Board: a subcommittee to Develop a Campaign to Promote Multiple Pathways to Career Success, chaired by Apple CEO Tim Cook and IBM CEO Ginni Rometty, and a subcommittee to Modernize Candidate Recruitment and Training Practices.  CBJ