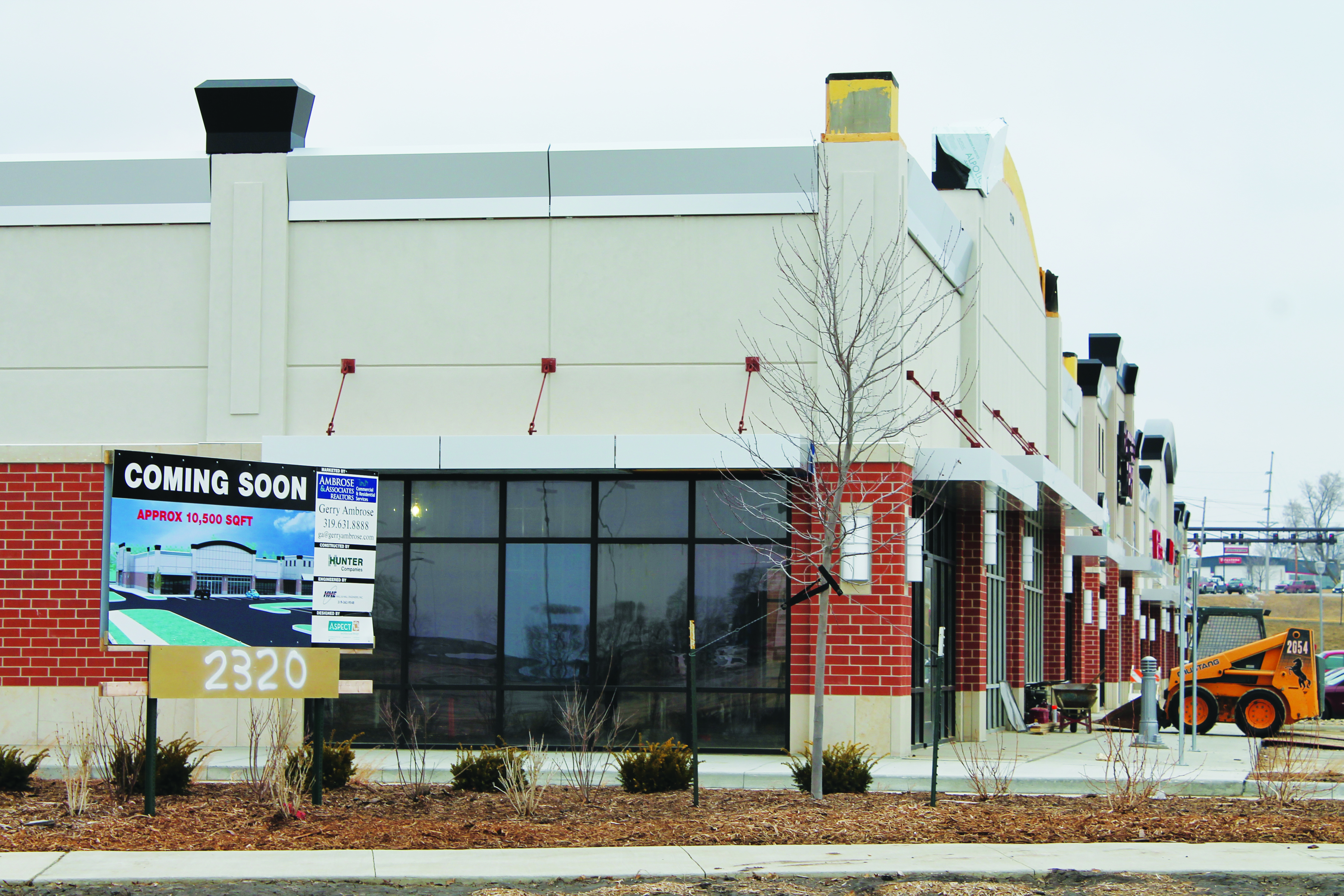 By Dave DeWitte
CEDAR RAPIDS — When Cedar Rapids City Manager Jeff Pomerantz and city council member Scott Olson head off to recruit retailers at one of the world's biggest retail conventions each spring, they come prepared.
They bring the "good news list," a comprehensive listing of all the positive rankings and other good news Cedar Rapids has amassed in the recent past. They bring a calendar of appointments with retailers that citizens have said they'd like to see in their community. They bring plenty of hard data about the community. And of course, they bring their Midwestern sincerity and perseverance.
Mr. Olson and Mr. Pomerantz have attended the International Council of Shopping Centers' huge RECON convention in Las Vegas together to represent Cedar Rapids for three years in a row after years of attending separately to represent other interests. The tag-teaming approach to the annual spring event appears to be paying off for Cedar Rapids. Just in the past year, about seven national retailers on the Cedar Rapids wish list have committed to open stores in Cedar Rapids' Lindale Mall area soon.
Fresh Market, Home Goods, Hobby Lobby and Shoe Carnival have all committed to come to the redeveloped Collins Crossing Shopping Center where Kmart was formerly located on Collins Road.
Ashley Furniture recently announced the opening of a new store in a former Target location not far from Westdale Mall.
Two restaurant concepts, Cheddar's and Chipotle Mexican Grill, are coming to Lindale Mall.
This year, Cedar Rapids will be even better prepared. Mayor Ron Corbett is interested in accompanying Mr. Pomerantz and Mr. Olson as they meet with retail representatives, Mr. Olson said.
"It's impressive when the mayor comes out," said Mr. Olson. He said some of the larger city mayors even come with an entourage that includes bodyguards and photographers.
With a serious emphasis on attracting retail under Mr. Corbett's leadership, the city is facilitating the redevelopment of Westdale Mall and working with new retail projects, including The Fountains and Collins Crossing on the northeast side.
Mr. Pomerantz already knew many retailers from his experience as city manager in West Des Moines during the development of Jordan Creek Town Center, the state's largest retail development. He attended RECON to meet with its developer, General Growth, and interested retailers. While there, he sometimes encountered representatives of the city of Coralville, home to General Growth's Coral Ridge Mall, who were there with similar intentions.
Cedar Rapids has important reasons for pursuing retail businesses more actively than in the past, according to Mr. Pomerantz.
"On top of everyone's mind is sales tax, particularly with the 1 percent option tax being dedicated for streets," Mr. Pomerantz said. "The more retail in the community, the more revenue in the community."
"Second, and just as important, is quality of life. When we build our economy, as companies look at Cedar Rapids, retail is seen as an important amenity. It's a quality of life amenity that is directly tied to economic development."
The Cedar Rapids delegation intends to sharpen its approach by attending sessions such as a panel discussion on public-private partnerships for retail development, and a panel of mayors discussing how they have led efforts to revitalize their communities through retail development.
Mr. Olson has gained a much better knowledge of how to recruit national retailers by attending RECON at least 10 times, initially to represent properties under his listing, and later to recruit more generally for the city.
One of the first challenges is determining which retail chains are even open to considering expansion in the region. If a chain is only expanding in Oregon and California, Mr. Olson doesn't want to waste that retailer's time telling Cedar Rapids' story.
The next challenge, and possibly the largest, is a siting checklist. Virtually every retail chain has one. It's typically a long list of requirements for a site to be considered, and covers stats like traffic counts, average household income, age, unemployment rate and many other statistics and trends.
Another challenge is the vital role of franchisees to bring some restaurant and other retail concepts to a community. Mr. Olson said companies are expanding in this area only through their franchise systems. Several of the most successful restaurant franchisees in the Cedar Rapids area are nearing retirement and are not taking on new franchises in this market, Mr. Olson said, making it necessary to recruit franchisees from outside the area.
It would be easy to get lost in RECON. About 32,000 attend the conference. The busiest place is the "leasing mall" where more than 900 retailers and shopping center development companies are available for meetings at booths. Many of the booths have reception areas with appetizers, private conference rooms and elaborate 3D renderings of retail developments.
Mr. Pomerantz and Mr. Olson call on retailers such as Massage Envy, Trader Joe's, Marshalls and Macy's. They also call on restaurants such as Firehouse Subs, Joe's Crab Shack and P.F. Chang. Before they even arrive in Las Vegas, they have most of their meetings scheduled.
Mr. Pomerantz said decisions by Fresh Market and Ashley Furniture to come to Cedar Rapids were two examples in which the city's contacts at RECON had a positive influence. He said city representatives had built relationships with both companies, answering questions such as how the planned Collins Road construction work would affect access to Collins Crossing, where Fresh Market will be locating. The Ashley Furniture store will fill a long vacant onetime Target Store space near the Cedar Rapids Public Library's west side branch when it opens this summer.
Feedback from retailers has been positive to the helpful, non-pushy approach Mr. Pomerantz and Mr. Olson take to their mission. Mr. Olson said the retailers also reacted favorably to Cedar Rapids' long "good news" list, which establishes the positive momentum in the community.
"We always come armed with plenty of data," Mr. Pomerantz said.
Mr. Corbett emphasized the importance of everyday citizens sharing the positives of their community in his 2014 State of the City speech, and urged residents to avoid disparaging remarks that could hinder investment.
Mr. Olson hopes that message is heard, because he's learned that retailers often send representatives unannounced and unidentified into the communities they are scouting for possible locations, talking to residents. He said the Internet and social media also makes it easy for retailers to pick up on the buzz in every community, and whether residents feel the community has positive momentum.
This year's RECON will be May 18-20, and will cover topics as diverse as new mobile technologies that retailers can use to track customers movement through their facilities, to the benefits of "green leases" for building comfort, health and energy efficiency.