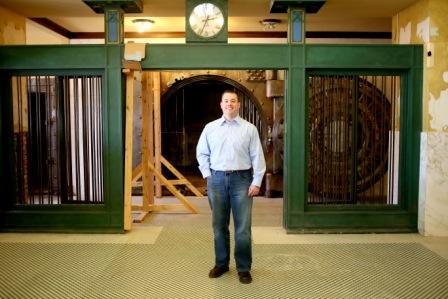 Story by Molly Altorfer
Photo by Rachel Jessen
CEDAR RAPIDS — The city of Cedar Rapids granted construction permits to the owners of Popoli Ristorante & Sullivan's Bar on Nov. 15, paving the way for the new Kingston Village neighborhood eatery to begin internal construction and interior design.
Located in the former People's Bank location at 101 Third Ave. SW, the building has been listed on the National Register of Historic Places since 1978. Following the 2008 floods, in which the building sustained significant damage, local entrepreneurs Fred Timko and Gary Rozek worked closely with Wells Fargo Bank to save the property and preserve the iconic bank.
Mr. Timko, Mr. Rozek and general manager Brandon Godwin are readying the upscale casual restaurant and bar for an opening during the first week of April.
With a capacity of 130, Popoli Ristorante & Sullivan's Bar, which translates to "Peoples" in Italian, will offer contemporary homemade Italian-inspired cuisine, comprised of high quality, local ingredients. The full name of the establishment honors not only the original name, Peoples Savings Bank, but also the architect, Louis Sullivan, who designed the bank. The main dining room will provide booth and table seating. There will be two private rooms, one seating up to 20 people and the Vault Room, set in the original bank vault, seating up to eight.
Popoli Ristorante & Sullivan's Bar will feature an extensive wine room, accessible by all guests for wine selection and information. Mr. Godwin envisions tablet devices that will provide descriptions of wines for customers in an interactive fashion. "Old school customer service," however, will be the central point of the Popoli experience, he said.
"We do not want any interactive technology to take away from the customer service or experience," he said.
The bar, nicknamed "Sullivan's Bar" in homage to Louis Sullivan, is located in the center of the historic bank, showcasing the stained glass clerestory and original murals, which depict scenes of agrarian life. The bar will feature 16 beers on tap, as well as specialty and classical cocktails. Lunch options will run from $10-15 and dinner for $20-40.
Mr. Godwin is hopeful that Popoli Ristorante & Sullivan's Bar will help spur the Kingston Village neighborhood in its development of a "personality."
"This is a project that will help build a community," he said. "It becomes another town center to build around, especially because our focus is local and personal."
The owners and general manager are cognizant of a growing demand and desire in Cedar Rapids for locally-owned restaurants and local food and products. This philosophy is driving the creation of Popoli Ristorante & Sullivan's Bar, as well.
"There seems to be a push for locally owned," Mr. Godwin said. "And there's also a bigger push for better food. Popoli will use local products, both food and equipment. We are trying to spend locally while also placing an emphasis on customer service."
Mr. Godwin points to the increasing development and plans for Kingston Village, including mixed use and residential construction, as well as the possible Cedar Crossing Casino, as signs that the neighborhood will continue to grow.
"This is the start of it," he said.
Like Peoples Savings Bank before it, Popoli Ristorante & Sullivan's Bar hopes to be the centerpiece of a re-emerging Cedar Rapids neighborhood. ###