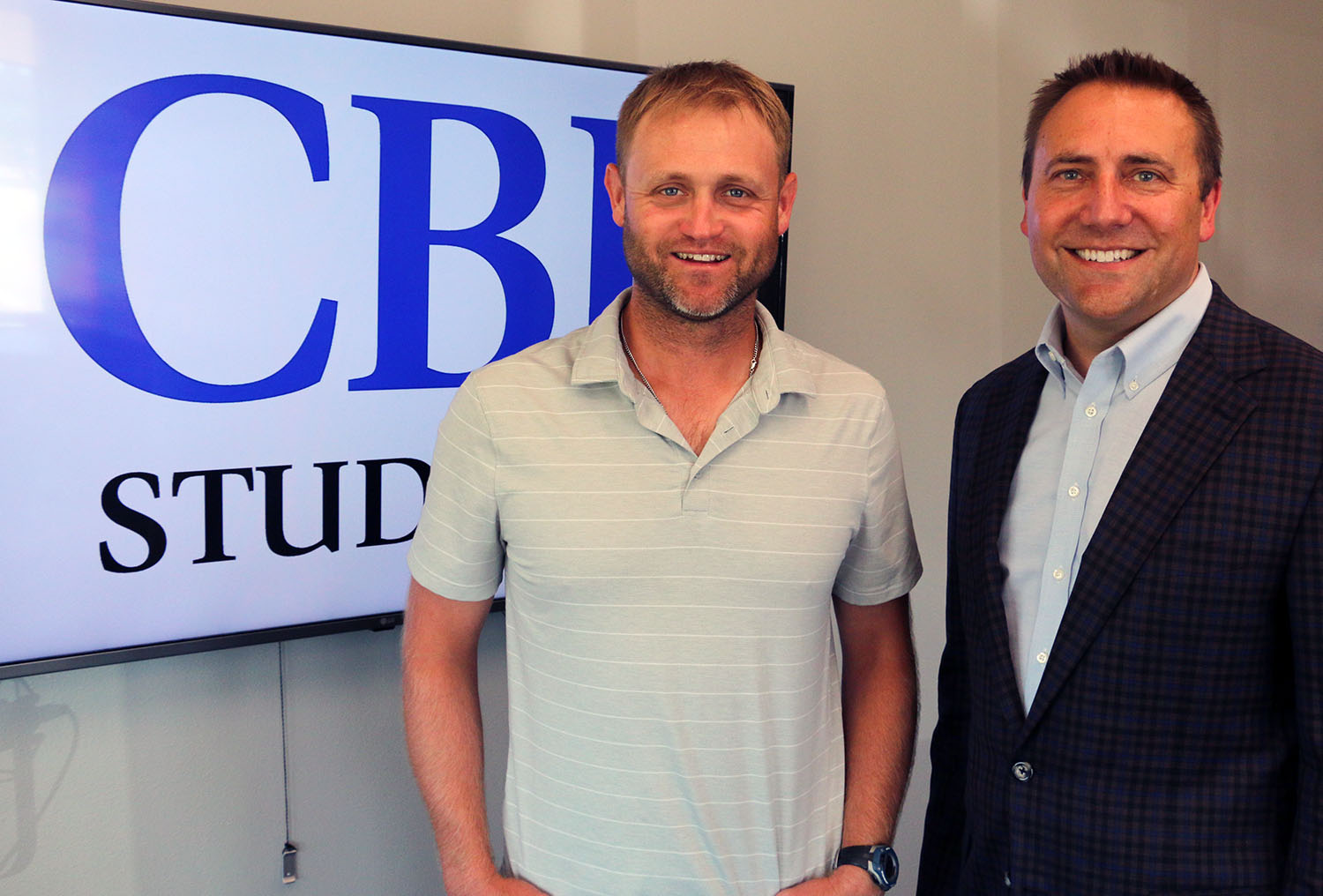 Tim Semelroth, shown with Nate Kaeding following their recent recording session at CBJ Studios in North Liberty. PHOTO ADAM MOORE
Sponsored by MidWestOne Bank, this is the latest edition of the CBJ's new podcast feature with Nate Kaeding and notable Iowa business and cultural leaders, available first to CBJ members. Listen to this episode below, and subscribe on Spotify, iTunes, Google Play, Stitcher and SoundCloud.
By Nate Kaeding
news@corridorbusiness.com
Attorney Tim Semelroth has been honing his craft of constructing a persuasive argument ever since he discovered mock trial as a youngster growing up in Cedar Rapids. A self-described "continuing education junkie," he devours business books on Audible, does three times his profession's mini­mum continuing ed requirements and retreats to a ranch in Wyoming for a week each year to learn from the best trial lawyers in the country.
That said, lawyering is one thing, but as Mr. Semelroth and I discussed, building a successful business is an entirely different challenge. He's played an integral role in establishing Cedar Rapids-based RSH Legal as a known law firm specializing in representing injured and disabled clients, and has led his firm's efforts in pursuing innovative marketing strategies to reach the next generation of legal clients.
We sat down to discuss his start in the field, some of the lessons he's learned from 20-plus years in the legal profession and how the "Ama­zon effect" is changing the nature of client-attor­ney relationships.
Let's start with your upbringing in Cedar Rap­ids and your path to becoming a lawyer – was it always something you saw in your future?
Pretty early on. My dad worked in a factory, my mom was a teacher. I had never met a lawyer until I showed up in social studies class when I was in middle school, and my teacher pitched this idea that there's this program called mock trial, and you can learn what a lawyer does and put on cases. He said that we were going to get a day off of school, and I was in. I can probably trace most of the best things that have happened to me professionally to that social studies class.
Once you finished high school, you went on to Drake University for your undergrad. Did you have a variety of career options at that point, or were you laser-fo­cused on becoming a lawyer?
I admired a lot of lawyers. I thought that might have been something I wanted to do, but I was not a great student in high school and so I went to Drake, thankfully, because they let me in.
One of the big turning points for me in college was I showed up the first week, I had gotten a pretty good AP test score and so I wanted to get out of freshman English. I remember going into the dean's office and saying "Hey, based upon this AP score, can I get out of freshman En­glish?" He opens up my file and says, "Mr. Semelroth, I'm looking at your test scores here and I'm looking at your grades. I see you're an underachiever." That just hit me, and at that point, I decided I was going to be a bet­ter student. The great thing was … they had one of the best mock trial programs in the country, so I joined that program and we ended up playing for the national cham­pionship when I was there. If there was any doubt as to whether or not I was going to law school, all those doubts were resolved during my time at Drake.
Looking back at your high school and college days, was there one mock trial moment that sticks out? A highlight?
There are different things that stand out for you. I remem­ber when I was in middle school, we were actually judged by a law professor at Drake. After the round was over, I had cross-examined somebody and he said, "Mr. Semelroth, your cross examination was nice, but if I had had a flag, I would have flagged you for unnecessary roughness."
You laid it on thick. What makes for a successful cross examination?
You have to have a plan – you're really telling a story. The idea is that you are telling the story that you want to tell through the witness and hopefully, you're asking the questions in a way that they just have to say "yes." They have to agree.
Read the full interview with Tim Semelroth in the Aug. 5 print or digital editions of the CBJ. Not a CBJ member? Join today.