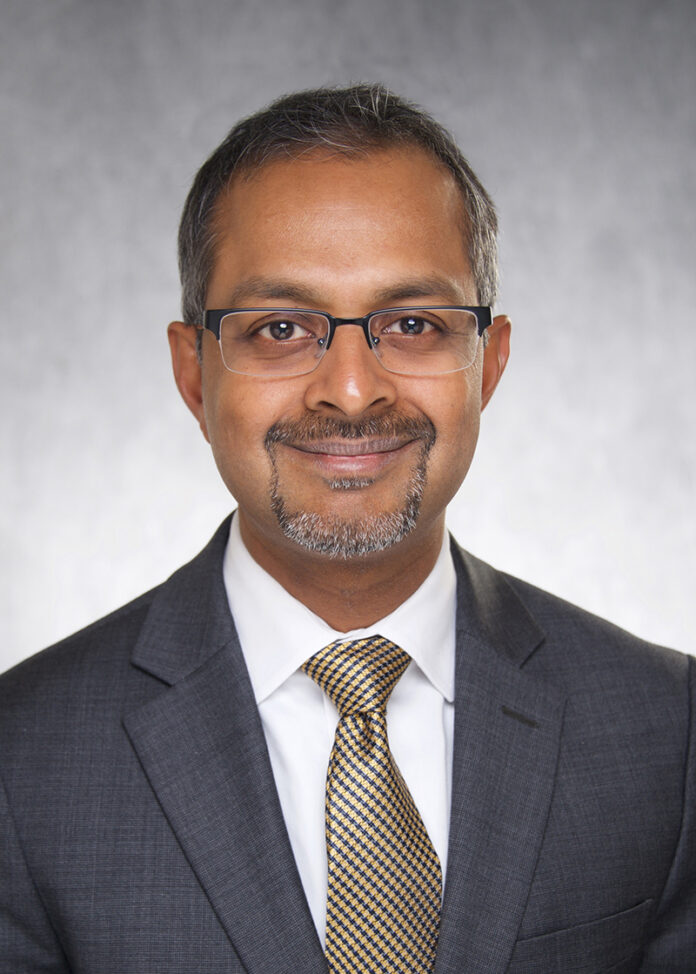 Sponsored by MidWestOne Bank, this is the latest edition of the CBJ's new podcast feature with Nate Kaeding and notable Iowa business and cultural leaders, available first to CBJ members. Listen to this episode below, and subscribe on Spotify, iTunes, Google Play, Stitcher and SoundCloud.
Suresh Gunasekaran is the chief executive officer of University of Iowa Hospitals & Clinics, a role that has operational, strategic and financial oversight of the regional medical system which includes the UI Stead Family Children's Hospital. He's also the associate vice president for University of Iowa Health Care and works closely with UI Health Care leaders to advance the organization's three-part mission of biomedical research, medical education and training, and patient care.
No stranger to guiding big, complicated organizations through periods of growth, Suresh's leadership skills were put to the test recently as the pandemic changed or challenged just about every norm in the health care industry.
I caught up with Suresh to talk about the path to his position and his leadership journey through unprecedented times.
I learned a lot and I think you will, too.
Suresh, what did you learn about yourself in the past year? What were some of the big learnings you can look back on?
Probably the first thing I'd say is gratitude. It does take a village and it wasn't just the people at the university or the people at the hospital ­– I mean, it took the whole community to get through this. The story of this pandemic is, it affected everyone and obviously effected our healthcare workforce and everyone that I work with. It affected them. Not just as doctors or nurses or housekeepers or administrators – it affected them as citizens who have spouses and kids and fears and hopes.
We spent a lot of time dealing with the fear. We really didn't know what was going on. I think that's probably the longest period of professional uncertainty that I've lived with.
The other piece is never underestimate the team. I honestly think the sky would have fallen if we weren't an amazing nation, [if] we weren't an amazing state. We are an amazing community here in the Corridor. We really did rally and what we did, and continue to do, is what's making a difference.
If you were to poll your organization's 13,000+ employees and ask what were your best leadership qualities over the past year, what would you hope they would say?
That's a good question. I would hope that our team would say that Suresh committed to the right things and is committed to being honest. We tried as much as possible to make every [best] decision throughout the pandemic … and coming out of the pandemic. How do we do right by our patients? How do we do right by our colleagues? How do we do right by our partners that this should be a safe space in the healthcare industry to just go ahead and do things because it's the right thing to do?
The pandemic really put some stark choices against it. Like any leader, I make a lot of mistakes and that happens sometimes when you don't have perfect data and you don't execute as well as you want.
I would hope our team thinks that I'm pretty honest about it – that I own it. And hopefully by me doing that, we all can own it. We know at UI healthcare, there are a lot of things we could do better. To have a healthy attitude that we're really good today but we could be better – that's a cool challenge when you come into work.
Read the full interview with Duane Smith in the May 3 print or digital editions of the CBJ. Not a CBJ member? Join today.