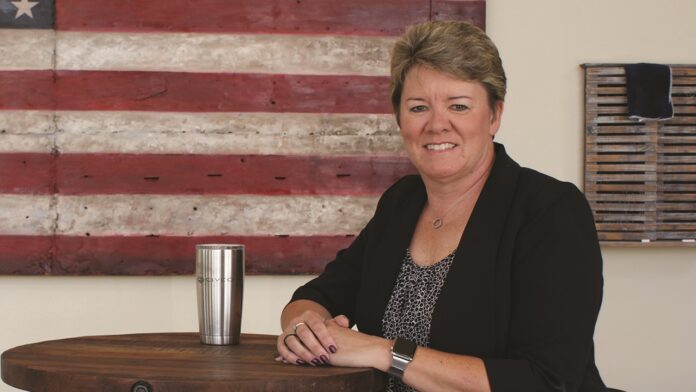 Sponsored by MidWestOne Bank, this is the latest edition of the CBJ's new podcast feature with Nate Kaeding and notable Iowa business and cultural leaders, available first to CBJ members. Listen to this episode below, and subscribe on Spotify, iTunes, Google Play, Stitcher and SoundCloud.
Robin L. Therme is the president of CIVCO, a medical solutions company specializing in patient-focused products used with ultrasound imaging. She's been with the company for nearly 30 years in a variety of roles – a learning experience she refers to as the 10 careers she's had within CIVCO.
A highly successful high school and collegiate athlete at Winfield-Mt. Union and Iowa Wesleyan College, Robin says she simply likes winning. Her perfect motion earned her a spot in the state high school record books for free throw percentage (.854) and as a softball pitcher, she once threw a perfect game.
As the leader of a medical products company, Robin has incorporated competition as a key component of success. I talked to her about winning in business, how a monthly round-robin talk with the entire company unifies their company culture, and how a successful workday can be designed and repeated.
I learned a lot, and I think you will too.
You've been a key player in several roles at CIVCO – before becoming president your titles included advertising specialist, program manager, director of business development, general manager, senior vice president and executive vice president. When did you realize you had the stuff to run the company one day?
Over those first 20 years, I was developing. I started thinking about how I might do things if I were running [the company]. I had a lot of great leaders and mentors. But yeah, within the last 10 years I thought, I could do this. I thought that if the opportunity presented itself, I would definitely raise my hand and say, 'give me a shot.'
Did you consider yourself a leader early on in your professional career?
For sure. I think that's in my genes. I don't like to sit back and sit on my hands. I'm a 'take charge' kind of person and [like to] get it done.
How has being an athlete influenced you as a business leader?
In high school, I played everything – I ran track, played golf, basketball and softball. We didn't have volleyball when I was in high school. We played two seasons of softball, and I was a pitcher. Back then the mound was five feet closer. It was different ­– it was a pitcher's game, not a hitter's game. [There were] no masks or helmets, but we survived that.
I played college basketball at a small college for a couple of years. I've always been really competitive, and I love the games. I spent a lot of time with my dad growing up, and if I wasn't playing we were seeking out a game to go to. It didn't matter what season.
Read the full interview with Robin Therme in the June 6 print edition of the CBJ. Not a CBJ member? Join today.