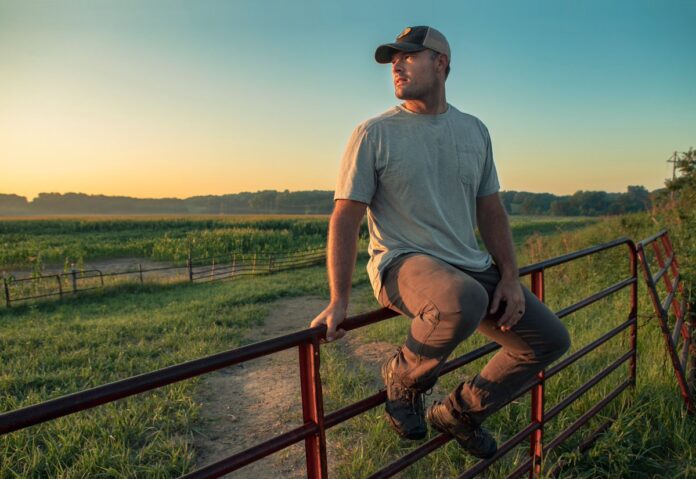 Sponsored by MidWestOne Bank, this is the latest edition of the CBJ's new podcast feature with Nate Kaeding and notable Iowa business and cultural leaders, available first to CBJ members. Listen to this episode below, and subscribe on Spotify, iTunes, Google Play, Stitcher and SoundCloud. 
Matt Kroul is a former professional football player who is now the entrepreneur behind Kroul Farms, a successful family farm and modern marketplace utilizing sustainable farming methods.
I talk to Matt about the dynamic of working within a family business, his decision to return to the farm after being a professional athlete, what "keeping the farm educational" means for the next generation, and what Matt sees as the future for his business and the local farming industry.
I learned a lot and I think you will too.
NK: It'd be great to start with sharing a bit about the Kroul family story and how the farm got its start.
MK: The mid-1860s is when my grandma's family, whose last name was Wolfe, settled here right next to the Cedar River … just 15 minutes north of the Iowa City/Coralville area. So they first settled here and then you know, as history has it my grandma then married my grandpa, Howard Kroul, in the mid-1950s. That's when the farm became, in essence, Kroul Farms.
Then my father, John, obviously took over from there and I came back after my short football career with the New York Jets. In 2012, I think, they cut me for the sixth or seventh time in three or four years but that's how it works. So I've been back almost 10 years now. Dad's still on the farm. Mom recently retired from the post office and she put in 34 or 35 years there. But she's not really retired. She's now back at the farm full time, and they still live on-premise here. My brother is also now part of the operation. So family's always around and always makes for interesting business conversations and decisions, but we get through it.
Take me back to you as a kid growing up on the farm. Are you waking up and milking the cows or was it different than that on the Kroul farm?
I would say it was a little bit different, but I think I've done some things that probably a lot of kids haven't. Sports were a big part of my life growing up and it was never "Hey, Little Matt, get up for chores at 5:00 a.m." It was either working out or school or homework, and then, when I had time, I was splitting wood or I was helping. I've got four young children with my wife, Nicole, and I don't foresee my kids doing that. They'll come out and pick a pumpkin every now and then, but I don't think they'll be battling ferocious pigs on a daily basis.
Was it expected of you to, at some point in time, come back and run the family farm?
It was never voiced, in my mind or if I remember, to come back. I think any farm kid will tell you: If you grow up in it, it kind of never leaves you. Obviously, there were other opportunities for myself, and my brother Adam went and worked for 15 years in the construction industry. I just was drawn back to it and was drawn to the idea of what I could expand on from what my parents had already created but it wasn't expected. They obviously would have wanted it, but it never was a spoken thing.
You had a great football career at the University of Iowa and played a few years in the National Football League. Did you know that you would be coming back to the family farm or were there other opportunities that you pursued?
I'm obviously grateful and blessed to have that opportunity there, and there's always other steps or other decisions, you know? I could've gone up to Canada and played up there. That was still pretty prevalent back in 2012. At that point, I had just gotten married to Nicole and so I really didn't want to go up there. Yeah, it would have been a great life experience, but I didn't want to hold her career up. She was in the communication world and wanted to get out there and start her career. So that kind of played into that decision.
My parents were at that age where the opportunity was there to continue to grow what they started and then see what I can do, and make room for myself and my family to garner that extra income to provide for some other family. What did I need to grow to make room for myself and my young family that was going to start? As you know, you make connections in college. You play a sport or you do the right thing and network while you're there at the university, and you're going to have opportunities. But I just felt like there was enough opportunity here to do some things and continue to carry on the legacy.
What are some of the pros and cons of working in a family business?
They've been so entrepreneurial in what they've done to create this place, so they've been open to ideas. They've been open to change and have been adaptive. Obviously, working with family, there are discussions we've had that, well, "We've done it this way," or "This has worked," or "Hey, we can't." So what do we need to do to have some work/life balance at times, because agriculture pulls at a lot of that time with family and with life? How do we continue to mold this beast into something that can be manageable, but still enjoyable and grow at the same time? They're never easy conversations.
We put up a new retail space probably four or five years ago. It was always dad's goal to kind of separate and have a little more professional spot. I've got certain ideas when we just can't keep up. This is something we need to scale back. That's when he said, "Oh, we'll just get it done. We'll get it done." His mentality is, you know, "hard work, hard work, hard work." And sometimes, there's been some ruffling feathers between dad and me at times. "Hey, you need to slow down, you know?" and he just says, "I'm not slowing down and you can't tell me to slow down." I say, "I see how hard you work, but hey, you know, at certain moments you're 60-whatever, you know, getting up there. No offense."
How do you juggle your free time and family time?
Having a good team around you, I guess, is what makes it good. There's always something to be done, so you've got to prioritize and allow available technology and machinery to help you out. It's hard. When opportunity arises, I guess, for this business, Kroul Farms, you gotta be able to do it to just have that life balance because I do have four children and they need time and it's not always time spent riding with dad on a tractor or picking pumpkins, you know? Tough, tough question for me to be able to answer completely. With us, it's just really pushing communication and prioritizing and scheduling the best we can to make sure a leader or some point of leader is on base here at the farm.
What does success look like 30 years from now from Kroul farms?
We take pretty seriously the life cycle of what we are. As far as climate, as far as water usage, as far as fertilizers, pesticides, all these things…if we've managed those and this place is better than when I got to it and it's better than 30 years from a pure land and health standpoint, that's success. I think if we continue to do what we do and always have great customers and a great team in place, the business will always run. I think success is just really staying on the front edge of managing this little piece of ground in the grand scheme of things as best we can and doing it the way conservationists are doing. We obviously hope the money is there to raise multiple generations and let new families come in and do whatever we need to do. But that's another thing besides the main goal of running a stable, and then sustainable, business.
How do you approach education and your role in bridging the gap between urban and rural?
Yeah. We hear it all the time, especially with the 40-to-50-year-old generation. "I grew up on a farm and now I'm in town. I really missed this, you know?" Hopefully, we always have that nostalgic feeling for people, but now bridge to this next one where their children never saw a farm. Every day in October, we usually have about 40 or 50 preschools, first, and second graders come to the farm. We show them chickens and say, "What do we get from chickens besides chicken nuggets?" Maybe one or two says an egg. We move on a little farther down the path at the farm and there's 95 beef cows and we educate them on hamburgers or steak or beef in general. This is where it comes from.
We're just open and transparent, and answer any question that we can, on growing corn and soybeans or raising sweet corn. We're keeping that open forum to stomp out any false data or false allegations, and there's always bad eggs in every industry. I think, for us, it's just keeping this place educational and keeping it as close to a farm as we can and that allows us to keep our diversification but hopefully, in the grand scheme of things, have that feeling of connection with our people who come out to see it.
Is there anything new that Kroul Farms is looking to roll out anytime soon?
We're just trying to do what we do better and more efficiently. But processing has been a huge deal and a huge concern, not only through COVID. We just don't have that small-scale infrastructure in this surrounding area. If you, Nate, came and bought a calf from me and raised it out to a 1,200 or 1,300 finishing weight, you're going to be two years out before you can get a processing date at a local locker. By that time, your little calf has been eating way too long and not doing what it's supposed to do. But yeah, I don't know. That's the hiccup. That's the only thing we're missing. If we need another layer around here, that would probably be next.