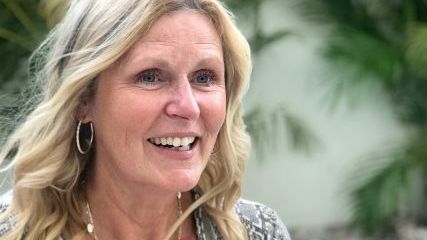 Sponsored by MidWestOne Bank, this is the latest edition of the CBJ's new podcast feature with Nate Kaeding and notable Iowa business and cultural leaders, available first to CBJ members. Listen to this episode below, and subscribe on Spotify, iTunes, Google Play, Stitcher and SoundCloud.
Kim Lehrman, a self-proclaimed "nerd at heart," learned the importance of being a general rather than a sergeant early in her career.
It's a lesson that clearly stuck for the CEO of Communications Engineering Co., a Hiawatha company that has been at the forefront of technology and communications for 75 years. Kim, who took on the lead role at CEC in 2019 after seven years as president and chief marketing officer at enTouch Wireless, has built a career in the fast-paced world of technology by asking the right questions: "How do we remain sustainable? Where is the market going? Where are we going to play?"
But the leadership part grew from some early advice that propelled her from her first job as a market researcher with the Iowa Department of Economic Development to the helm of CEC, which has grown from a small local radio shop to a nationally recognized systems integrator.
"Don't be the one who's taking orders from somebody and making them happen. Be the general, learn how to make decisions, learn how to lead," she recalls a mentor telling her shortly after taking her first private sector job. "And, as an impressionable 26-year-old woman, having somebody have that faith that you could be that big and have that voice was awesome."
I talked to Kim about the importance of technology trend spotting within an organization, the role of competence and leadership and how to avoid "sergeant's syndrome."
She also told me about getting her start, knowing when it's time to step into a CEO role and the importance of intellectual curiosity.
How do you approach marketing and business?
I have a quantitative start on a marketing background. I think that's important as you look at where a business strategy is going. You have it start with being fact-based. How do you learn where the market is going? Why is it going there, numerically, quantitatively? You put your magic, your creative spin, on what you want to create in that market. Find that spot, that positioning for your company, your voice and your story that really create something special.
Were you someone who was always into math and data? What sparked your interest in that?
I'm a nerd at heart. I was good at school. I loved math, science and writing. I just loved being in school and had a couple of professors at the University of Iowa who took me under their wing and provided me early access to computers. I actually did mainframe work on SAS before laptops came out.
Read the full interview with Kim Lehrman in the Jan. 11 print or digital editions of the CBJ. Not a CBJ member? Join today.