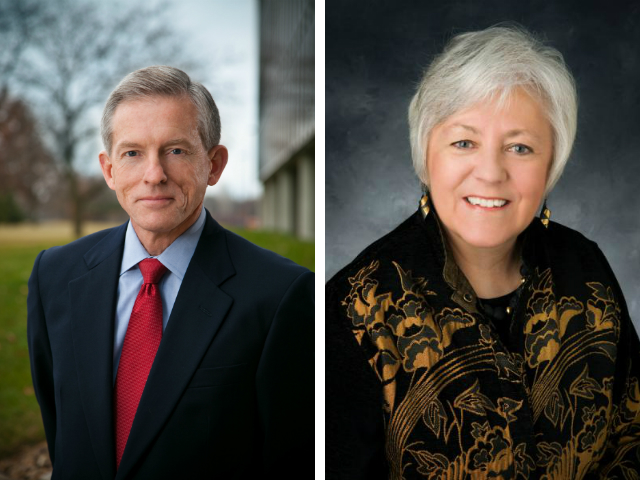 Jones, Mason top list again
By Gigi Wood
Clay Jones has made the list every year since it was started in 2005.
The chairman, president and CEO of Rockwell Collins, the Corridor's second largest employer, topped the list in 2006, 2007, 2011 and again this year. Mr. Jones was named the Corridor's Most Influential person by Corridor Business Journal readers.
This year, we asked everyone ranked amongst the top 10 about their greatest successes and challenges of 2012 and their thoughts about the Corridor leading into 2013.
The top 10 are: Clay Jones; Sally Mason, president of the University of Iowa; Cedar Rapids Mayor Ron Corbett; Chuck Peters, president and CEO of The Gazette Co.; Dee Baird, president and CEO of the Cedar Rapids Metro Economic Alliance; Jack Evans, president of The Hall-Perrine Foundation and member of the Board of Regents; John Smith, president and CEO of CRST International; Nancy Quellhorst, president and CEO of the Iowa City Area Chamber of Commerce; Jeff Pomeranz, Cedar Rapids' city manager; and Tim Terry, founder and partner of accounting firm Terry Lockridge & Dunn.
We heard back from most of this year's Most Influential. One of our favorite parts about the Corridor Business Journal is our ability to share with readers the thoughts and opinions of area leaders, in their own words. So, following are their thoughts on their work, organizations and the status of the Corridor.
Clay Jones
Q: What have been the biggest successes for Rockwell Collins during the past year, and what are the biggest challenges for the company in 2013?
A: One of our biggest successes happened just a few weeks ago, when we announced we were selected by Boeing to provide our large format displays for their new 737 MAX aircraft, their most popular selling aircraft. This past year, we also saw our new Pro Line Fusion avionics system enter into service for the first time on the Bombardier Global 5000 aircraft, marking the first of 15 announced platforms that have selected this new system. We also had some notable successes on the government side of our business in key international growth markets. In Brazil, our Pro Line Fusion avionics were selected for the Embraer KC-390 platform, and in Australia we won several important contracts to provide our DAGR and MicroDAGR GPS receivers and Firestorm targeting systems.
However, I think everyone in the Corridor is probably well-aware of the challenges that we've faced over the past year because of the unprecedented uncertainty on the defense side of our business here in the U.S. Declines in defense spending and the potential for more dramatic cuts due to sequestration means we've had to make some pretty tough decisions at the company this year, including a number of cost-reductions measures.
The good news is that once we're through 2013, we should start to see some upward momentum. Our focus on international growth will continue to reap positive results and we have a long-list of new aircraft equipped with our avionics that will be entering into the market.
Q: There have been some changes in Rockwell Collins' leadership this year, with the appointment of Kelly Ortberg as president in September. What does Mr. Ortberg bring to the position, and how will he be involved in the future of the company?
A: Having served as executive vice president and chief operating officer for both the commercial and government sides of our business, Kelly brings a very in-depth understanding of day to day operations. He understands the product lines, the technology and has excellent customer relationships. In his role as president, he'll be using this knowledge and skills to execute the strategic plan for the company.
Q: How does Rockwell Collins plan to adapt to continued decreases in government and military spending?
A: Fortunately, we're not a pure defense company – nearly half of our revenues come from the commercial side of our business, which is performing very well right now, and we expect that growth to continue in 2013. However, the challenges in our defense business will remain, so we'll need to focus on effectively managing our business for the long-term, which includes reducing expense where we can, and winning business in key international growth markets such as Brazil, the Middle East and India.
Q: Do you anticipate any hiring or any new lines of products in 2013?
A: We do have open positions at the company to support growth on the commercial side of our business and we continue to have a need for systems and software engineers. Where there is a skill match, our first choice will be to move employees over from discontinued or delayed government programs to the commercial side, and if that match doesn't exist internally, we'll look to hire from the outside. However, overall, we expect that our headcount will be down next year due to the current environment.
Q: What is one thing you wish more people in the community knew about Rockwell Collins?
A: I'd like them to know more about the values of our company and the commitment of our people. We have a very loyal workforce that is passionate about the work that they do to bring innovative technologies to customers across the globe. We have high levels of integrity – in other words 'we do the right thing,' and we have a solid reputation within our industry for doing what we say we're going to do for our customers.
Q: Rockwell Collins has a very diverse workforce, how do you accommodate that in Cedar Rapids?
A: Our company looks at diversity and inclusion as a competitive advantage – so it's a top priority for us. By being open to different perspectives and backgrounds, we can collaborate and come up with different, innovative ideas that wouldn't have occurred otherwise.
At Rockwell Collins, it starts with our leadership. We have an Executive Diversity Council, which oversees the company's diversity initiatives, and we also have a Diversity Advisory Council with representatives from each top level within Rockwell Collins.
As international growth emerges as a top priority, diversity and inclusion will be even more important, so we do our best to equip our employees with the resources they need. This includes things like employee resources groups that bring together employees with common interests, cultures and backgrounds. Some examples of these groups include a "New Hire Employee Network," "Friends of Asia," "Military and Veterans," and a "Disability Network Group."
We also have a strategic diversity partnership program where we work closely with more than 20 external organizations that are national in scope. We use these organizations to help with recruiting, training and development of a more diverse workforce.
Q: What does it mean to you, personally, to be considered an influencer in the community? How do you try to use that influence?
A: I strongly believe that a leader's greatest responsibility is to help others see the possibilities before them, then provide them with the motivation and support to make that future a reality.
I try to do that at Rockwell Collins, and I think that can be the role of anyone who is seen as an influencer in the community, as well. For me, I think my role is to talk about the wealth of possibilities I see for Eastern Iowa's future. Consider our work ethic, the talents and education of our citizens, and the spirit of community: we have remarkable resources here to grow new businesses and attract new ones to the Corridor.
Now, it's not perfect, though — at least not yet. We need to continue to position our community for growth, by fostering a sense of inclusion and diversity that will attract new folks to the area. We've worked to do that through Diversity Focus — modeling behaviors and values that will attract and retain people of diverse backgrounds, cultures and beliefs. And whether it's me as influencer or the many other people of the Corridor who share my thoughts, if we continue to see those possibilities and pursue them, this area will flourish in the future.
Sally Mason
Q: What was your greatest accomplishment of 2012?
A: Positioning the UI financially to be able to recommend a tuition freeze for Iowa students.
Q: What was your greatest challenge?
A: Securing the federal funding for the three major facilities destroyed in the 2008 flood (Hancher auditorium, the music building and the art building).
Q: What is the biggest issue facing the Corridor going into 2013?
A: Continuing to grow and sustain jobs and the economy up and down the Corridor.
Ron Corbett
Q: What was your greatest accomplishment of 2012?
A: Getting the Legislature to approve and (Gov. Terry Branstad) to sign legislation that provide state funding for flood protection. This bill took two years of building a coalition of support. The city will be applying for state funding in 2013.
Q: What was your greatest challenge?
A: Growing the city's tax base with aggressive economic development and putting flood affected property back on tax rolls.
Q: What is the biggest issue facing the Corridor going into 2013?
A: Creating jobs and continuing to have an available and trained workforce. This will be the Corridor's biggest challenge, not just for 2013 but for over the next decade.
Chuck Peters
Q: What was your greatest accomplishment of 2012?
A: I don't have a really good answer to this one. We (at the Gazette and Source Media) are in the process of several things, but (those things are) not accomplished yet. If you want a smart aleck response, I rode a motorcycle from Seattle to Iowa alone, without incident or accident.
Q: What was your greatest challenge?
A: Clearly, the greatest challenge of this year is The Gazette Company transaction converting to a company owned 100 percent by an Employee Stock Ownership Plan. We hope to complete that transaction in December.
Q: What is the biggest issue facing the Corridor going into 2013?
A: Continuing our process of regional thinking, on a world stage, and living the Iowa's Creative Corridor brand.
Dee Baird
Q: What was your greatest accomplishment of 2012?
A: Our greatest accomplishment was the launch and implementation of the Cedar Rapids Metro Economic Alliance as a result of the merger agreement between the legacy organizations of the Cedar Rapids Area Chamber of Commerce, Downtown District and Priority One.
Q: What was your greatest challenge?
A: Our greatest challenge was launching the new structure while remodeling a new home for the organization and moving after 30 years into one facility. But we are thrilled with the results.
Q: What is the biggest issue facing the Corridor going into 2013?
A: I tend to want to be more positive! I would say that our greatest opportunity in 2013 is to realize our full potential as a region and move a unified strategy forward.
Jack Evans
Q: What is the biggest issue facing the Corridor going into 2013?
A: I would suggest resolution of all flood recovery funding issues with FEMA (Federal Emergency Management Agency) as a big 2013 challenge for the Corridor.
Nancy Quellhorst
Q: What was your greatest accomplishment of 2012?
A: Leading the pursuit of a Blue Zones designation. We created a plan and completed an application with 50 public, private, non-profit, and at-large committee members. Health care costs seriously encumber business growth and it has been gratifying to pursue a positive relief tactic.
Q: What was your greatest challenge?
A: We significantly increased chamber programming in 2012, so our challenge was maintaining a high standard with some extra plates spinning. Fortunately, I work with an industrious, dedicated team who persevered in good spirit.
Q: What is the biggest issue facing the Corridor going into 2013?
A: Nothing is more important than our ability to collaborate. It's an exciting time! Our flood recovery is progressing with creative projects, we have an abundance of strong leaders across the region, and we are establishing an entrepreneurial culture. By working together, we'll be more productive and maybe even have some fun.
Sarah Binder contributed to this story.