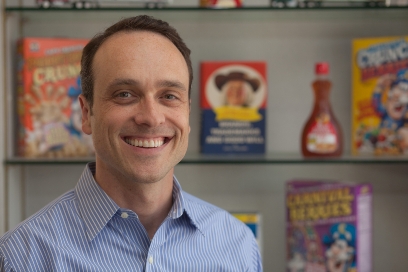 Company a founding member of the Sustainability Alliance
By Pat Shaver
CEDAR RAPIDS – In the next few weeks, flood protection for the Quaker Oats Plant in Cedar Rapids will be complete.
According to Quaker Oats Senior Plant Director Tom Metelmann, Quaker will continue to work closely with the city and the Army Corps of Engineers to establish broader, long-term, sustainable flood protection plans.
"Despite the damage to our facility, we made the early commitment to the Cedar Rapids community to stay and rebuild," Mr. Metelmann said. The company received federal funds, along with some funding from Quaker, to build a 2,500-foot flood wall around the plant.
In recent years, Quaker, owned by PepsiCo, has remained focused on sustainability.
"It's our goal to be a good citizen of the world, including in the communities we call home. We are continually looking for ways to help protect the Earth's natural resources through innovation and more efficient use of land, energy, water and packaging in our operations," Mr. Metelmann stated in an e-mail interview.
Mr. Metelmann pointed out several recent environmental accomplishments for the plant: it decreased landfill volume by 50 percent from 2006 to 2011; green house gas emissions decreased by 13 percent from 2006 to 2011; and last year, the plant was named Recycling Project/Facility of the year from the Iowa Recycling Association.
Quaker has also been an important part of the creation of the Sustainability Alliance, a group of business representatives who meet to share best practices in sustainability. The group is supported by the Cedar Rapids Chamber of Commerce and includes about 40 businesses.
"As we move forward in our sustainability efforts, our goal will focus on a reduction in fuel, electricity, water use and green house gas production per pound of product," Mr. Metelmann stated.
The changing economy hasn't been easy, either, Mr. Metelmann said.
"The current economic conditions have been challenging for many businesses across various industries. The food industry is no exception, however even during tough economic times the Quaker brand remains a key staple for families across the nation," Mr. Metelmann said.
The widely recognized brand has helped the company through the down economy, and even encouraged new products.
"We've found that consumers continue to enjoy classic products such as Quaker Oatmeal in addition to new favorites such as Quaker Oatmeal squares, which has become the fastest growing cereal in the category," according to Mr. Metelmann. Both of those products are produced at the Cedar Rapids Plant.
Former Plant Manager Don Chizek transitioned into another role within the PepsiCo organization in late 2009.  As part of the company's commitment to sustainability, Mr. Metelmann, who has been with the company since 2006, was named plant manager of the Cedar Rapids facility in Mr. Chizek's place. Mr. Chizek recently decided to leave the company, according to company officials.
Mr. Metelmann has been with the company for five years. Before that, he was with the Unilever Home and Personal Care business for 11 years. Before coming to Cedar Rapids, he served as the plant manager, and later the senior operations manager at the Quaker Danville manufacturing site.
"Focused on achieving results, I am a hands-on manager and I'm not afraid to challenge the status quo. I ask a lot of questions and want my employees to participate in the decision-making process so that all decisions are made at the appropriate level," he said.
Mr. Metelmann received his undergraduate degree from Penn State University in logistics and international business and earned a master's degree in business administration from Fordham University in New York City. He is married with two daughters and a dog.
The Cedar Rapids facility produces Cap'n Crunch, Life, Quaker Oats Squares, Aunt Jemima Syrup, Instant Quaker Oatmeal and Standard Quaker Oats, among others.
PepsiCo has 19 mega brands that each generate more than $1 billion in annual retail sales, including Gatorade, Tropicana, Pepsi Max, Mountain Dew, Sierra Mist, Aquafina, Mirinda, Quaker, Lay's, Walkers, Tostitos and Fritos. The company operates nearly 700 manufacturing facilities worldwide.