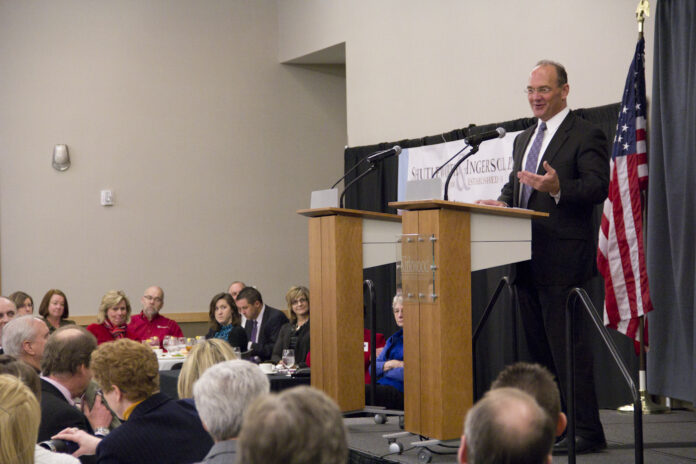 Corbett: "We have our second wind"
By Sarah Binder
CEDAR RAPIDS—Like an athlete finding the endurance to carry on, Cedar Rapids is finding its second wind.
Mayor Ron Corbett drew that comparison during his annual State of the City address Feb. 27 at the Hotel at Kirkwood in Cedar Rapids. The sold-out event was hosted by the League of Women Voters.
"After the flood, we were out of breath. We were tired, worn down and not too sure about the future," he said. "Yet we found the strength to push on. We have our second wind."
Pouring millions of dollars into highly-visible public projects was key to attracting new private investment to the city, Mr. Corbett said. Such projects include the Cedar Rapids Convention Center and Hotel ($130 million), new downtown Cedar Rapids Public Library ($45 million) and historic Paramount Theatre ($35 million).
"I believe that we would not have this level of private sector investment in our community if we had not taken some risk and forged ahead with rebuilding," he said.
Major private-sector projects announced in the past year include: Frew Development Group's planned $90 million renovation of Westdale Mall, a $37 million class-A office project called The Fountains, and a promised $10 million investment from Penford Products after the sale of Riverside Park.
It was a record year in 2012 in terms of construction permits, with total valuation at $347 million.
However, the mayor acknowledged that uncertain economic times still lie ahead. Companies like Rockwell Collins and Clipper Windpower have had to lay off employees in times of reduced spending from the federal government, and changes to ethanol regulations could have an impact on Cedar Rapids' many corn processing businesses.
"Having our second wind doesn't mean that the race is over," he said. "It just means that we are back in the race."
The question of how the city will protect all of that investment was raised by the audience. Mr. Corbett said the city is still waiting for answers from the federal government on flood protection.
"I was really hoping we could get flood protection done in five to seven years. I was wrong," he said. "It will probably take seven to 15 years, based on the realities of the federal government."
Flood protection will most likely have to be installed in stages, he said, as funding becomes available incrementally. Investment from the private sector has had an impact on flood protection, too, such as Quaker Oats' decision to build a flood wall to the 100-year flood plain level around their plant. The proposed Cedar Rapids' casino could build a partial flood wall on the west side of the river, where there will be no state or federal support.
A second major factor in the city's "second wind" is housing redevelopment, Mr. Corbett said. In 2012 the city reached the milestone of replacing 100 percent of the homes lost to the flood. That accomplishment, which represents a $200 million investment, included government support, private-sector investment and involvement from the non-profit sector, including Habitat for Humanity, Block-by-Block, Four Oaks and Affordable Housing Network.
Mr. Corbett stressed that the high number of new housing units is not hurting home prices. In 2012, the average home sale price in Linn County was $157,739, the highest average price ever, he said during his speech.
In an interview with the Corridor Business Journal, Kevin Platz, association executive with the Cedar Rapids Area Association of Realtors, said the average price in Linn County in 2012 was $157,496, slightly less than the 2007 high of $157,510.
Two community improvement projects were also highlighted: the Blue Zones initiative and Four Oaks' investment in the Wellington Heights neighborhood.
Cedar Rapids was named a Blue Zones demonstration site in January, along with Marion and Iowa City. The project is designed to improve healthy choices by making environmental changes in restaurants, schools, grocery stores and workplaces. Gov. Terry Branstad has pledged to make Iowa the healthiest state in the nation by the year 2016. During his speech, Mr. Corbett challenged Cedar Rapids to become the healthiest city in the state.
Four Oaks, a nonprofit dedicated to helping high-risk children find success, began work on its TotalChild Project in 2012. The project is designed to provide assistance to the children served until they turn 18. As part of the project, Four Oaks now owns 24 properties in the Wellington Heights neighborhood. They hope to revitalize the long-troubled neighborhood into a place where the children of Cedar Rapids can flourish.
Mr. Corbett ended his speech on a personal note, encouraging Cedar Rapidians to spend more time with someone close to them, or reach out and start a new friendship.
"What is that fifth season? It is the time we have to enjoy the other four seasons," he said. "Let's use that time to enjoy the other seasons with those who are dear to us."