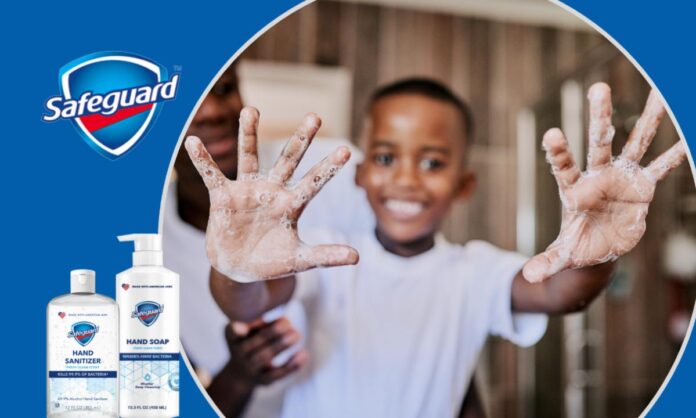 P&G's Iowa City plant added Safeguard liquid hand soap, one of the company's fastest growing personal care brands, to the production line-up this summer. CREDIT P&G
An Iowa City plant once slated to wind down local operations and shift jobs to West Virginia has instead gone on a hiring spree and added a new product line to its production capabilities.
Procter & Gamble announced this morning it has hired 120 new employees since last October – 70 of them since May alone – at its 2200 Lower Muscatine Road beauty care facility producing shampoo, conditioner, body wash and mouth wash.
It's quite a reversal of fortune for the 780,000-square-foot plant that had been set to wind down production and move 500 hair and body care line jobs to P&G's massive 2.5-million-square-foot Tabler Station, West Virginia, plant. And plant management says it is not done yet, with hiring set to continue through the first half of 2021 despite pandemic-related limitations.
"The past year has really demonstrated the strength and resiliency of the P&G team in Iowa City," said Iowa City Beauty Care Plant Manager Jason Jackson in a release. "From Day 1 of the pandemic, our team has implemented safety precautions — such as mask wearing, social distancing efforts and health screenings — that have kept our own team safe and allowed us to continue serving our consumers. We take great pride in that, and I'm proud of the amazing work this team has done."
In a statement, P&G said it is continuing innovation efforts at the Iowa City facility, spending the past few months "supporting emerging consumer needs." It has invested in new equipment to enable capabilities for new product forms at the plant, some of which are already in production.
"Our plant continues to play an important role in innovation for our brands. It's a big part of who we are and what we do," Mr. Jackson said. "This summer we enabled the launch of Safeguard liquid hand soap, which has become one of our fastest growing personal care brands."
City and economic development leaders lauded P&G's commitment to the area, including its community support in the days following the Aug. 10 derecho.
"After the derecho tore through Eastern Iowa in August, P&G quickly stepped up to support our community, partnering with Matthew 25 to donate over 30 pallets of everything from Tide laundry detergent to Pampers diapers along with 1,000 personal care kits," noted City Manager Geoff Fruin, who also serves on the board of ICR Iowa, the region's economic development entity.
"P&G remains committed to the Iowa City area and will continue to make great progress on their product innovation efforts in the new year," said Kate Moreland, president of the Iowa City Area Development Group, of P&G's plans to continue innovations, including greater sustainability, at the Iowa City plant. "They have a great team and now is the perfect time to join with the exciting work ahead."