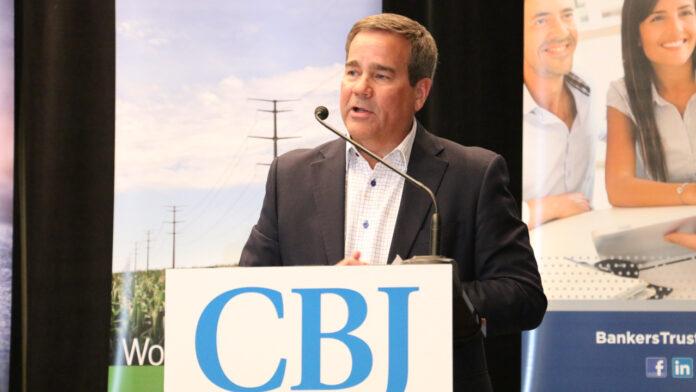 Any return to a "new normal" in the modern economy should include a return by most employers to in-person workplaces, Principal Financial group president and CEO Dan Houston told about 500 attendees Wednesday at the Corridor Business Journal's annual Economic Forecast Luncheon at the DoubleTree by Hilton in downtown Cedar Rapids.
"When I reflect on some of the biggest challenges we're facing right now, the continued health and safety of my workforce is job one," Mr. Houston said. "And I come from the perspective that I don't think that long-term working from home is in the best interest of employees, employee development or health and mental well-being."
Mr. Houston said that about two-thirds of Principal's employees have returned to in-office work at least three days a week.
"With 50 million customers, we have an obligation to reflect and look like our customers," he said. "We have industries that are part of our customer base, and they're all working and they're on-site. It can be a little bit disingenuous if we're not able to match up and demonstrate that same strong sense of commitment."
The modern workplace is at an inflection point, Mr. Houston said, and a "new normal" of sorts is beginning to emerge – an increased focus on digitization and automation, plus other factors that are changing expectations for the next generation of employees.
"Culture and cohesion in a virtual role is a challenge," he said. "How do we ensure that we've got that alignment with people wanting to be part of our organization or part of your organization, the ethos, the DNA? When you think about that context, it's really hard to do that from the bedroom or the living room or in the office where you're not having that day-to-day contact."
Mr. Houston touched on a number of other topics in his 20-minute address, from workforce and supply chain challenges to the shifting regulatory landscape, inflation, cybersecurity, diversity and inclusion, and debt-to-GDP ratios of the world's biggest economic powers.
Check back for more details on his comments on those subjects, as well as coverage of the luncheon's five-member panel and their thoughts on a variety of economic issues.