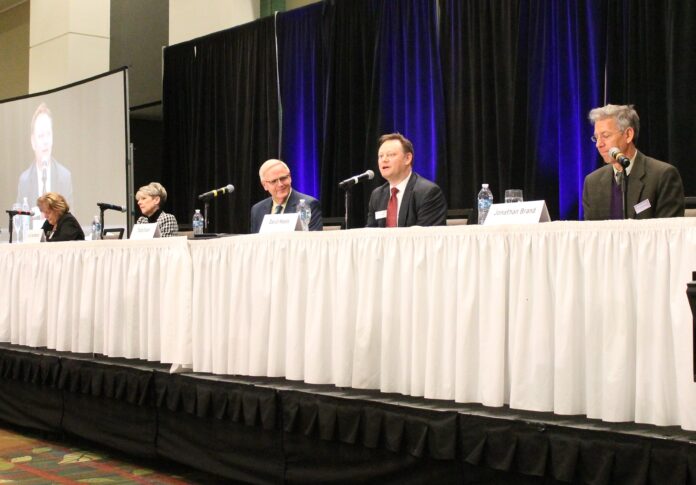 From remote learning to the expansion of mental health services, many aspects of higher education have changed dramatically in the five years since the last time the CBJ hosted a panel discussion with the presidents of Corridor colleges and universities.
In fact, only one of the five area presidents – Jonathan Brand, of Cornell College in Mount Vernon – was on the panel in 2017. He was joined by Lori Sundberg of Kirkwood Community College, David Hayes of Coe College, Todd Olson of Mount Mercy University and Barbara Wilson of the University of Iowa at The Future of High Education President's Panel held this morning at DoubleTree by Hilton in downtown Cedar Rapids.
All of the presidents spoke of the resiliency of their faculty and staff, and especially the students, in the past several years that not only have been disrupted by a worldwide pandemic, but also the derecho in August 2020 that wreaked havoc on the entire area with its hurricane-force winds. 
"Every college and university in our country had to reinvent itself, come up with a new game plan and pivot very quickly [during the pandemic], but very few also had to deal with a significant natural disaster as we all did," Mr. Hayes said. "Both COVID and the derecho permeated through every decision you make in your life. And that's where the bandwidth has been so severely taxed."  
Ms. Wilson, who began her term as the 22nd president of the University of Iowa on July 15, 2021, added that the pandemic reinforced the value of research.
"Many people wonder, 'Why do we have these research universities anyway and what does research do,'' she said. "COVID Is the best example of the power of a research university because, at Iowa, we were in the early stages of figuring out what this virus looked like, how it got transmitted. We were doing clinical trials on the vaccine. I hope if you ever doubted why we have a research university, that you now understand it in a deeper way."
Working together: Among the topics was how the Corridor business community could work with higher education institutions to improve both. Here, in a lightly edited form, are the presidents' responses:
Barbara Wilson, University of Iowa: Number one, work with our students to provide internships and work experience. Number two, advocate on behalf of higher ed. We're all paid to do that. And when we talk to legislators, they listen to us. But they also know that this is part of our job. It's so much more powerful when alumni and business leaders talk about the importance of higher education in a state like Iowa. This was, and I hope will continue to be, a state that emphasizes education, and we can't lose ground on that. 
Lori Sundberg, Kirkwood Community College: A lot of our businesses need workforce, they need employees. So, I would ask businesses to consider unique and innovative ways in order to get those employees. Are there ways that you can employ the workforce sooner than what they have the skills that you may need, but then actually be able to provide an earn-and-learn model? I would ask businesses to think differently and to help us help you to get that workforce. 
Todd Olson, Mount Mercy University: We need to be in conversation with business leaders, and we need to be thinking creatively together, taking the long view of what we want this community to be. We really want to be one of those areas that is vibrant, creative and adapting. And I see efforts that move us in that direction. We need to compete in a national marketplace for talent, for creativity for innovation. I think we can all do that if employers and community leaders and those in higher education and K 12 education are all in conversation and regularly focused on that together.
David Hayes, Coe College: Coe has been in this community for nearly 107 years, we're in the heart of the downtown, and we're not going anywhere. We have our wagon hitch directly to Cedar Rapids and the Corridor. The reason that we can attract students is all the offerings that are available in this wonderful community. So, please, if you ever have an idea that you want to explore or discuss, give any of us a call, because we're interested in trying to build this community as strong as possible because that's what brings students here.