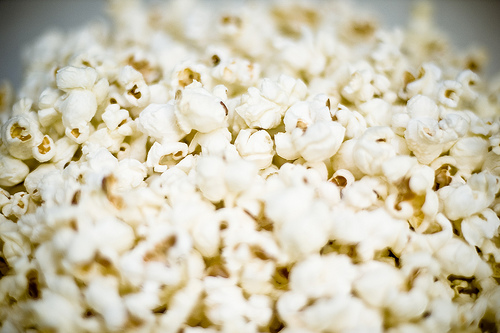 Jolly Time's Smith speaks at the University of Iowa
By Gigi Wood
It's a jolly good time.
When Garry Smith, president of Sioux City-based Jolly Time popcorn was asked last week if he would ever consider selling his fourth-generation, family-run business, he said he wouldn't because running it is "too much fun."
"We receive offers all the time, especially when times are good," he said. "We have a very nice form letter that says, 'No.' This brand is more important to me than all the money in the world."
Mr. Smith spoke to a group of more than 200 people at the Sheraton Iowa City Hotel Nov. 2 at part of the University of Iowa Tippie College of Business' annual John Hughes Lecture Series in partnership with Hills Bank & Trust.
Jolly Time, the first commercially marketed popcorn in the country, was started in 1914 in northwest Iowa by Mr. Smith's great-grandfather, Cloid Smith, a former pharmacist. The elder Mr. Smith bought farmland with the proceeds of his pharmacy store sale and the farmer he rented the land was growing popcorn.
One thing led to another and before long, the Smith family began developing innovative corn cribs for popcorn storage. Jolly Time continues to use those very same corn cribs at its headquarters, located at1 Fun Place, on the outskirts ofSioux City.
Over time, the business created close relationships with food brokers, who sold Jolly Time popcorn to grocery stores across the country. The company's first popcorn product was distributed in cardboard boxes, similar to Cracker Jack boxes. But popcorn relies on moisture to pop and the packaging dried out the corn by the time it arrived at stores on the East Coast. Jolly Time shifted to aluminum cans and that packaging become the forerunner of beer and soda cans. Over time, as technology improved, popcorn was packaged in polyurethane bags. Jolly Time continues to be the nation's No. 1 poly-bag popcorn seller.
During the 1930s, a popcorn popping machine vendor began selling to movie theaters, which created the public's relationship between popcorn and movies. That relationship was furthered when home popping corn machines became popular, during the advent of television.
In the early days, the company made strides with aggressive advertising campaigns in women's magazines with celebrity sponsors such as comedian Bob Hope and by hosting radio shows. At the start of the 1940s, Jolly Time was selling 75,000 cases of popcorn annually, but because of those intense marketing efforts, the company was selling 500,000 cases a year by the end of the decade.
During the 1950s, the company increased its marketing efforts through consumer offers and giveaways. Those promotions continue today. A giveaway on the back of popcorn boxes for subscriptions to Weight Watchers magazine accounts for 5 percent of the magazine's subscription base today. A promotion for a free reusable grocery bag on the back of its boxes continues to result in 125,000 bags being distributed each year. Last year, Jolly Time gave away 250,000 free games of bowling because of a similar promotion.
That's the positive part of the story. Jolly Time's history, however, is not without its woes. The company was one of the first to introduce microwaveable popcorn in 1984. The product category was in its infancy and Jolly Time has spent considerable time and research developing the technology that goes into the product. For example, the first microwave popcorn bags came from a company in Switzerland known for its production of air sickness bags on commercial airline flights.
Jolly Time's sales grew by 20 percent a year following the introduction of microwaveable popcorn and the company grew two-and-a-half times its size by 1991.
"The company was transformed from being a grain handler to a food producer," Mr. Smith said. "Now we're dealing in oils and flavors and salts and mixing them and flowing them and packaging them. It's a whole other game than trying to bag some popcorn."
But by the early 1990s, the microwave popcorn product segment had matured. Every popcorn company was producing it and it was no longer new to consumers. Sales flattened and the only way to get ahead was to discount and offer promotions. That practice takes away profits from the producer and grocer, however.
Meanwhile, food brokerage amongst grocery stores changed. Instead of food brokers promoting products, grocery store managers were deciding what was put on shelves. Those long-standing relationships between producers, brokers and stores disintegrated and Jolly Time lost its market lead.
Product categories on shelves were determined purely by profit and oftentimes only the top three brands made it onto shelves. If Jolly Time was ranked fourth in a region, it struggled to remain on shelves.
Then, during the 1990s, the "worst nightmare a food company could ever have happen" happened to Jolly Time. A young girl in Vermont became very ill. When her doctor asked her about the last food she ate, the answer was Jolly Time popcorn. It turned out her illness had a different cause, but the damage had been done and stores across the East Coast pulled the brand from its shelves.
It was time for a brand makeover. Jolly Time's marketing firm suggested the company enter the private label business. But that market is competitive and unprofitable, Mr. Smith said. Jolly Time fired the firm and asked the company that had created its logos since 1914 to update its popcorn packaging. The ad company was taking too long, so Jolly Time turned to a local artist.
Meanwhile, Jolly Time worked with a food science company to create a popcorn product that had a burst of flavor. The result was Blast O Butter. Within three months, the product was the company's best seller. But again, over time, growth slowed.
After extensive consumer research, the company learned that customers didn't differentiate between popcorn brands because the boxes all looked the same on the shelves. Jolly Time updated its look.
"But we still needed a point of difference," Mr. Smith said. "And we found it in 2007."
Weight Watchers ranked Jolly Time popcorn as a 1-point snack, so Jolly Time asked the lifestyle-change company for an endorsement, which it eventually received. Within a few months, sales of endorsed Jolly Time products were up 80 percent.
"Right now, we're starting to feel a slowing of that growth," he said. "But the endorsement is still working and it has really been a big benefit to us. As we move forward, my job is to find other points of difference like the Weight Watchers endorsement."
Mr. Smith said he expects the company to stay within the family for a fifth generation.
"Keeping this thing alive is what it's all about," he said. "It's fun and it works."