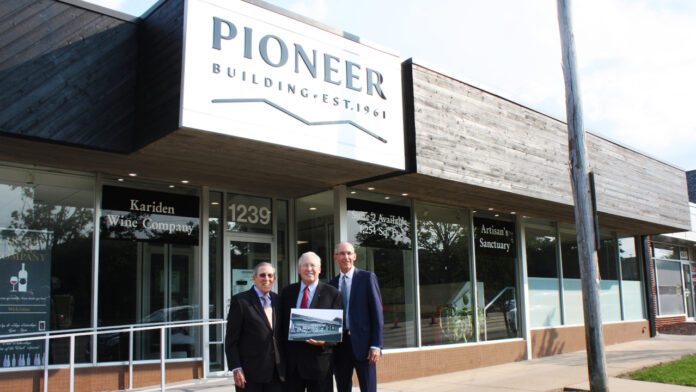 The former Pioneer Litho building at 1239 First Ave. SE in Cedar Rapids was synonymous with office supplies, office furniture and commercial interior design for nearly 60 years. And now, the building's owners, John and Phil Wasta, are redeveloping the 5,400-square-foot main level of the building, which has sat empty for over two years,  into three separate business suites.
"We weren't having any success renting the entire space," John Wasta said. "As the pandemic began to subside in the spring, we learned that demand for smaller spaces was picking up significantly. Our location is perfect for a variety of small businesses, so we got to work on the remodeling."
The Wastas are third-generation owners of the building. Their grandfather, Erwin, built the building in 1961 for his business, Pioneer Litho Company. It remained a location for that business until 2019, with John and Phil's father, James, leading Pioneer from 1966 to 1981. John then led the business from 1991 to 2001, and Phil took over from 2002 to 2011.
To honor that history, the Wastas have named it the Pioneer Building.
"Inspiration was sparked for the building name as I discussed the remodeling project with our contractor," said Phil Wasta. "When I described the location, he said, 'Oh, the Pioneer building,' and it struck me that it is still known by that name to many people. So why not carry it forward?"
Within weeks of beginning construction, the space was in high demand. Two of the three suites are already occupied by The Artisan's Sanctuary and Kariden Wine Company, and one suite is still available.
"We are fortunate to have a family asset like this to modify and repurpose into a vibrant, high-traffic location for new businesses to establish themselves and succeed," said Phil Wasta. "Our dad said it best – grandpa would be proud."
Anyone interested in the remaining suite can contact Lydia Brown at lydiabrown@skogman.com