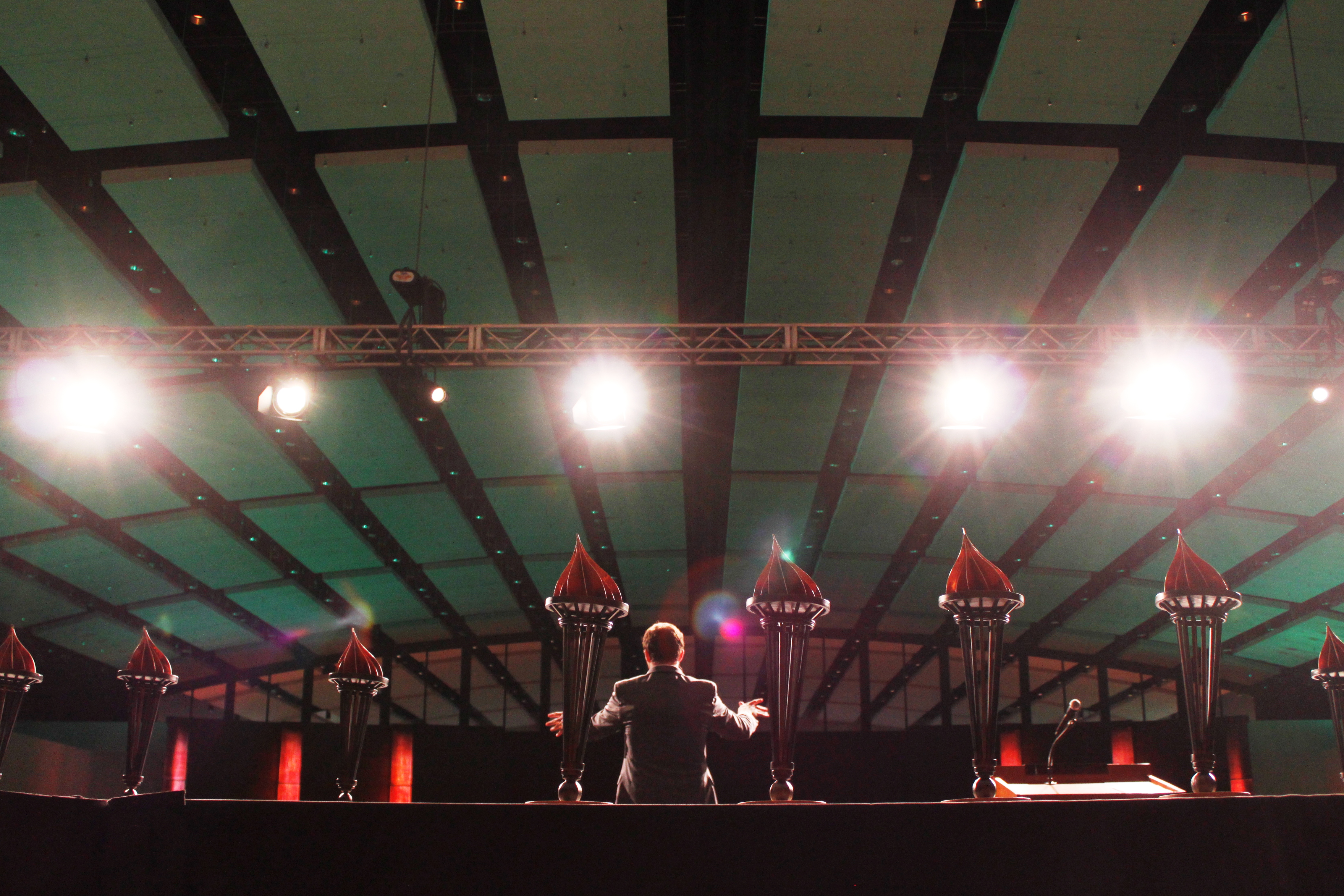 By Sarah Binder
DES MOINES–It was a night for celebration.
The Cedar Rapids Metro Economic Alliance organized a bus trip for educators, economic development professionals and technology employees from both ends of the Corridor to attend the eighth annual Prometheus Awards, hosted by the Technology Association of Iowa (TAI) April 9 at Veterans Memorial Auditorium in Des Moines.
More than a dozen Corridor companies were nominated for awards and two took trophies home: Involta, of Marion, for IT Service Provider of the Year, an award it also won in 2012, and Farm Manuals Fast, of Iowa City, for Student Innovation of the Year.
The Student Innovation of the Year category was comprised entirely of University of Iowa startups. The other two nominees were ClusterFlunk and TranslaCare, Inc.
The night's top winner was Appcore, a Des Moines-based provider of hardware and software for cloud computing. The company took home four awards, including Top Growth Company of the Year, CEO of the Year (Brian Patrick Donaghy), the Break Out Award and small or medium Technology Company of the Year.
2013 Prometheus Award Winners:
Igniter Award: CDS Global, Malcolm Netburn, CEO. This award recognizes a company that provides outstanding support of Iowa's tech sector through volunteer and financial support.
Best Mobile Application: Hy-Vee, Darren Baty, Vice President of Innovation and Strategy. Hy-Vee's app for iPhones and Androids includes a product locator, ad viewer, shopping list maker, pharmacy services, recipe browser, and more.
Software Company of the Year:
Small-to-medium company: Dwolla, Des Moines; Ben Milne, CEO. Dwolla is an online and mobile payment system that allows users to pay for just about anything by e-mail, text or social networks like Twitter. Merchants pay 25 cents in fees for amounts over $10 (instead of up to 1.9 percent of a transaction, plus a quarter, as some credit cards charge).
Large/enterprise company: WebFilings, Ames; Matthew Rizai, CEO. WebFilings develops and markets an integrated, cloud-based solution to meeting Security and Exchange Commission (SEC) reporting requirements.
IT Service Provider of the Year: Involta, Cedar Rapids; Bruce Lehrman, CEO. Involta builds, builds, owns, and operates data centers that become extensions of its customers' IT departments.
Top Growth Company of the Year: Appcore. Appcore offers complete cloud computer hardware and software to mobile network providers, data centers, and enterprises.
Clean Energy Innovation: RINAlliance, Urbandale; Dawn Carlson, CEO. RINAlliance is a cloud-based software for petroleum blenders registered under the EPA's Renewable Fuel Standard (RFS) program: It allows them to blend with renewable fuels while maintaining 100 percent compliance with EPA/RFS rules and regulations.
Best User of Technology: Nationwide Insurance Application Development Center (ADC), Des Moines; Dan Greteman, CEO. Nationwide's ADC uses Agile to improve the speed, quality and productivity of the Nationwide IT organization.
Innovation in Teaching: Ben Chadwick, Dallas Center Grimes Community Schools. Chadwick's web development students create and maintain DCGHyperHub.com, an online resource for the student community.
Chief Information Officer/Chief Technology Officer/Chief Strategy Officer of the Year: Darren Baty, Hy-Vee.
Chief Executive Officer of the Year: Brian Patrick Donaghy, founder and CEO of Appcore in Des Moines. Under Mr. Donaghy's leadership, Appcore's revenue grew by 1,686 percent last year. The company was named first in the "Flyover 50" by Five Elms Capital, a Kansas-based venture capital firm recognizing the 50 fastest-growing companies in mid-America.
Investing in Iowa Award: CMA Ventures, Des Moines; James Fogt, President. CMA Ventures, wholly-owned by Central Iowa Power Cooperative (CIPCO), invests in companies at all stages of growth; from seed, to early stage, to growth capital opportunities.
Student Innovation of the Year: Farm Manuals Fast, Iowa City; Tyler Finchum, founder. Finchum, a University of Iowa sophomore, created this online company that sells digital equipment operating manuals to farmers around the world.
Break Out Award: Appcore. Appcore offers complete cloud computer hardware and software to mobile network providers, data centers, and enterprises.
Outstanding StartUp Company: Prositions, West Des Moines; Frank Russell, CEO. Prositions provides career transition services, through cloud and social media technology, to displaced business professionals.
Life Sciences Company of the Year: Trans Ova Genetics, Sioux City; David Faber, CEO. Trans Ova is the global leader in animal reproductive technology. The company has 16 locations around the country and more than 170 employees. Mr. Faber's goal is to sustainably increase animal protein production to feed the world's growing population.
Technology Company of the Year:
Small-to-Medium Company: Appcore  
Large/Enterprise Company: WebFilings