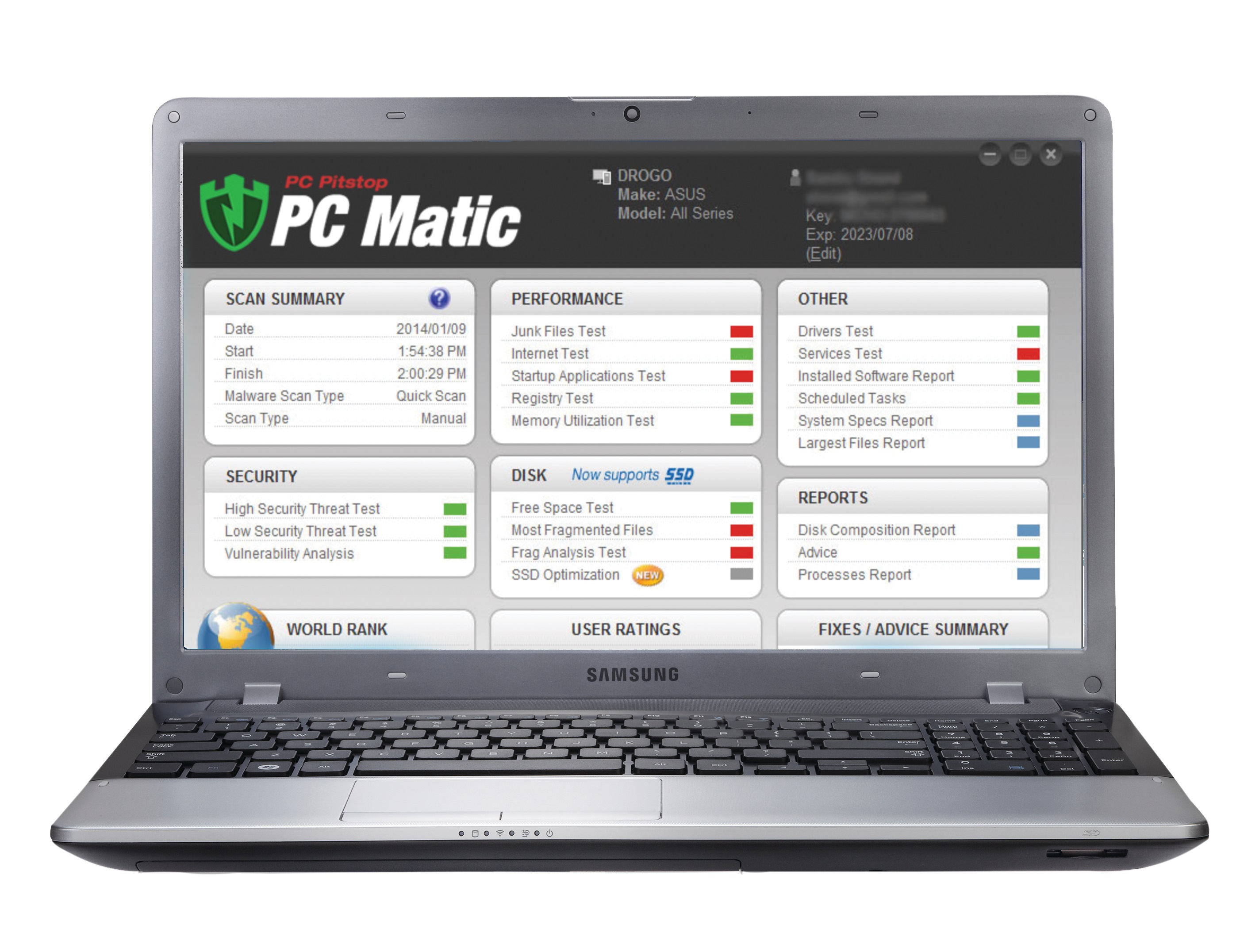 By Dave DeWitte
dave@corridorbusiness.com

Former Gateway Inc. executives at anti-virus software provider PC Matic are looking to resellers and distributors in Iowa as the company seeks to break into the small business market.
PC Matic, now entering its second decade, was founded by Rob Cheng, Gateway's former senior vice president of worldwide sales, marketing and support, as a free computer diagnostic website called PC Pitstop. The company is now being renamed PC Matic, for the heavily advertised antivirus consumer software the company introduced about a decade ago and expanded five years ago with its PC Matic PRO version for businesses.
Gateway Computer was founded in 1985 on a farm outside Sioux City, later moving to South Dakota and California as it became one of the nation's largest manufacturers and marketers of personal computer equipment. Some noteworthy missteps and tough competition from rival Dell led to its demise and sale to Acer in 2007.
Still, Gateway was one of the biggest IT success stories born in Iowa. Its brand strategy echoed its Midwestern roots, including retail stores with a barn theme, and shipments mailed in boxes printed with the spots of a Holstein cow.
The connection of Mr. Cheng and other PC Matic leaders to Gateway remains a valuable talking point many years after the company faded from view, according to Corey Munson, a Gateway veteran and current PC Matic vice president of sales.
"A lot of friends and associates from Gateway are still here in various positions of responsibility in the IT world," Mr. Munson said.
PC Matic is mainly approaching the reseller community, which combines computing and network products to provide complete solutions to businesses. Many resellers employ a managed service provider (MSP) model, remotely managing a client's IT system, often for a fixed monthly rate per employee or workstation. PC Matic is offering its products to them to resell as part of their bundle of services.
The subscription-based antivirus solution stands out mainly because of the company's "whitelist" approach to screening for viruses, Mr. Munson said, and because the company's operations are all in the United States.
Historically, one of the most reliable approaches to antivirus software has been the blacklist, a compendium of known malicious files that could attack a computer. The antivirus software checks files the user is attempting to download against the blacklist and it blocks files it identifies from the list.
That approach has increasingly become ineffective, Mr. Munson said, as cybercriminals deploy viruses that evolve rapidly.
"Most viruses exist in the wild for about 50-some seconds before they morph into something else," he said, meaning that it would not be on a blacklist in its evolved form.
Whitelists, by contrast, allow downloads only from a pre-approved list of programs that are recognized as safe, Mr. Munson said, and no matter what the malicious file evolves into, it won't make it on the list.
One drawback is that whitelist can generate "false positives" when someone transmits an attachment or file-containing code that isn't on the whitelist, but is actually a valued file needed by the receiver. PC Matic has a streamlined system for notifying the system administrator when a rejected file requires review and approval, Mr. Munson said. In addition, the company works with business clients to inventory their software and ensure it's on the white list.
Cybersecurity has become a true pain point for many businesses, Mr. Munson said, recounting conversations with manufacturers in northwest Iowa who described ransomware lockdowns of their manufacturing floors that lasted until ransoms in the tens of thousands of dollars were paid.
"We're definitely getting a look now that we didn't get two or three years ago," he said.
Ironically, PC Matic's reputation as a consumer antivirus product is one of the biggest challenges it faces to entering the business market. Thousands of cable TV commercials targeting ordinary computer users have made the company a well-known name, Mr. Munson said. Roughly 90 percent of the company's business is currently with consumers, and its fastest growth outside the consumer segment has been in the K-12 education market.
By reconnecting with their Iowa roots, PC Matic executives hope to garner a bigger slice of the business market, and build a referral base that will ripple out across the country.
"We're committed to trying to get back to this region," Mr. Munson said.