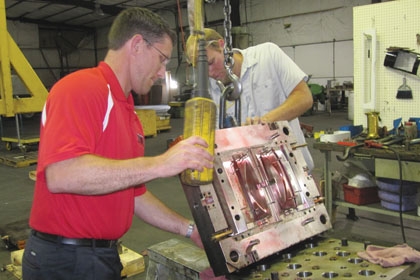 Former employee now owns West Liberty molder
By Gigi Wood
WEST LIBERTY – Kyle Larson, a tool and die maker by trade – and part-time amateur league hockey referee – is taking a chance.
The 37-year-old is now president of Larson Tool and Machining, 109 N. Miller St. in West Liberty. He decided to make the shift from tool maker to business owner when his former employer, Mantz Automation, announced it planned to close the West Liberty facility where Mr. Larson worked.
"If I didn't buy it, they were going to close it down," he said.
A native of West Bend, Wis., Mr. Larson excelled in his high school shop classes. After graduating, he was recommended to a Milwaukee employer, where he completed his apprenticeship, where he would work four days a week and attend school one day a week. When the company went out of business, he was hired by Mantz, which is headquartered in Hartford. In 2004, he was transferred to the Mantz plant in West Liberty.
Larson Tool and Machining, produces molds for appliance and automotive manufacturers such as Whirlpool and Chevrolet. It's the same work he was doing for Mantz until he bought the facility at the end of 2009. That year, Mantz decided to consolidate its business. The company told Mr. Larson he could return to Wisconsin or buy the plant. By then his family had put down roots in West Liberty and he didn't want to leave.
So he started working on his business plan to buy the building. He received help from Karen Lathrop, executive director of West Liberty Economic Development, and then from Paul Heath, director of the University of Iowa Small Business Development Center. The resulting business plan helped him land the loan that allowed him to buy the building.
"Talking to Paul and actually putting numbers (together) really opened my eyes about the opportunity," he said. "And Mantz did me a huge favor, they really helped me get started."
There is non-compete agreement between Larson Tool and Mantz; the two companies compete on the bids for the same jobs, but have a friendly relationship.
"We're almost sister companies," he said.
Now that the building is his, his company performs mostly revision and repair work on molds for manufacturers.
"The company's end-user will change something out in the field. They might find something that's getting damaged all the time and they'll change something in the tool," he said. "Or somebody at the plant will smash something and we have to fix that."
Last week, he and employee Jeff Holtkamp were working on a 1,400-pound mold for a refrigerator door handle. The manufacturer updated the design of the door handle, so it needed to update the design of the mold the plastic passes through to be formed.
"We'll build the mold out of raw steel, then the customer will shoot moldable plastic and it will go in here and fill the cavity. It will cool and you get a finished part," Mr. Larson said.
Companies often send Larson Tool a 3D model or drawings of the new product design and Mr. Larson's team used those to develop the changes to the mold.
"We'll have the original (design) and we'll have a revised design and we'll overlay them and figure out what needs to be done from there," he said.
They're also working on a mold for a new dashboard design for the Chevy Camaro and coffeemakers for Bunn. Mr. Larson is often introducing his company to manufacturers; companies also hear about him via word-of-mouth, he said.
Mr. Holtkamp is Mr. Larson's only full-time employee; there are three other part-time workers. As the company grows and requires more employees, it will be difficult to find skilled tradespeople willing to travel to West Liberty to work. Mr. Holtkamp, for example, lives in Cedar Rapids. He worked at Victor Plastics in North Liberty before it shut down. Now he drives nearly an hour each way to work.
"There's not a lot of people in the industry who live in Iowa and who want to make the drive," Mr. Larson said.
Meanwhile, Mr. Larson is busier with office duties. Mantz performed the scheduling and bill paying from its office in Wisconsin. Now Mr. Larson takes that work home with him.
"Other than that, it's been pretty seamless," he said.
Being self-employed and located in Eastern Iowa allows Mr. Larson to pursue another passion, hockey. He is a referee for the North American League and American Collegiate Hockey Association. The North American League includes teams such as the Cedar Rapids Roughriders, Dubuque Saints, Waterloo Blackhawks and Des Moines Buccaneers. The collegiate league includes Iowa State University and other college teams. Last season, he officiated 80 games. His son, who hopes to officiate professionally, refereed 119 games last season.
"For officiating at a junior level, Iowa is a great location," Mr. Larson said, pointing out that it's a few hours drive or less to each game.