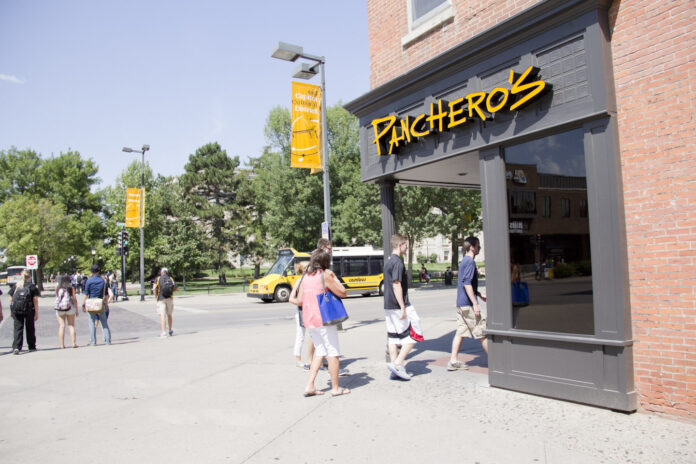 By Gigi Wood
CORALVILLE–It's been two decades of burritos, with more on the way.
Panchero's Mexican Grill, the Coralville-based fast-casual Mexican franchise is once again expanding its restaurant base and this week is celebrating its 20th anniversary. Rodney Anderson, the company's founder and president, opened the first Panchero's restaurant at 32 S. Clinton St., Iowa City in 1992.
Now the company operates more than 54 locations in 17 states. The 16 Iowa locations will be celebrating Panchero's anniversary by serving $1 burritos from 4-6 p.m. Aug. 28.
Mr. Anderson said the company plans to open several more locations by the end of 2013. Last week, Panchero's opened a new restaurant in White Plains, N.Y. Later this year, new Panchero's locations will open in Burlington and Carmel, Ind.
"Next year, we'll tackle quite a few," he said. "We're headed to Nevada, California, Oregon and additional units in New Jersey and Iowa. I think we'll get to 75 (locations) by the end of next year and hopefully up to 100 by the end of 2014."
As the company adds restaurant locations, it is gradually adding to its operations team at its Coralville headquarters, 2475 Coral Court.
"Once we get to next year and get to 75 units, we're really going to look to building our operations team," he said.
Panchero's is cautious about franchisee and location selection for new restaurants. The company has a franchise salesman who promotes the Panchero's brand to potential franchisees.
"He's been successful in finding operators from other brands who want to do another franchise, so we've got Dunkin' Donuts people opening, we've got Five Guys (Burgers and Fries) people opening, Denny's, other experienced restaurant people who want to have a new concept in the area where they franchise another concept," Mr. Anderson said. "It's a good time to transition from successful business people to successful restaurant people (to open new Panchero's locations), which makes things move a lot faster."
Finding the right commercial real estate locations has been a challenge during recent years, because few developers are building and not all existing locations are a good fit for the company.
"It's harder to find the real estate but you can still do it," he said. "And I think things (economic recovery) are once again starting to speed up a little bit."
Rising food costs have not yet hurt the company's bottom line, he said.
"We think it might (in the future)," Mr. Anderson said. "We think the drought is a big issue and on the backend it really affects the price of protein, chicken, pork, steak. In the short run, beef is going to be cheaper because producers don't want to hold on to it and don't want to feed it, they can't afford to, so they're dumping it. But next year, it's going to be extra expensive and I believe that cycle is about three or four years before you're really able to bounce back from that."
Panchero's has been working on strategies to avoid raising prices due to increasing food costs, he said.
"We've been working on some efficiencies and we're working on some recipes," Mr. Anderson said. "We were smart about it and we got lucky, so our food costs are going to come down from where they were, which will make up for part of the increase. And you can only pass on part of that to the customer. Hopefully the economy rebounds and people are willing to pay a little more because prices really haven't gone up for a few years."
Rick Day a division president at Reinhart Foodservice, one of Panchero's food vendors, said a few characteristics stand out about Mr. Anderson's company.
"We're their foodservice supplier in not only the Cedar Rapids market, but several other markets around the country, probably to the tune of 90 percent of their foodservice distribution," he said.
Mr. Day said Reinhart has been supplying food to Panchero's for about 10 years and said the restaurant chain differentiates itself from its competition.
"I think their commitment to freshness, their commitment to unique items that they developed flavor profiles on sets them apart from their competition or any of the major national chains our there," he said. "They've carved out a pretty unique menu, unique flavor profile that seems to be successful."
Unlike some restaurants that use frozen food products, Panchero's insists on using fresh ingredients, Mr. Day said.
"Just the sheer volume or menu applications that restaurants have dictate that in most cases, frozen is the way to go," he said. "Rodney has always been committed to fresh items. So instead of a canned cheese sauce, for instance, they make their own queso sauce using fresh cheese and fresh ingredients. The pork, beef and chicken they use is fresh. Certainly the produce items on their menu are all fresh products. Rodney's position over the years has been fresh offers a better flavor profile than frozen and they made it work, where a lot of places, frankly, haven't."
As Panchero's continues to open more restaurants, it's ramping up efforts to become engaged in local communities. JayJay Goodvin serves as Panchero's coordinator of "Burrito Relations," or marketing coordinator.
"My main focus is on a local level, so we work with a lot of high schools, we work with a lot of universities, we do a lot of stuff with the Dance Marathon folks, not only here in Iowa City but Ames, Madison and plan on doing the same in other areas," he said.
Each restaurant is marketed differently and Panchero's takes a different approach in university towns versus urban areas.
"Even the Riverside Drive (Iowa City) restaurant, we market that differently than we do the downtown restaurant; we market North Liberty differently than we do for Coralville," Mr. Goodvin said.
In many communities, Panchero's supports high school athletic departments and booster clubs by donating Panchero's food to the concessions stands to sell during games and gives the proceeds to the local group. The company also sponsors half-time basket-shooting and field-goal attempts for a chance to win a year's worth of free burritos.
"You support communities as a whole when you support high schools," Mr. Goodvin said.
During the next year, Panchero's will be putting up new store signs with an updated look and redesigned storefronts.
The downtown Iowa City restaurant received a facelift last year, returning the historic building to the way it looked during the 1920s, when the building operated as the Whetstone's Drug Store.
"It's great to get to 20 years and the downtown (Iowa City) store was a big part of that," Mr. Anderson said. "It's such a great place to do business, I call it a little business incubator. It allowed us to get our feet wet and learn and define things and build the brand there."