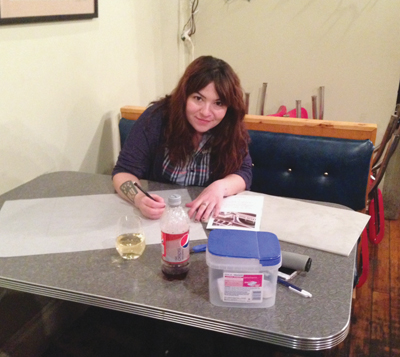 By Cindy Hadish
MOUNT VERNON – Just 4 miles west of Mount Vernon, Palisades-Kepler State Park has proved inspiring to more than hikers, campers and anglers.
New owner Rachel Sauter has chosen to christen her Mount Vernon cafe in honor of the local park. Palisades Cafe, 117 W. First St., will feature local and organic foods, much as did its predecessor, the Lincoln Cafe.
"We were looking for a local landmark name that was kind of catchy," said Ms. Sauter, 30, a Mount Vernon native who has enjoyed outings at "The Pal," as the park is known to locals. "We were just trying to keep the reverence for local things."
Menu items will continue that local focus, featuring locally sourced foods as much as possible, she said.
Ms. Sauter had initially hoped to open the cafe in February, but now is shooting for a soft opening in mid-March, as interior renovations continue.
Manager Elizabeth Gibson said the process of hiring kitchen staff remains in progress, while the floor staff hiring is complete and includes some former employees of the Lincoln Cafe. Ms. Gibson, who managed the front of the house for the Lincoln Cafe, has stayed on to work with Ms. Sauter, who purchased the cafe in December. A total of about 15 people will be employed at Palisades Cafe, she said.
Both women noted that renovating the historic building to make it handicap-accessible, including adding another restroom, would be difficult, if not impossible, so the cafe has applied for a waiver and should have its beer and liquor license before opening.
Planned hours will be 11 a.m.-2 p.m. Tuesday through Saturday for lunch; 5-9 p.m. Tuesday through Thursday for dinner and 5-9:30 p.m. Friday and Saturday for dinner. The cafe will be closed on Sundays and Mondays.
Ms. Sauter, who still has family in Mount Vernon, has worked at several other restaurants, including the Augusta Restaurant in Oxford and The Cottage in Iowa City. She graduated from Grinnell College with a degree in music and still plays in local bands.
She previously worked at the Lincoln Cafe, starting just after high school, and owned DeVine Wine & Beer Cafe in Mount Vernon in the mid-2000s.
Ms. Sauter will be head chef at the café and said burgers and soups are among her favorite menu items. One sandwich that will likely make the menu is a burger with kimchi, Korean barbecue sauce and a fried egg.
She also plans to introduce mid-priced items, such as pasta.
"I'm a food person, so I like trying everything," she said. "I want to make things that chefs or food people want to eat."
She has some trepidation, however, trying to live up to the expectations of former Lincoln Cafe customers, she said. Lincoln Cafe owner Matt Steigerwald closed the popular restaurant Dec. 21, citing a desire to try new ventures after working a labor-intensive schedule since opening in 2001.
"Nobody expects me to be Matt," Ms. Sauter said, acknowledging that while some of the pressure is from former customers, most comes from herself. She added that she intends to build, as he did, from simple menus into more complex dishes.
Mr. Steigerwald made a point of buying locally-sourced fruits, vegetables and meats, and Lincoln Cafe became well-known for mouth-watering specials, as well as its "food is important" motto. The 32 fans who had the phrase tattooed on their body were promised free fries for life from the Lincoln Cafe, a promise Ms. Sauter said she will uphold for those customers, although the promotion isn't hers.
"Anyone who feels that strongly about food, I want to reward that," she said.
In fact, Ms. Sauter also decided to have the phrase tattooed on her arm after buying the cafe from Mr. Steigerwald, even knowing that changes were in store.
When Mr. Steigerwald opened the restaurant, the Lincoln Cafe name was available to use, but since then, the Lincoln Cafe in Belle Plaine registered the name with the state of Iowa. With the change in ownership, the name was not grandfathered in as it had been for the last 12 years, so Ms. Sauter had to create a new identity for the cafe.
Mr. Steigerwald continues to operate the Lincoln Wine Bar, just a few doors down from the cafe at 125 W. First St., specializing in wood-fired pizza, drinks and live music. He has contemplated opening the wine bar for lunches, but said the additional hours would be a major adjustment that would take time to change, if that decision is made.