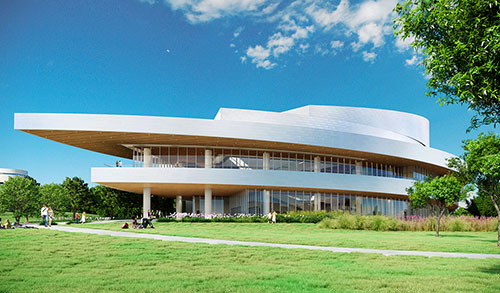 An exterior rendering of the new Hancher Auditorium, designed by OPN Architects and Pelli Clarke Pelli, a Connecticut-based firm.
By Chase Castle
chase@corridorbusiness.com
OPN Architects plans to open an office in Iowa City later this year, which leaders with the Cedar Rapids-based firm said will reaffirm the firm's commitment to projects in the southern Corridor and Eastern Iowa.
Since 2008, OPN has overseen several projects with the University of Iowa, perhaps most notably the new Hancher Auditorium, scheduled for completion sometime later this year. That project and others have contributed to a resurgence of development in the Corridor, which OPN Principal and President Daniel Thies believes will continue to generate additional work around Iowa City.
"2015 is going to be one of our stronger years," Mr. Thies said. "But as we look into the future, there are an extraordinary number of opportunities out there that we are in the conversation for, and we are very optimistic and excited."
The firm's new office will be located on the second floor of 26 S. Clinton St., above Austin Burke Clothiers and just southeast of the University of Iowa Pentacrest, and will likely house about nine employees. Leading the group will be Justin Bishop, who was recently named associate principal with the firm.
Mr. Bishop is a 2004 graduate of Iowa State University, and has been with OPN for 11 years. In that time, he served as the project anchor for the exterior skin of Hancher Auditorium, and was closely involved with the design of the new Johnson County Emergency Services Facility. He also received an MBA through the PM program at the University of Iowa this year. Although MBAs aren't terribly common in the design field, Mr. Bishop said the coursework he completed over the last four years has already reaped benefits.
"It gives you that baseline understanding of business and the vocabulary to speak the same language as our clients, which I think is really helpful to understand the business aspect of what they're trying to do," he said. "It just makes the project stronger."
Although a new office means new costs, Mr. Thies said the value created from having design staff readily available for visit local projects, as well as the message a local office sends to clients, both make the investment worthwhile. Moreover, he said, the company's work is too collaborative to do remotely. Although OPN offices regularly oversee design work and provides feedback or directives based on project data shared over the computer, it can't replace in-person collaboration, Mr. Thies said.
"We're constantly engaging one another in dialogue about problem solving and designing, and creating … different answers and scenarios to some of the work that we're doing," Mr. Thies said. "That, in and of itself, makes the idea of us working from home not … conducive to the sprit of collaboration, and it's just the way we do our work."
Founded in 1979 in Marion, OPN relocated to downtown Cedar Rapids in 1985 and is presently located at 200 Fifth Ave. SE, where about 50 employees are based. Another 50 are based at the firm's Des Moines office, while about 10 others work at the OPN office in Madison, Wisconsin.
Although the majority of the company's clients are commercial, including Baxter Companies, ALDI and Deere & Co., OPN has also done design work for residences, including mixed-use buildings built by the Watts Development Group just east of 30hop restaurant at the Iowa River Landing in Coralville.
For the last 20 years, Mr. Thies said, Iowa City area has been home to several OPN projects, including the office of MetaCommunications, which occupied three floors of the 14-story Park@201 building that opened on the Pedestrian Mall in 2014.
In 2010, the company was chosen to design to new Hancher Auditorium. Shortly thereafter, university representatives and OPN selected Connecticut-based Pelli Clarke Pelli as the design architect.
Like the Voxman Music Building and the Clapp Recital Hall, the original Hancher was destroyed by flooding in 2008 but deemed eligible for FEMA replacement funding, which will cover a portion of the building's $161 million cost. The new, 189,000-square-foot facility will have a large multi-purpose proscenium theater, and a smaller performance space for rehearsals, performance and teaching. The building will also feature front-of-house and back-of-house support spaces and administrative offices.
In order to deliver the best sound possible, the new Hancher will also feature moving parts such as panels in the ceiling area that can be adjusted in order to create the most acoustically conducive setting for a particular performance type.
"So there will be a pretty intensive acoustic commissioning that will go on at all levels," even after the building construction finishes, Mr. Bishop said.
Also among OPN's largest active projects in Iowa City is the new University of Iowa College of Pharmacy, an estimated $96.3 million, 220,000 square-foot building at the site of Quadrangle Residence Hall. Plans include a remodel of portions of the existing south tower built in 1996, and the demolition of the 1961 building and the Quadrangle Hall. That project recently moved into the construction document phase, and is likely to break ground in late 2016 or early 2017.