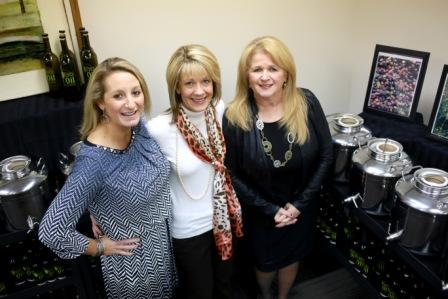 Story by Katie Mills Giorgio
Photo by Rachel Jessen
CEDAR RAPIDS — The timing couldn't be better for Olive's Oil, a new retail business in Cedar Rapids.
"The timing is right, the talent is right, and the market is right," said Christine Crosby, who along with Laurie Wahlert and Dawn Heller is opening Olive's Oil.
The trio has mixed up an innovative business blend of fresh olive oils and balsamic vinegars, a tasting room and a whole lot of education to create a new venture.
"The tasting experience and the education Olive's Oils staff will provide will really set this retail initiative apart," Ms. Crosby said.
Olive's Oil features 40 varieties of fused or infused olive oils and flavored balsamic vinegars, products that are rather unique to the Cedar Rapids market. With flavors such as Tuscan herb olive oil, roasted walnut olive oil, blackberry ginger balsamic and cinnamon pear balsamic, the oils and balsamics are stored in fustis (stainless steel containers). Customers venture in, taste as many varieties as they would like and then Olive's Oil staff bottles customer selections on the spot to help maintain the freshness of the product.
"It's all about freshness. You just have to taste it," said Ms. Crosby. "People are going to be surprised by how many uses there are for the oils and how fun it is. We know there are a lot of foodies out there."
Customers will find recipes, pairing recommendations and other suggestions for incorporating Olive's Oil products into their diets when they visit the store as well.
"We want to help our clients with ideas because people aren't used to all these choices," Ms. Crosby said.
The trio is operating Olive's Oil out of temporary space in the Guaranty Bank building in downtown Cedar Rapids until the permanent shop is ready for the grand opening.
"Right now we have our temporary tasting room," Ms. Crosby said. "We didn't want to wait to bring this concept to the market until our shop was open. Our product came in and we wanted to get started."
Olive's Oil has been doing a fair share of business for corporate and hostess gifts, as well as holiday gift baskets.
"We are having a blast," Ms. Wahlert said. "People are really jazzed about this, I think especially because it's outside the box for Cedar Rapids."
The Olive's Oil permanent location, in The Fountains — the new mixed use development going up on at Edgewood Road and Blairs Ferry Road — is being built out now with the goal of a grand opening in January.
The idea for the new business venture is timely in the sense that it all started with a Christmas gift Ms. Crosby received last year from her daughter-in-law.
"I tasted the olive oil and thought it was just so delicious."
Then in April, Ms. Crosby and Ms. Wahlert, who work together at Guaranty Bank as bankers by day, attended the Iowa Women's Leadership Conference. There, they were inspired to follow their entrepreneurial dreams.
"We really got energized there," Ms. Crosby said of the conference. "It's where Laurie and I had our brainchild."
Things came together quickly after that. They began researching the concept and decided to work with an importer based in California, who according to Ms. Crosby has extremely high standards for their oils.
"Four hours from tree to crushed is their standard. They want to guarantee freshness," she said. "Laurie and I had to go to their headquarters in California. They really vet who they are going to sell to and there is an education process to go through. They taught us how to taste, what you are looking for, how the pros do it."
After deciding to launch the business, they also brought on Ms. Heller, who owns another small business and had a more flexible daytime schedule.
"The personalities all mesh," Ms. Crosby said. "We all like to cook and consider ourselves foodies. And when we tasted the olive oil, we all loved it. We are already our own best customers."
Ms. Crosby said the three partners found their roles within the new business naturally.
"It's very rare to find this, I think, but even though we don't always see each other we find that one of us will be thinking of something and the others are already doing it."
With the shop slated to open in January, the timing is once again right, as many people resolve to make healthier eating choices.
"And with Blue Zones there is a real passion for healthier things right now," Ms. Crosby said.
Olive's Oil can play a role, she said. At Olive's Oil, not only do they pride themselves on a fresh product, but also on the ability to educate their customers about the oils and vinegars they sell.
"Olive oil is like fruit juice," Ms. Crosby said. "As soon as it's mulled, it starts to deteriorate. You want to know the crush date of the olives. You want to know the chemistry behind it so you can know the health benefits. Here at Olive's Oil we can tell you when it was crushed and all about the chemistry. The education piece is huge."
Ms. Crosby and Ms. Wahlert agree they are very much looking forward to getting into their permanent location so customers can taste and find their new favorites. Ms. Wahlert said the shop will also carry additional products beyond olive oil and balsamic vinegar — the "and such" part of the business name — including a pasta line, locally made chocolates, salts, pesto and soaps and lotions created with olive oil of course.
The business women say they are very community minded and look forward to hosting events in their store as well.
"It is more than just an olive oil and balsamic store," said Ms. Crosby.
Ms. Wahlert agrees. "We want it to be a destination."