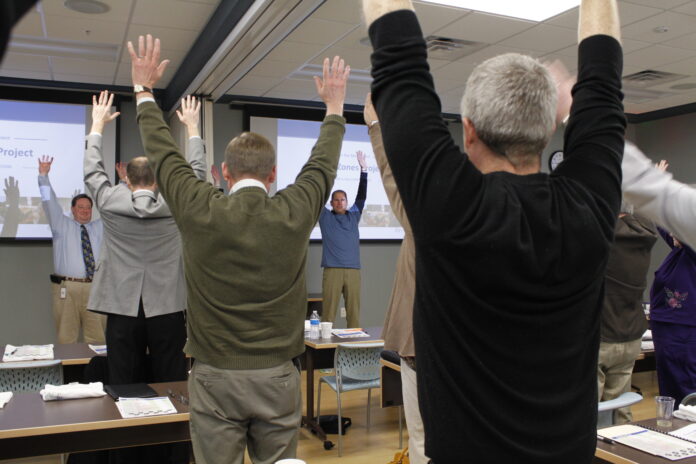 By Pat Shaver and Sarah Binder
CORRIDOR—It's time to turn the Corridor blue, one healthy choice at a time.
In a news conference Jan. 30, Cedar Rapids, Iowa City and Marion were announced as Blue Zones demonstration sites. Work to make Cedar Rapids a healthier community will begin this year, while Iowa City and Marion will shadow Cedar Rapids before beginning their programs in 2014.
"They were strategic in the way the communities were selected. I think it's going to benefit all of Eastern Iowa," said Stephanie Neff, deputy director of Linn County Public Health and a representative of the Cedar Rapids Blue Zones committee, predicting a multiplying effect.
Other cities selected announced at the news conference included Muscatine, Oskaloosa
and Sioux City. These six communities join Cedar Falls, Mason City, Spencer and Waterloo, as well as nine communities with populations less than 10,000 citizens that were announced in 2012.
First step
The next step for Cedar Rapids is to find seven staff people and an office space. Ms. Neff said they hope to have this completed by March 1.
Four of the staff positions will be paid for by Blue Zones-creator Healthways, including a community program manager, organizational lead, engagement lead and a project manager. Three positions will need to be supported by the community, including a volunteer coordinator, initiative/event organizer and an administrative assistant, said Mary Lawyer, Iowa Blue Zones director.
Next, committees will be formed around each priority item as the leadership team prepares a blueprint for creating a healthier community.
"Your community really is the one doing the work," Ms. Lawyer said.
Meanwhile, Iowa City and Marion will begin receiving Blue Zones resources in 2014.
"The chamber is elated to receive the designation. We are grateful to the community
partners that have been instrumental in this process," said Nancy Quellhorst, president and CEO of the Iowa City Area Chamber of Commerce. "It truly has been a community endeavor. There has been a significant amount of time and resources put into this initiative."
Part of Iowa City's application included securing a well-outfitted office space for three local full-time "loaned executives," she said. She wouldn't identify the "loaned executives," but said one is Patti Fields, the vice president of community impact and engagement with United Way of Johnson County. Ms. Fields will continue her duties at United Way, while establishing a number of Blue Zones committees, Ms. Quellhorst said.
Committees will focus on topics such as school policy, restaurant certification and grocery store certification. The number of committees has yet to be determined; that will be one of the first steps for Iowa City during the next few months. Next, the Iowa City coalition will recruit members for the committees, so that by 2014 the organization is prepared to begin receiving the Blue Zones resources.
"We have so many audiences to reach, these permanent changes to the environment, to policy and to social engagement will require work across sectors," Ms. Quellhorst said.
Businesses wanting to participate should visit www.bluezonesproject.com and register to take pledge actions. Companies can also contact the chamber to learn wellness strategies and ways to improve workplace health.
For example, the chamber recently received a call from a company wanting to add a vending machine with healthy snacks. The chamber helped the business find one.
"There's a great deal of excitement that surrounds this. People are enthusiastic about subtle and fun ways to improve their lives individually and as a community," Ms. Quellhorst said.
A few examples of incorporating Blue Zones ideas into daily life could include:
In the workplace: well-being committees, more offerings of healthy snacks
In restaurants: Menu items marked as Blue Zones dishes or with nutrition information, fruit or salad as the default side dish instead of French fries, salt, bread or chips available by request only
In grocery stores: a Blue Zones checkout aisle with no candy or junk food, Blue Zones signage promoting healthy foods
In schools: walking school buses, changes to optimize schedules
In the community: more bicycle lanes and walking paths, purpose workshops, connections to volunteer opportunities
"Hopefully, the healthy choice will become the easy choice," Ms. Neff said.
Progress on each of the Blue Zones' Power 9 principles, which cover physical, emotional and spiritual health, will be tracked using the Gallup-Healthways Well-Being Index, a national daily assessment of U.S. residents' health and well being. The Well-Being Index is also the official measurement tool of Gov. Terry Branstad's Healthiest State Initiative, which aims to make Iowa the healthiest state in the nation by 2016.
To the communities that were not chosen, Mr. Branstad said the overall goal is still for everyone to become healthier.
"We want all of you to stay involved. To become the healthiest state in the nation every city and every Iowan needs to look at what we can do," he said at the press conference last week. "We want to encourage people to make the right choice the easy choice."
The Blue Zones project is based on an eight-year study of the world's longest living communities, conducted by Dan Buettner. Following his studies, Mr. Buettner wrote, "The Blue Zones: Lessons For Living Longer, from the People Who've Lived the Longest."
In 2009, Blue Zones successfully applied the tenants of the books to Albert Lea, Minn., raising life expectancy and lowering health care costs.
"It's not just a vision, it's a manifesting reality," Mr. Buetner said during the press conference last week.