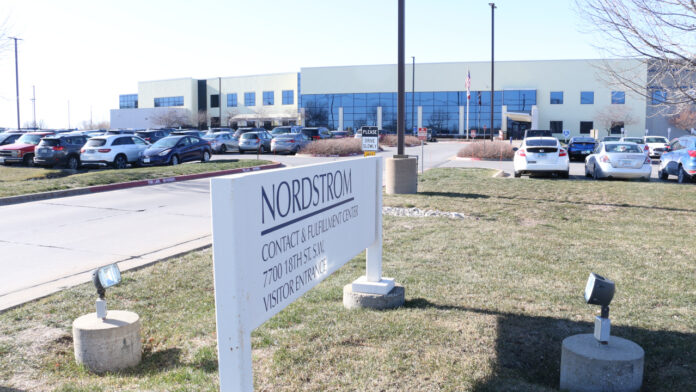 Nordstrom reported earnings March 1 for the fourth quarter of the 2021 fiscal year that the company said were "in line" with its overall fiscal outlook.
The luxury department store chain, with fulfillment operations in southwest Cedar Rapids, reported net earnings of $200 million for the quarter ending Jan. 29, 2022, or $1.23 in diluted earnings per share (EPS), beating analysts' expectations by nearly 20%.
For the fiscal year ending Jan. 29, Nordstrom reported net earnings of $178 million, including an $88 million debt refinancing charge in the first quarter of the year, and diluted EPS of $1.10. Earnings before interest and taxes (EBIT) totaled $492 million, or 3.4% of sales.
Net sales for Nordstrom were up 23% in the fourth quarter compared to the same period in 2020, but down 1% from the comparable quarter in 2019.
Nordstrom reported the strongest sales in its home, active, designer, beauty and kids categories, with stronger sales in suburban markets than in urban markets.
For the off-price Nordstrom Rack banner, net sales increased 23% from the same period in fiscal 2020 and decreased 1% from the same period in 2019, driving most of the company's sales gains for the quarter.
Nordstrom stock soared nearly 35% on the report in after-hours trading.
The retailer also issued strong guidance for the 2022 fiscal year, projecting revenue growth of 5% to 7% and EPS of $3.15 to $3.50 for the year.
"We advanced our strategic initiatives this quarter, with sequential sales improvement, strong digital growth and a significant increase in profitability," said Erik Nordstrom, chief executive officer of Nordstrom. "Our team continues to work with urgency to accelerate our progress and invest in our capabilities to better serve customers and profitably grow sales. Our primary focus is on three areas: Improving Nordstrom Rack performance, increasing profitability and optimizing our supply chain and inventory flow."