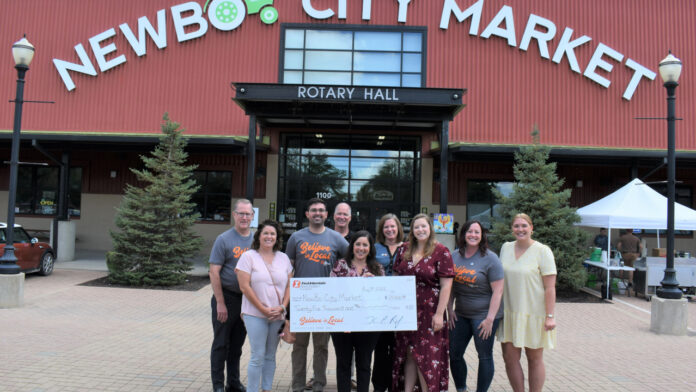 NewBo City Market in southeast Cedar Rapids has received a $25,000 gift from First Interstate Bank and the First Interstate BancSystem Foundation as part of their inaugural Believe in Local grant campaign.
These funds, awarded Aug. 9, will be used to promote sustainability and resilience through Cedar Rapids-based entrepreneurs.
"We are incredibly appreciative of First Interstate's generosity and support," said NewBo City Market development director Sarah Blais. "This donation helps us to further our mission of creating a sustainable and resilient space for local business owners. We're thankful to have dedicated partners like First Interstate helping us to strengthen Cedar Rapids."
First Interstate Bank, which has Corridor branches in Cedar Rapids and North Liberty after its merger with Great Western Bank in May 2022, launched the Believe in Local campaign to celebrate the bank's longstanding commitment to the communities it serves.
Forty nonprofit organizations across the bank's 14-state footprint will receive a $25,000 gift in support of their mission. NewBo City Market was nominated by local First Interstate employees and selected from a pool of over 400 nominees due to its alignment with the bank's philanthropic goals.
"Giving back to the places we call home is central to who we are as a community bank," said market president Dave Parmley. "Our Believe in Local grant campaign captures our core values in action and is the ideal way to celebrate the nonprofit organizations that deliver the greatest positive impact. We're thrilled to have the opportunity to further support NewBo City Market in its work to better the Cedar Rapids community."
In addition to campaigns like Believe in Local, First Interstate makes annual donations and grants of 2% of its pre-tax earnings to local communities. The funds help improve workforce development, boost early childhood education, mitigate poverty, and support nonprofit organizations like NewBo City Market.