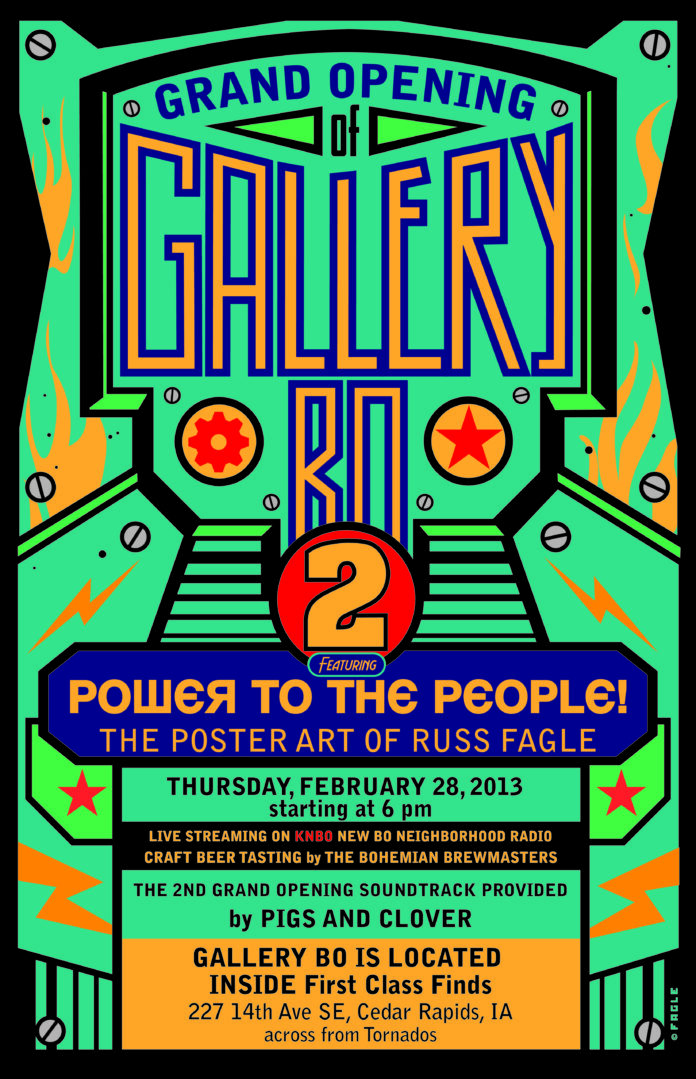 Poster art on display at new Gallery Bo
By Sarah Binder
CEDAR RAPIDS—Power to the people.
For the last 10 years, local artist Russ Fagle has been inspired to depict Cedar Rapids' New Bohemia neighborhood through a socialist lens.
"People enjoy it, and they understand the metaphor — there's just a lot of fun themes," he said.
Mr. Fagle's poster art is on display at a new gallery in the neighborhood, Gallery Bo. The display space is located inside First Class Finds, a vintage store specializing in midcentury modern furniture and accessories, at 227 14th Ave. SE.
His work includes slogans such as "peaceful-loving but prepared," the notion that New Bohemia should become an independent nation and friends of his who are active in the neighborhood — and just happen to bear a striking resemblance to Vladamir Lenin and Karl Marx.
Mr. Fagle has a background in advertising, but has been a full-time artist since 2001. In addition to his fine-art posters, he does graphic design, painting and drawing, and even some woodwork and jewelry.
His studio has been based in the Cherry Building for more than 10 years, allowing him to see New Bohemia grow and change.
The Cherry Building, 329 10th St. SE, Cedar Rapids, houses about 30 small businesses. The small, local businesses range from floral shops and photography studios to musical instrument repair.
"As devastating as the flood was for all of us, it really created an opportunity for the neighborhood to be reborn," he said.
Mr. Fagle believes the neighborhood is approaching a "critical mass" of creative, engaged citizens. In addition to artists and performance venues, the neighborhood is home to a host of creative small businesses, such as those at the NewBo City Market. Mr. Fagle used the example of EcoLips, another tenant of the Cherry Building that produces a natural lip balm. Although they are not artists, the company's sustainable focus and entrepreneurial drive make them a match for the artsy neighborhood, he said.
"The NewBo movement is more than this neighborhood, he said. "It's an attitude. It's part of a bigger dynamic."
Gallery Bo held a grand opening Jan. 31, but due to bad weather that week, a second opening featuring live music is planned Feb. 28 at 6 p.m. For more information, visit facebook.com/russfagleartwork.