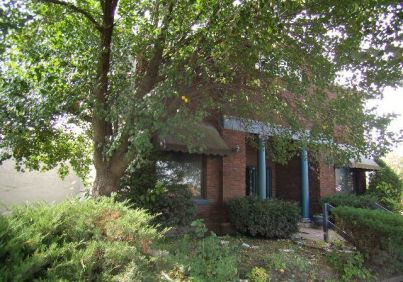 By Pat Shaver
CEDAR RAPIDS – An area known pre-flood for its unique artistic and business community is making a collaborative comeback, with several projects complete, and many more in the works.
The New Bohemia neighborhood is centered on Third Street SE and adjacent to the Cedar River and links the Downtown District with the Czech Village. The area is recognized as the Bohemian Commercial Historic District by the National Register of Historic Places.
Many of the key businesses and homes were flooded in 2008. The neighborhood has continued to rebuild, with returning businesses like CSPS and new projects like the NewBo City Market.
City Market
Once it's complete, the NewBo City Market will be like nothing else in the state of Iowa, said Julie Palmer, market executive director.
"One of the interesting things about this whole project is it truly is from the ground up," she said. "There's nothing like this in the state of Iowa.
The NewBo City Market has been able to raise about $2.3 million of a $3 million community grant goal, Ms. Palmer said, who is finishing up her first month in the new position.
"We've got a lot of requests out," she added, noting that construction won't begin until that goal is met.
The entire project is expected to cost about $4.25 million. The market will be located on Third Street between 11th and 12th avenues SE. Volunteers have worked over the last two years to get the market project moving.
The Market Hall will likely include 10,000 square feet of space for vendor sales, 8,000 square feet for seating, gathering, event space, restrooms and storage. There will be available space for both permanent and seasonal vendors.
Plans include renovation of the Quality Chef warehouse, which will cost an estimated $2 million. The building will have a neighborhood grocery store site work/outdoor space for vendors, gatherings and entertainment; furnishings, fittings and other equipment.
Ms. Palmer previously worked for Cedar Valley Habitat for Humanity, and before that was co-owner of Palmer Telecommunications. Running a small business for more than 10 years has prepared her to manage the market.
"Owning a small business you do everything. Everything from human resources to public relations and media (relations) to get your business out there, you interface with the people you do business with, customers and employees," she said.
"I learned a thousand lessons," Ms. Palmer said. "The biggest thing I probably learned was how to be fiscally responsible."
For example, Ms. Palmer said, with the city market, they don't want to jump into the project until the funding is secured.
"I hear people saying that it's not going to happen because it hasn't happened yet. We're making sure we have the funding so the market doesn't start out in debt," she said.
The market will have a staff of three employees, including Ms. Palmer, an operations manager who will work with the vendors and a communications manager who will do public relations for the market.
"It's like any small business. You have primary responsibilities and you have overlap," she said. "There's a theme: I love small business, I love entrepreneurship, thinking outside the box, and being able to take limited resources and doing great. I really truly believe in community building."
Kirkwood Community College announced last month that it has signed to become the anchor tenant in the NewBo City Market. Kirkwood plans to use the space for culinary courses and has committed to a 10-year lease. It will fill approximately 1,500 square feet of the 18,000-square-foot facility.
The college plans to expand its youth culinary camps, nutrition classes and culinary offerings, and develop new programs such as a young chef's academy, culinary team-building training, and culinary certifications through the new space.
"Kirkwood will basically have a downtown presence now," Ms. Palmer said. "They will primarily be focusing on doing continuing education classes. Our flexible space was a big draw to them."
Several other permanent and seasonal vendors have committed, though Ms. Palmer said no leases will be signed until the construction is ready to go and they have a secured start date.
NewBo Beach
The New Bohemia Group, one of the nonprofit organizations focused on growing the neighborhood, signed a three-year lease with the city for six sand volleyball courts at 405 12th Ave. SE, next to the NewBo City Market. The group is fundraising for the project and is hoping to begin play this year. They will have sand volleyball leagues and tournaments; have areas for live music, sand sculptures and a kid's play area.
Fundraising for the project is more than half complete, said John Schnipkoweit, president of the New Bohemia Group Inc. and co-founder of RecBob, a Cedar Rapids startup company. The work will be done in phases, so the group won't need the full funding in order to begin the project.
"If you look at what our group has done in the past, maybe volleyball courts don't make a lot of sense. But our events that have been very successful have been sports events attached to arts events," he said.
Mr. Schnipkoweit said the group is planning events for when the Register's Annual Great Bicycle Ride Across Iowa (RAGBRAI) does an overnight stop in Cedar Rapids.
"What we're doing there, we're probably going to do something at NewBo Beach, a volleyball tournament, live music and other activities," he said.
There are plans for a shuttle bus between downtown, New Bohemia and the Czech Village during the overnight stay on July 26. Mr. Schnipkoweit said they are also working on having camping areas available in the neighborhood.
There are also plans to turn a large grassy area in front of Bottleworks Lofts and Condominiums into a park. It would include a walking trail and sitting areas.
Artist Colony
Funding from the NewBo Beach will help with another project that likely will save four historic buildings from demolition, Mr. Schnipkoweit said.
The New Bohemia Group submitted a letter of interest to the city of Cedar Rapids on Jan. 31, proposing the city not demolish four flood-damaged buildings in the neighborhood that were scheduled to be torn down.
The Tent and Awning building (see photo above), the group hopes, will be used as an office for the nonprofit and also feature a welcome center to the neighborhood, space for small performances, exhibitions and events. The building is at 1215 Second St. SE. It was built in 1923.
Three homes in the neighborhood would be renovated and turned into homes for artists. Mr. Schnipkoweit said the idea is the help not-yet-professional artists who have the passion but may not have the means to support their creativity.
The renovated homes will give the artists a place to stay, space to work and will allow them to show off their works to the community during frequent open house events.
The city pulled the buildings from the demolition list, he said. The three houses are located at: 1226 First St. SE, 213 13th Ave. SE and 1301 Third St.
"The problem is that there were never a lot of house in New Bohemia to start with," Mr. Schnipkoweit said, adding that pre-flood there were 35 to 40 homes; there are 10 to 15 left today.
"Before the flood, there were a lot of good things in the works. There were a lot of artists living in the neighborhood. That's one of the things we want to restore. But you can't ask artists to move back in and restore a flooded house," he said. "We've been struggling with that for a long time. How do we replace some of those residents? That's why for us the artist colony is appealing."
Mr. Schnipkoweit said there are also plans for a small bed and breakfast, a new restaurant and a retail store with second floor housing in the neighborhood. An entrepreneur who moved back to the area to start a brewery is interested in the NewBo neighborhood, he added.
"There's quite a bit of available land in the district, the former Sinclair property, part of that will be used for flood protection," he said, noting that it's a total of 40 acres.
CSPS
It was announced this month that three businesses have signed leases in the commercial spaces on the first floor of the recently restored CSPS Hall in Cedar Rapids.
The businesses are a coffeehouse, a book store and a photography studio. The will move into space created as part of a 16-month, $8 million renovation and expansion project that followed the June 2008 flood, which destroyed the first floor of CSPS.
Two of the businesses already are established elsewhere. Brewed Awakenings Coffeehouse will open its second shop there. It's first is at 1271 First Ave. E. The CSPS Hall location will expand offerings to include native wines and micro-brew beers. It is expected to open May 1 and employ 12 people.
StudioU Photography, has done business out of Iowa City for the past 10 years. The CSPS location will be the first physical office location for the company, operated by Troy and Heidi Eiffert. The business is now open by appointment.
The third business is New Bo Books, owned and operated by Mary Ann Peters of Cedar Rapids. The business will work in partnership with Iowa City's Prairie Lights Books.
New Bo Books is scheduled to open May 1 and is expected to employ three people.
The building also includes an arts incubator. It is designed to house six new or emerging businesses and will also offer business training for artists. Another feature is the C Space, a multipurpose room used for talks, performances, auditions, readings, rehearsals, film screenings and conferences. The space can seat up to 75 people.
The project was initiated in the fall of 2009 when the state's I-JOBS program awarded Legion Arts the initial $4.8 million for the purchase and restoration of CSPS and the adjoining historic firehouse. The building reopened in October.