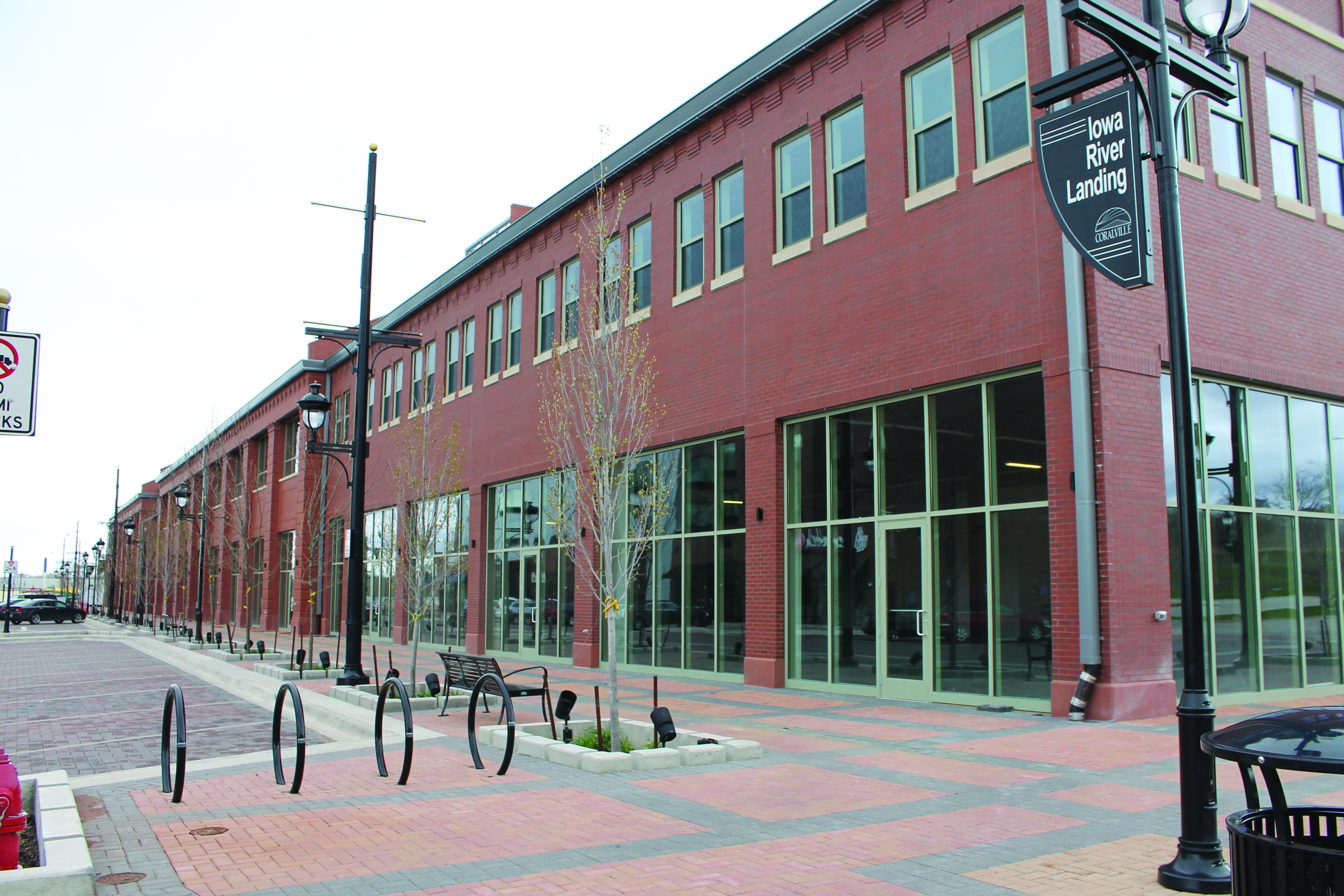 By Dave DeWitte
CORALVILLE – Despite a lack of new retail leasing activity to announce at an Iowa River Landing project update by the city of Coralville on April 28, several upcoming events added to the enthusiasm of two previously announced tenants who discussed plans.
WineStyles Tasting Station, a West Des Moines-based chain that combines features of a wine bar with a wine and beer specialty store, expects to open in late June. It will be the first tenant in a new 81,000-square-foot mixed-use building on Second Street just reaching completion by Hodge Construction.
WineStyles will feature an old-world wine cellar atmosphere in its 2,200-square-foot space, according to Jeff McGinness, the company's director of franchise development. He said WineStyles encourages wine enthusiasts to explore new wine territory by providing them the opportunity to sample wines at special events or to buy a single-glass serving.
Iowa River Landing was "a perfect fit for us," said Mr. McGinness, a three-time All-American and twice NCAA wrestling champ during his days at the University of Iowa. He said Wine Styles likes the traffic that will be generated by the 30 Hop restaurant opening in the same block, and the nearby microbrewery, Backpocket Brewing.
WineStyles will feature six beers and four wines on tap, Mr. McGinness said. It will have a full calendar of special events for wine and beer enthusiasts, including Thursday night wine tastings and Friday night beer tastings.
Coralville will become the second corporate-owned Wine Styles Tasting Station. Many of the chain's franchisee-operated locations were forced to close when consumer spending declined during the most recent recession, Mr. McGinness said, but the company has learned lessons from what differentiated the stores that have survived.
The opening of 30hop is expected in mid-July, according to Director of Operations Erik Shewmaker, who also operates BlackStone restaurant in Iowa City. He said the beer-themed restaurant will feature small-plate dishes that go well with beer, and "bring a big-city atmosphere," to the local restaurant scene with features like a rooftop patio with three fire pits.
A lower-level serving area will seat 200 and have another patio, Mr. Shewmaker said. He said 30hop will have 60 beers on tap and feature small-plate foods that will serve as a non-filling complement to 30hop's extensive beer selection. The restaurant expects to employ up to 130 people.
Plans for 30hop were announced in 2012 and plans for WineStyles were announced last September. Representatives of Jos. A. Bank Clothiers, a national men's clothing chain, announced plans in March 2013 for a 4,000-square-foot store in the newly completed building.
The ground floor properties in the new building are available for lease from the city, while the upper floor spaces are available for lease from Hodge Construction.
Deanna Trumbull, leasing consultant for Iowa River Landing, said the Coralville store is on Jos. A. Bank's store opening list for 2014, and she expects the interior build-out on the store to begin within 30 days. Ms. Trumbull hopes to solidify more national tenants for Iowa River Landing during this month's big RECON retail conference in Las Vegas.
It's been eight months since Von Maur opened its store in Iowa River Landing. The development has seen already seen a trickle of specialty retailers, including Scratch Cupcakery, Massage Heights Retreat and the Water Street Café.
City Administrator Kelly Hayworth said the Davenport-based Von Maur has brought in more high-end merchandise to respond to market demand since opening, a sign that bodes well for Iowa River Landing.
Kevin Digmann of Hodge Construction said letters of intent have been submitted to lease 25,000 and 15,000 square feet of new commercial space in the building, but neither proposal has been finalized.
The University of Iowa's outpatient facility at Iowa River Landing, which opened in October 2012, is seeing patient growth, according to administrator Steve Woodward. He said UI Healthcare Iowa River Landing is seeing close to 600 patients a day, a number expected to increase to 800 patients per day this year.
Mr. Woodward said the outpatient facility will be building out shell space on the fourth and fifth floors. Colonoscopy services will be one of the major users of the additional space. UI Healthcare is also adding orthopedic services, but only for knees and hips.
The city of Coralville is opening the top floor of its parking ramp at the Coralville Marriott for Backpocket Brewing's upcoming Border Hop microbrewery festival from 1-5 p.m. May 24. The event will feature beers from microbreweries in the adjoining states of Missouri, Illinois and Wisconsin.
Herky on Parade will bring street art to Iowa River Landing beginning May 5. A record number of 83 Herky statues are planned throughout the community. They will serve as a backdrop for Fry Fest events in August.
The April 28 event attracted more than 100 luncheon guests to the empty upper level of the new Hodge Construction building, exceeding turnout projections.