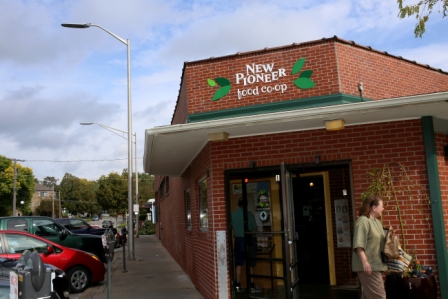 By Cindy Hadish
CEDAR RAPIDS – New Pioneer Food Co-op's third store will bring 50 jobs and an influx of local, natural and organic foods to Cedar Rapids.
At the same time, leaders of the Iowa City-based food cooperative note that the new location in Cedar Rapids doesn't mean Iowa City's site search will be forgotten.
"It's an opportunity to serve the market up here and the members up here," New Pioneer General Manager Matt Hartz said after a news conference to announce the third store Oct. 1. The press conference took place at the Cedar Rapids Metro Economic Alliance.
The store will open in Cedar Rapids in an existing building, the former Fin & Feather, at 3338 Center Point Road NE. Plans call for an early 2015 opening, "if not sooner," Mr. Hartz said, citing a strong customer base in Cedar Rapids among the reasons the city was chosen.
The decision was not affected by an announcement that The Fresh Market, a North Carolina-based specialty grocery chain, intends to open its first Iowa store also in northeast Cedar Rapids, he said.
The idea has been in the planning stages for four years, Mr. Hartz said, and was pursued after members this summer overwhelmingly voted to authorize the New Pioneer Board to add a third store, or relocate the Iowa City store downtown.
The New Pioneer board has been aware of The Fresh Market's intentions to expand, but market studies show that will not impact the viability of New Pioneer's new store in Cedar Rapids.
About 50 people will be hired to staff the Cedar Rapids store, he said, with most hiring happening six months before the site opens. A majority of the co-op's 190 employees work full time, with benefits.
The Cedar Rapids Assessor's site shows the former Fin & Feather, was constructed in 1997, at 16,473-square-feet. Retail space in New Pioneer's Coralville store is 10,000-square-feet, with the downtown Iowa City retail space about half that size.
New Pioneer will pay $975,000 for the property, and while no tax increment financing or other incentives will be used, the co-op might apply for an abatement to help with storm water management costs.
Board Vice President Janet Razbadouski said renovations are already beginning on the building, with plans to incorporate sustainability measures into the site.
She and other New Pi representatives noted that the announcement does not mean the board has given up on a new location for its downtown Iowa City store, which currently sits in a flood plain.
In fact, they said the board has been actively talking with local developers and the city of Iowa City in regards to relocating or adding another store there.
The Iowa City Council earlier this year decided against a proposal that included a New Pioneer store in a new development at the corner of College and Gilbert streets.
"This store is not taking away from our opportunity in Iowa City," Board President Sarah Walz said, adding that New Pioneer was not pitting one city against the other. "The success of this store will help to make that happen."
While no timeline has been set for that next step, the co-op intends to maintain a presence in downtown Iowa City, Mr. Hartz said.
"We're 100 percent committed to downtown," he said. "We would never leave it."
The Cedar Rapids store will be New Pioneer's second foray into the city. The co-op opened in 1988 in southwest Cedar Rapids, but was in business only a few years before closing.
Cedar Rapids Mayor Ron Corbett said New Pioneer is investing in a building that has been underutilized in an infill area of the city, in line with the city's focus.
"This is another example of the private sector having confidence in Cedar Rapids and investing in Cedar Rapids," he said.
City Manager Jeff Pomeranz said New Pioneer was in discussions on a variety of sites before choosing the former Fin & Feather building, located near Interstate 380.
While New Pioneer is not mandating such requirements, Mr. Pomeranz, a "card-carrying" co-op member, cited sidewalks, streetscaping and trees as additions that could "spruce up that area of the city."
New Pioneer also will look for synergies with NewBo City Market, which opened last year in the New Bohemia area of southeast Cedar Rapids, Mr. Hartz said. While the two entities have no formal relationship, he said a dialogue will begin to see if any common efforts could be pursued.
The new Cedar Rapids store will not only offer a new option for customers, but for farmers and others who supply the co-op, whose mission is to stimulate the local agricultural production of natural and organic foods by providing a market for such foods.
New Pioneer works with more than 130 local producers, and last year purchased $1.8 million in local goods from local growers and producers.
Those producers will have the first opportunity to supply the new store, Mr. Hartz said. Overall, the co-op, which opened in Iowa City in 1971 and in Coralville in 2001, had gross sales of $24 million last year.
About 2,000 of New Pi's 29,000 members live in Linn County, so Mr. Hartz did not see the new store taking away much business from the two existing stores in Johnson County.
One of those members, Mollie Schlue of Cedar Rapids, attended the news conference.
"I couldn't be any happier," said Ms. Schlue, who has belonged to the co-op for more than 20 years.
Ms. Schlue said she travels to the Iowa City store to buy items such as fresh produce and seafood that is "better than anything I've found in the Corridor."
"They just have better products," she said. "Nobody pulls it together better than New Pi does."
Much has changed since New Pioneer's first foray into the Cedar Rapids market, Ms. Walz said, citing a greater awareness of the correlation between food and health and a greater diversity in Cedar Rapids, with immigrants who comprise a strong percentage of membership in the co-op. Some customers have cancer, food allergies or other health conditions and are looking for the type of foods offered by the co-op, she said.