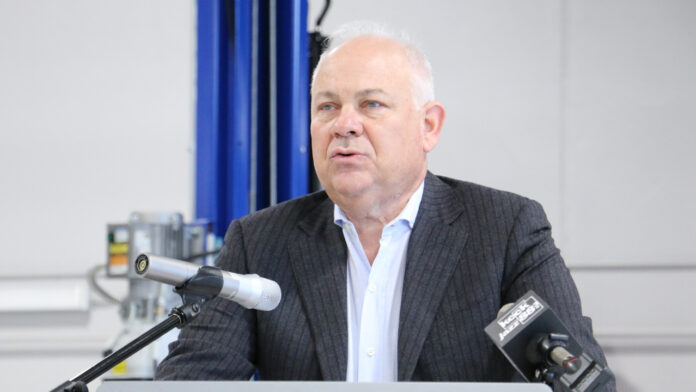 A new tuition assistance partnership between Kirkwood Community College and the City of Cedar Rapids will help lower-income students pursue education for technical careers.
The new initiative, announced at a news conference Monday morning at Kirkwood's Automotive Technology Center, has been dubbed the Cedar Rapids College Career Connection grant program, and will be funded in its first two years with $500,000 per year from the city's federal American Rescue Plan Act (ARPA) allocation.
Cedar Rapids Mayor Tiffany O'Donnell said the program, which will provide grants of up to $6,000 annually per student to further their technical skills education at Kirkwood, helps address the city's "largest challenge" in economic development – the long-recognized shortage of skilled workers.
"This means high school graduates, who we say we don't want to leave, we want you to stay (and) be successful," Ms. O'Donnell said. "Those who may be unemployed today, that we say we want to stay and never go anywhere … we want you to be upskilled. We want you to be able to work for the job of your dreams (and) the jobs that our businesses are clamoring for."
Kirkwood president Dr. Lori Sundberg said the program had been under discussion since the winter of 2018, just after she had become the school's president. It's a unique partnership between a college and city, she said, but one that she feared was "likely dead" due to shifting priorities regarding the COVID-19 pandemic and the August 2020 derecho.
"But during a conversation with (city administrator) Jeff (Pomeranz), just a few days after the derecho happened, he assured me that despite the situation the city was facing, he still wanted to find a way," she said. "He believed it was still the right thing to do. So here we are today. And today is a testament to the commitment of Jeff and (former Cedar Rapids economic development manager) Jasmine (Almoayyed), to the mayor, to the council, for their belief that providing grants to students who want to pursue their education in a career or technical field is something that will be hugely beneficial to the development of a more skilled workforce here in Cedar Rapids."
Others who served on the committee to develop the program include Pat Baird, former AEGON president and CEO and current treasurer of the Zach Johnson Foundation, and Les Garner, president and CEO of the Greater Cedar Rapids Community Foundation.
Mr. Baird said he and his wife launched a similar scholarship program at Kirkwood for disadvantaged students more than two decades ago, "and it was an opportunity to see if you gave these kids a carrot, kids who are otherwise going to slip through the cracks … if you gave them a path to education, you could make a huge difference in the outcomes for those kids and families. It changes what these kids learn and understand, when they're in junior high and high school, thinking differently about their grades and what they want out of their public school education."
Mr. Pomeranz credited the Cedar Rapids City Council for their ongoing focus on the city's economic development, including the development of this program.
"The council has been highly supportive of taking an active and aggressive role in the area of economic development, as well as supporting local business workforce needs," he said. "This initiative, working with Kirkwood, is just one example of work the city councilors supported to create a strong, vibrant environment, not just for business development, but just as importantly for our longstanding employers. The goal of this program is to make it easier for more individuals to realize their career income goals. We're going to connect students with employment right here in Cedar Rapids and provide local companies with the skilled workforce they need to succeed."
The program begins at Kirkwood this fall, Ms. Sundberg said. It will be need-based and provide "last-dollar" funding to students after other tuition programs, including Gov. Kim Reynolds' Future Ready Iowa initiatives, scholarships and federal grants, have been allocated.
The ARPA funding will be in place for the program's first two years, but Mr. Pomeranz said contributions will also be solicited from the private sector. There have also been discussions with a possible partnership with Linn County, and the city may need to pursue other funding sources as the program progresses, Mr. Pomeranz noted.